The stars of the April 9 "Action Heroes" pay-per-view event arrived in Las Vegas today for a full week of activities leading up to fight night at the MGM Grand Garden Arena which will be televised live on HBO PPV.  When asked about their favorite action heroes and their own super hero qualities, Erik "El Terrible" Morales, Marcos "El Chino' Maidana, Robert "The Ghost" Guerrero, Michael Katsidis "The Great", James "Mandingo Warrior" Kirkland, Paulie "Magic Man" Malignaggi and Jose Miguel Cotto provided a variety of answers telling how their childhood super heroes have inspired them to become the fighters they are today.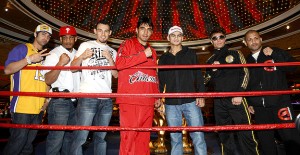 Each of these fistic warriors will look to bring these qualities into the ring on Saturday night and prove to the world that they have what it takes to be known as an "Action Hero."
QUESTION: Who is your favorite action hero?
Erik Morales: "My favorite action hero is Spiderman.  I like Spiderman because he uses his brain to get out of tough situations."
Marcos Maidana: "I like Argentinean national comic book hero Patoruzu.  He possessed super human physical strength and was also very generous."
Robert Guerrero: "Jesus Christ is my super hero because he has faith, patience and determination."
Michael Katsidis: "Superman because I have super human strengths like he does."
James Kirkland: "I always liked Spiderman because he was always willing to take on any one who crossed his path regardless of their size."
Paulie Malignaggi: "My favorite action hero as a kid was the Incredible Hulk.  As an athlete, I think I make a similar transformation from my everyday life then move into fight week where the "Hulk" in me comes out.  Now, my favorite action hero is definitely myself, 'Magic Man,' who was sent here to save the world of boxing and rid it of all its evil forces and unworthy opponents."
Jose Miguel Cotto: "Growing up, my favorite action hero was Tarzan, King of the Jungle because he is raw and powerful."
QUESTION: What super powers do you bring to the ring that makes you an action hero?
Erik Morales: "I believe the way I throw punches and my precision when landing them is super human.  I also have sharp reflexes that help me avoid counterpunches."
Marcos Maidana: "I am strong, both physically and mentally and that's very important for a boxer.  In the end, it is about being the best you can be so people think of you as a hero."
Robert Guerrero: "I look at the verse Philippians 4:13: 'I can do all things through Christ which strengthens me,' and that says it all."
Michael Katsidis: "I can break down the technique of any fighter and pressure him from the first bell until the final bell."
James Kirkland: "I'm willing to take on all comers.  I have a great desire to win and never accept defeat."
Paul Malignaggi:"Being that I, Paulie Malignaggi, am 'Magic Man,' my special powers include putting my opponents into a trance with my blazing speed of hand and foot as well as many tricks which vary from devious speed combinations to 'hot-dogging' that sometimes irritates my opponents and fans.  Such tricks are necessary in order to keep my opponent frustrated as well as keeping a new generation of fans on the edge of their seats wondering 'What will 'Magic Man' do next?'"
Jose Miguel Cotto: "I have the determination to win and know I will be victorious on April 9.  I feel this is my time."