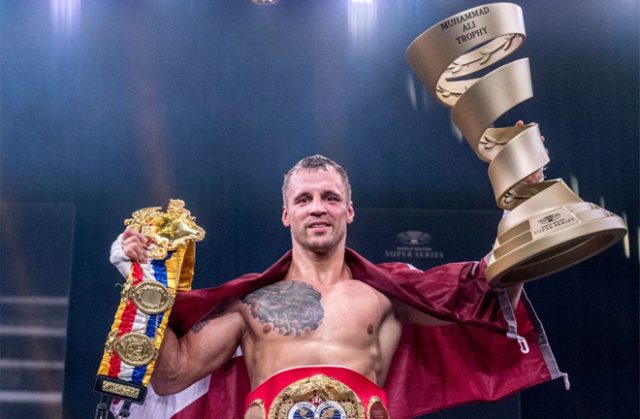 Mairis Briedis won the World Boxing Super Series Cruiserweight final with a high quality majority decision win over Yuniel Dorticos in Munich on Saturday.
Briedis (27-1, 19 KOs) became the new IBF Cruiserweight champion and took the Muhammad Ali Trophy, as well as the Ring Magazine belt, after a convincing display against Dorticos (24-2, 22 KOs).
Both men had fought hard to get to this stage, with Dorticos overcoming Mateusz Masternak and Andrew Tabiti to get to the final and Briedis eliminating Noel Mikaelian and Krzysztof Glowacki.
Dorticos took centre ring in the early going and was the first to let his hands go halfway through the first round, with a cuffing right hand momentarily shaking Briedis.
Briedis was boxing well off the back foot and the pair were trying to draw out each other's leads in another technical round.
The third saw the Latvian settle into a rhythm putting together good combination punches, as well as landing a chopping right during the session.
Dorticos, 34, remained dangerous though and had more than his share of success in his own right. The Cuban reverted back to a stiff jab to open the fourth and the action was warming up, with Briedis landing a powerful right hand that the 'KO Doctor' took well.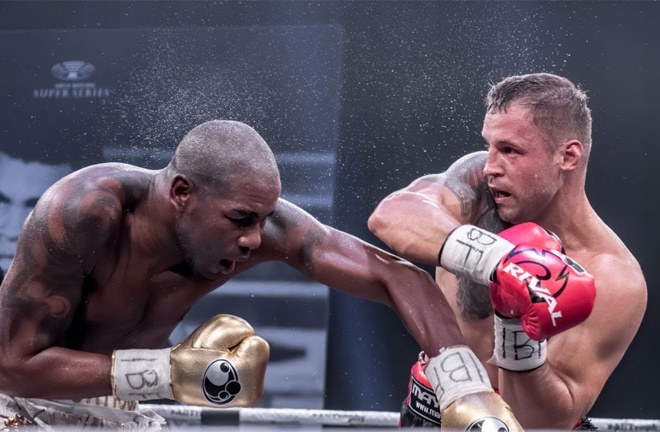 The pair were hard to separate and as the fight moved into its second half, it was very even with both men having spells of success in equal measure. Briedis enjoyed a good seventh and continued his form into the eighth, as he timed his attacks impressively.
The back and forth action returned for the ninth, but Briedis landed a lovely right hand over the top that the champion took well. Dorticos' feet had slowed and he was taking a lot more shots than previously.
Dorticos landed a good right hook to the body in the tenth, as he looked to mount a bid for victory, but he was being matched by the hungry Briedis, who landed a stiff jab and more one-two's.
Briedis, 35, was breaking his man down and the eleventh had him landing another set of damaging punches, as the weary Dorticos was fast running out of ideas.
The two touched gloves, as they prepared to put it all on the line in the last round and although Dorticos looked like he needed at least a knockdown, he was reluctant to let his hands go and elected to box.
However, Briedis continued to take advantage of his tired foe, as they both made it to the finishing line, where the judges would declare a winner.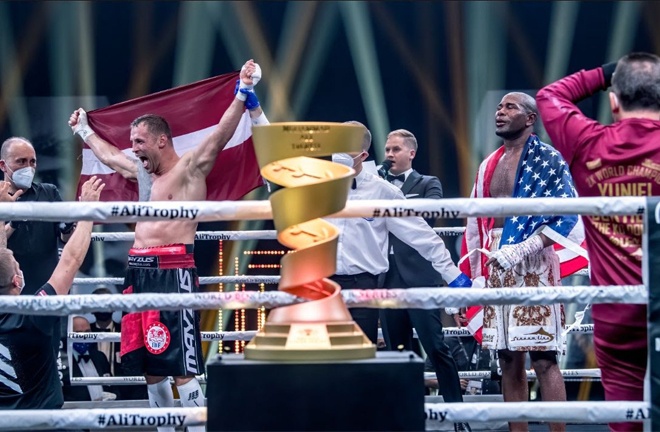 Two scores of 117-111 overruled a third verdict of a 114-114 draw, as Briedis took the belts and the prestigious Ali trophy, becoming a three-time world champion with a majority nod fully meriting his victory.
"It feels like a dream, I hope I made Latvia proud," said Briedis through an interpreter post-fight.
Denis Radovan (14-0-1, 6 KOs) had a last minute change of opponent, but easily dealt with Nuhu Lawal (27-8, 15 KOs), securing a ten round shutout at Middleweight.
Leon Bunn (16-0, 8 KOs) also won every round in his Super Middleweight eight rounder against Timo Laine (27-14, 11 KOs)
18-year-old Sophie Alisch moved to 6-0 (1 KO), but was tested for the first time in her career, with an eight round points win against the tough Hungarian, Edina Kiss (15-14, 9 KOs) at Featherweight.