2010 Youth Olympic Games gold medalist and 2010 World Youth Championships silver medalist, Emmanuel 'Manny' Rodriguez ( 6-0, 5 KO's ) will be in action this Saturday, October, 26 at the Jesus M. Freire Stadium in Cidra, Puerto Rico, where José Pedraza will be in the main event against Alejandro 'Soma' Rodríguez.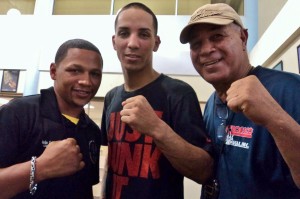 Rodriguez opponent is tought Mexican, Felipe Rivas ( 14-14-2 , 8 KO's ) in a 6 rounds, superflyweight division bout.
Rivas has a split decision loss against former two time world champion, Ivan Calderon, and on his last performance, he was defeated by Israel Vazquez via unanimous decision.
"I'm well prepared and ready to rumble on fight night against Felipe Rivas ," said Emmanuel Rodriguez, "With the help of my trainers Iván Calderon and Félix Pintor , I'll be at my best for sure".
Rodriguez trains at the Félix Pagan Pintor Boxing Club in Guaynabo, under the tutelage of Felix Pagan Pintor and former world champion, Ivan Calderon .
"This guy has great talent to be a world champion. He won a gold in Youth Olympics, becoming the first Puerto Rican to achieve that", said Ivan Calderon, " Manny has great height and strength at 115 pounds. The important thing is that his learning a lot of the professional boxing style, and expect the best from him because he will look better than ever".
Pagan Pintor commented "Sooner than later, the fans will see a spectacular prospect from Puerto Rico. The facts are there, his passion and confidence are rising, and this Saturday, Manny will have a great performance".
Comments
comments