January 25 will see WBO World Champion Marco Huck to fight compatriot Firat Arslan for a second time. Prior to the rematch of their first fight nearly 15 months ago, which saw Huck escaping with a narrow win on points, the tension is rising – especially between champion and challenger.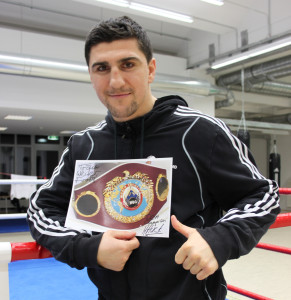 Arslan was first to put forward, stating at last Wednesday's media day: "I am feeling like the world champion since my first fight against Marco, which I actually won. Now it is time to collect my belt from him."
However, Huck is not having any of it and counters verbally: "Dream on, Firat – I am the champion! But as I am not heartless, I did make a picture of my belt and signed it with a personal dedication for you."
The 29-year-old is in good spirits:
"My stamina as well as my physical strength is reaching new heights. My explosiveness is unquestionable and I also advanced in terms of technique and tactics." And what does Huck think about his opponent in comparison: "Firat Arslan cannot have a better performance than in our first meeting. With 43 years of age, he flags slow but steady. In comparison, I draw closer to my prime." He is going to hold his media day this Tuesday.
The taunting between Huck and Arslan starts to increase. January 25 is going to show, who will follow up his words with action.
Tickets for the big fight night at the Hanns-Martin-Schleyer-Halle in Stuttgart, Germany can be purchased at www.eventim.de and www.easyticket.de.