On August 21, Marco Huck defends his WBO Cruiserweight Title against American Matt Godfrey. The cruiserweight division is heating up, featuring a nice crop of veterans and up-and-comers. Even the best American cruiser, Steve Cunningham, now operates out of Germany, so the balance of power in the division rests in Europe and Godfrey hopes to change that just a bit. He will have his work cut out for him against a strong and peaking champion fighting on his home turf.
Location: Thuringen, Germany
Date: August 21, 2010
WBO Cruiserweight Championship
Marco Huck, 29-1 (22 KOs), Nordrhein-Westfalen, Germany, WBO Cruiserweight Champion
Vs.
Matt Godfrey, 20-1 (10 KOs), Providence, Rhode Island
Huck vs. Godfrey Preview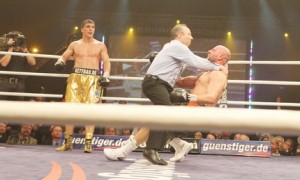 Huck's improvement over the past couple years has been pronounced. Once a robotic and unimaginative fighter, he seems to have developed more of a loosey-goosey style. He's less rigid and seems more comfortable fighting in his style. The more-advanced Cunningham somewhat predictably beat him in 2007. He has since ran off 10 consecutive victories (8 by knockout) and would now be fancied to do better in a rematch, which will probably happen in the near future.
First Huck must beat a talented contender in Godfrey. A former top amateur, Godfrey has won 20 of 21 bouts since turning pro in 2004. At 29, he has been waiting a while for his big chance. He lost a close one to Rudolf Kraj in 2008 in his only other appearance in Germany, but holds nice wins over previously undefeated Shaun George and Shawn Hawk.
Godfrey's last fight raised some eyebrows, as he won a razor-thin split decision over Michael Simms—a fighter with 1 win in his last 10 fights. Maybe Godfrey grew stale waiting so long for a big fight. It looked like he had lost some of his previous sharpness. On one hand, Godfrey is not peaking in the manner one would like to see entering a fight against a tough champion like Huck. Then again, if motivation was the reason he has been a little off-form lately, that shouldn't be a problem in this fight.
One thing going for Godfrey is that he has the very qualities that give Huck problems. A former longtime amateur of the highest order and a 7-year pro, Godfrey is capable of being slick in the ring. He's quick, savvy, and well schooled. Huck, despite his improvement, still seems to struggle with fighters who operate a little outside of the box. Whether Godfrey has the defense and chin to cope with the persistent attack of Huck is a little up in the air. Godfrey has tasted the canvas a few times lately, against Simms and a past-his-peak Emmanuel Nwodo in 2008.
Huck presses forward and has a nice variety of punches. When need be, he can protect himself behind an effective high guard and he is able to take a punch well. Importantly, he no longer carries the tension in his body that seemed to drain him of his strength earlier in his career. As a result, he has the stamina to sustain a steady high-volume attack. He scores points and can close the show once his foe shows signs of decay. The thing that really makes Huck stand out, though not very dazzling, is his consistency. He just does his thing and it's up to his opponents to do something compelling enough to stop him. So far, only the superb Cunningham has managed to do so. And since then, Huck has come a long way.
Huck vs. Godfrey Prediction
Huck will not make anyone forget the heyday of Pernell Whitaker. He can still seem a little programmed with deficits in the areas of improvisation. A slick, sharp boxer operating at his peak who has a good defense and chin is the perfect Huck antidote. Godfrey surely has some of those qualities, but lacks the consistency to package it as a winning strategy.
Not to impugn the righteousness of German officiating, but winning a title over there is an uphill battle right from the get-go. Combine that with the fact that Godfrey is facing a 25-year old champion entering his prime who has a lot of wind in his sails, and it begins to look like a bad spot.
Sure, Huck's recent renaissance could be a mirage, which was built against inferior opposition. And there is always the chance that Godfrey has just been lying in wait waiting to spring forward with a hallmark performance. Even if Godfrey represents a small step up from the guys he's been facing, I see Huck getting through this one without too many problems. Godfrey will be dangerous early, but Huck will weather the storm and begin rolling. I like Huck by TKO sometime around the 10th round.
Prediction: Marco Huck retains his title by TKO.