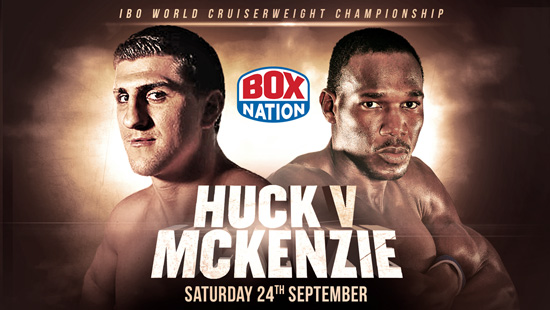 Ovill McKenzie will challenge Germany's Marco Huck for the IBO Cuiserweight Title in Frankfurt live on BoxNation on Saturday September 24th. 31 year-old Huck, who holds the record for the most WBO World Title defenses alongside Johnny Nelson, came face-to-face with 'The Upsetter' at a press conference in Frankfurt yesterday.
"Obviously, I was really excited once I was able to get back to the top of the division, which is where I belong," Huck told World Boxing News.
"My fans kept asking me when the next fight was, so I actually feel like it's a great honor that they want to see me back in the ring. I will thank them by putting on a great performance. It gives me an extra rush of adrenaline when I hear the crowd shouting "Huck, Huck, Huck! – You cannot put a price tag on that feeling. I am 31-years-old now, the prime age for a boxer and I will leave the ring just the way I entered it, as the champion.
"McKenzie did really well during his last fights and should have won the IBF-Title against Ramirez, so I have to be careful and wont underestimate him. But I just pay attention to whether he is a orthodox or southpaw and the rest will present itself on the night."
It is a big return for hard-hitting Derby based Jamaican McKenzie, who was forced to withdraw from his challenge for the vacant European Cruiserweight Championship against Ukraine's Dymtro Kucher last month through injury.
McKenzie, 25-12-1 13 KO's, narrowly missed out on claiming a world title when he pushed former IBF ruler Emilio Ramirez to a controversial draw in Argentina last October. Now the former British and Commonwealth Cruiserweight title holder is looking to propel himself back on to the world stage with a career best performance.
"I am travelling to Frankfurt to give a great performance. I don't want the people to look at my record and write me off immediately or that it will be a walk in the park for Huck. I am in great shape. I will take Marco's belt off him and bring it back to England.
"I will give the performance of my life. I am a real fighter, a warrior. I am 36 now, but I honestly feel like I'm 20. I am in amazing shape."