Fight Pick & Preview – Maidana vs. Lopez:
On June 8, Marcos Maidana and Josesito Lopez meet in an important welterweight match-up at the Home Depot Center in Carson, California. This is a high-stakes bout for each man, with the winner able to strengthen his loosening hold as a player at 147 and the loser going deep back into the pack.
It may even be an even more important fight for Maidana, the hard-hitting contender from Argentina. Lopez is coming off a loss against 154-pound champ Saul Alvarez that no one thought he could win anyway, so he probably has more leash at this point. It's hard to not notice that Maidana seems to be slipping a bit. Though only 29, you have to watch out for fighters like Maidana, who sponge punches in bunches and turn every fight into a do-or-die war. He's coming off a win over the anonymous Angel Martinez in Argentina, but in his two fights prior to that, he was soundly outpointed by Devon Alexander and struggled mightily against Jesus Soto Karass in a fight that wasn't supposed to be that tough.
Date: June 8, 2013
Site: Home Depot Center, Carson, California
Weight Class: Welterweights: 12 Rounds
Marcos Maidana, 33-3 (30 KOs), Buenos Aires, Argentina
vs.
Josesito Lopez, 30-5 (18 KOs), Riverside, CA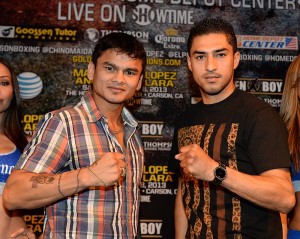 Then again, Maidana's style fed right into Alexander's hands. It was Maidana's debut at 147 and that was as impressive as Alexander had looked in a few years. While the Soto-Karass fight further exposed some of his weaknesses, Soto-Karass on the right night is an exceptionally-tough out, as evidenced by his subsequent victory over Selcuk Aydin. But to say Maidana's best days are behind him seems like a fair assessment to make.
Lopez, 28, had an interesting 2012. He entered the year as a top-20 junior welterweight, but made a real name for himself. In one of the more inspired performances in years, he overcame massive favorite Victor Ortiz, beating him up, breaking his jaw, and stopping him after 9 rounds. Ortiz was supposed to fight Canelo Alvarez, but Lopez got the nod. He was beaten emphatically, but really didn't lose any face with a gutsy effort. After all, he was a guy fighting a big unbeaten 154-pound champion despite never weighing more than 144 for a fight.
Now Lopez returns to welterweight for the second time. He may not be a very robust welterweight, but Maidana spent most of his career at 140, so that's a wash. Lopez is a few inches taller than the 5'7" Maidana. He throws slashing punches from inside and outside and his natural aggression should mesh well with Maidana's raw straight-ahead style to create a good-action fight. This has the potential of being a barnburner.
It's a little hard to gauge Lopez. He had a decent track-record prior to facing Ortiz. He had beaten Mike Dallas, Jr. and lost a close split decision to top-notch prospect/contender Jessie Vargas. Then he upset Victor Ortiz, but Ortiz is a guy who has suffered some mental issues in the ring and he seemed to be having some of those kind of problems that night against Lopez. While that fight showed that Lopez has admirable talent and heart, he needs this victory to establish his case as a full-fledged player in the welterweight division.
Even at his best, Maidana was a fighter who would lose rounds in bunches to better-rounded fighters like Lopez. Then he would explode and either score a KO or put a guy down enough times to make it close. It's just that this image of a rampaging Maidana is something that hasn't been seen in the ring since he gave Amir Khan a run for his money back in 2010. Starting with his close win over Erik Morales, Maidana seems to have lost his pep.
Even if Maidana gets rolling, Lopez is no Khan. You have to do more than touch the chin to discombobulate Lopez. And after facing the bigger and more powerful Alvarez, Lopez might find that Maidana produces a more-manageable level of punishment.
Lopez is only a year younger than Maidana and even turned pro a year earlier in 2003. In addition, he's coming off a knockout loss and a tough brawl against Ortiz. He still seems to be a fresher fighter than Maidana. He hasn't been at the level that Maidana has and is perhaps more ambitious at this point.
Maidana vs. Lopez Prediction
Lopez only has 18 knockouts in 35 fights and Maidana has never been stopped. Cuts might be a factor with both guys, especially as the going gets rough and perhaps illegal at some points. I just think the combination of Lopez' aggression and insistence is going to be too much for Maidana to overcome. I see the Californian getting a boost fighting near home and opening the bout very quickly. Maidana will hit his stride, but I see more as a mini-rally. By the 8th or 9th round, Lopez will pull away and start slamming Maidana with combinations. The referee will give a battered Maidana the hook in the 11th round.
Prediction: Josesito Lopez by 11th-round TKO.