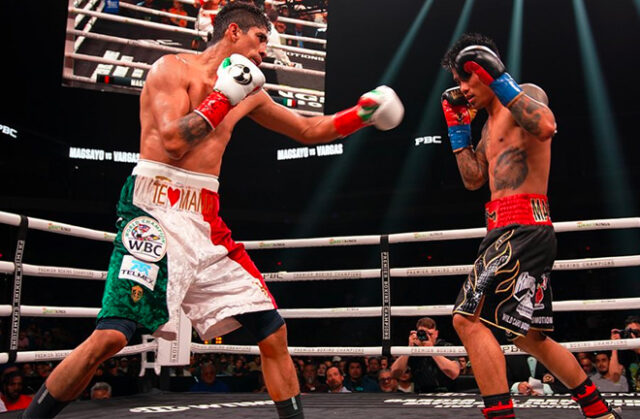 Rey Vargas became a two-weight world champion, as he got off the canvas to win the WBC featherweight title with a split decision win over Mark Magsayo at the Alamodome in San Antonio.
Magsayo (24-1, KO16) came into this one off the back of an upset win in January over Gary Russell Jr, where he took a majority decision to win the title, while Vargas (36-0, KO22) had previously reigned as WBC champion at super bantamweight, and was taking part in just his second fight at featherweight.
Magsayo began well, stunning Vargas in the opening round with a right hook, and another right hand had the Mexican buzzed in the second. Vargas managed to settle though, and worked his way into the fight, landing with a hard uppercut in round three and establishing his jab in the fourth. Magsayo was hurting Vargas with regularity, and landed with another right in the fifth that shook Vargas, but the Filipino was exerting a lot of energy, and Vargas targeted the body in a solid sixth. Although bloodied, Vargas had good seventh and eighth rounds, but back came Magsayo in the ninth, dropping Vargas with a combination followed by a right hand. Vargas survived the count, and the onslaught that followed, and also had to weather a heavy storm in the tenth. The challenger finished strongly though, and the contest went to the cards.
.@markmagsayo_MMM nails @reyvargasbox with a left, but Vargas comes back with the jab in an action-packed title bout 🏆#MagsayoVargas pic.twitter.com/KM0zRxXhaH

— SHOWTIME Boxing (@ShowtimeBoxing) July 10, 2022
WHAT A ROUND 😮@markmagsayo_MMM DROPS Vargas in round 9.#MagsayoVargas pic.twitter.com/KKnniosCR8

— SHOWTIME Boxing (@ShowtimeBoxing) July 10, 2022
Two scores of 115-112 in Vargas' favour were enough for a third at 114-113 to Magsayo to be redundant as Vargas became new champion.
The chief support determined who would face Vargas next, and it was Brandon Figueroa (23-1-1, KO18) that took a WBC featherweight title eliminator with a sixth round knockout of Carlos Castro (27-2, KO12). Castro was dropped by a left hook in the third, and although he was ahead on one card at the time of the stoppage, Figueroa put him under too much pressure to survive. A barrage of punches after Figueroa spun off the ropes forced the referee to intervene.
💔💔💔@BrandonLeeFig turns Castro into the ropes and finishes him in the 6th 😤#MagsayoVargas pic.twitter.com/LjBaBB1ZZ0

— SHOWTIME Boxing (@ShowtimeBoxing) July 10, 2022
Frank Martin (16-0, KO12) stayed undefeated, scoring knockdowns in rounds nine and ten in a points win against Jackson Marinez (19-3, KO7) at lightweight. Two scores of 98-92 and a third at 97-83 sealed the win for 'The Ghost'.
IT'S OVER!

Martin knocks out Maríñez with a flurry of vicious punches in the 10th 😤🥊#MagsayoVargas pic.twitter.com/aYBjV5lROT

— SHOWTIME Boxing (@ShowtimeBoxing) July 10, 2022
In the battle of the men with identical records going in, it was Ramon Cardenas (21-1, KO10) that came out on top in his bantamweight affair with Michell Banquez (20-2, KO14). Cardenas took victory over ten rounds by two scores of 97-93, and a third at 96-94.
Banquez bringing the fight to Cardenas in round 2 🔥

Stream the #MagsayoVargas prelims ➡️https://t.co/l3JriFNoE1 pic.twitter.com/UX6rwhd543

— SHOWTIME Boxing (@ShowtimeBoxing) July 9, 2022
Rashidi Ellis (24-0, KO15) wasted little time in preserving his unbeaten record, dropping Jose Marrufo (13-11-2, KO1) twice on the way to a first round win at super welterweight.
SPEEDY RASHIDI! 😳@RashidiEllis earns a fast 1st round TKO win over Marrufo 👊@BCampbell @morningkombat #MagsayoVargas prelims are LIVE: https://t.co/l3JriFNoE1 pic.twitter.com/xYf3h3sFNP

— SHOWTIME Boxing (@ShowtimeBoxing) July 9, 2022