The undefeated Vanes Martirosyan (28-0, 17 KOs) is winding down training for his March 19th fight against Bladimir Hernandez (18-4 16 KOs). The fight takes place on the undercard of Lucian Bute versus Brian Magee in Montreal, Canada. Martirosyan received world class sparring at the Wild Card Gym in Hollywood, California. Daniel Jacobs (22-1, 19KOs), who won via 1st round knockout on Saturday, Peter "Kid Chocolate" Quillin (23-0, 17KOs) and Roberto Garcia (28-3, 21KOs) are just a few of the upper echelon fighters that Vanes faced on a regular basis.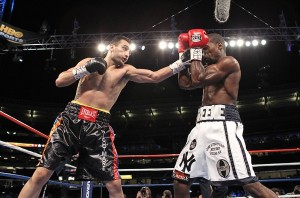 "There is always great sparring at Wild Card.  I feel like every sparring session is like being in another fight because everyone is good and its real tough, hard sparring," Martirosyan stated.
Martirosyan, who is trained by the legendary Freddie Roach, has recently added a new member to his team. Edmond Tarverdyan, who owns the Glendale Fight Club, has been in camp with Martirosyan and has given him a few pointers, "Edmond has worked with me on some new combinations.  On March 19th you will see a new Vanes in the ring."
Although Martirosyan is 28-0 he doesn't feel that he has realized his full potential in the ring.
"Only Freddie, Edmond and my dad and uncle have seen what I can do. Freddie has been waiting for me to show it in the ring and on March 19th everyone will see what I can do," he said.
After the Hernandez fight, Martirosyan returns to the ring on April 23rd when he faces Saul Roman (34-8, 29KOs) for the WBC silver belt which would put the winner in the #1 mandatory position to face WBC champion Saul "Canelo" Alvarez (36-0-1, 26KOs), "I am taking it one fight at a time but I can't wait to see 'Canelo' in the ring. A fight between 'Canelo' and me would be huge in LA at Staples Center."