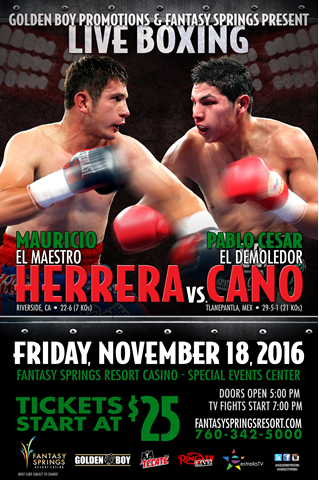 The big fights keep coming to Fantasy Springs Resort Casino in Indio, California as perennial contenders Mauricio "El Maestro" Herrera (22-6, 7 KOs) and Pablo Cesar "El Demoledor" Cano (29-5-1, 21 KOs) both return to the ring on Friday, November 18, to face off in the 10-round main event broadcast live as the main event on Estrella TV's Boxeo Estelar. Taking place two days before Mexican Revolution Day, the Mexican warriors will meet in the ring for a super-lightweight bout, guaranteed to be a fiesta to the fans.
"Mauricio Herrera and Pablo Cesar Cano embody wo true Mexican fighting styles in the ring, which is why we couldn't wait to bring this entertaining fight to Fantasy Springs," said Oscar De La Hoya, Chairman and CEO of Golden Boy Promotions. "Come November 18th, the fight fans will be flocking to the desert to take part in this big night of boxing on Mexican Revolution Day."
"My career could potentially be on the line here," spoke Mauricio Herrera of the match up. "My last fight against Gomez was a wakeup call, and now being put to the test at facing Cano, I know that I have a lot on the line. He is going to do what he usually does – bring 100 percent into the ring – and so am I."
"I am very excited to get back in the ring," said Pablo Cesar Cano. "I know this is a very crucial bout for my career, and is a career defining moment. I am training extremely hard because my opponent is a very formidable opposition and I want to give the fans what they have expected from me – a good fight for their entertainment and my victory to get my career back on track."
Name: Mauricio "El Maestro" Herrera
Residence: Riverside, CA
Record: 22-6, 7 KOs
Age: 36 years old, 5-24-1980
Height: 5′ 7″
Stance: Orthodox
Twitter: @elmaestro1
Instagram: @mauricioherrera350
The pride of Riverside, California, Mauricio Herrera (22-6, 7 KOs) is a true professional in every sense of the word, and his skill in the ring and class outside of it has earned him the respect of his fans and peers. The former interim WBA Super Lightweight World Champion, the 36-year-old Herrera owns victories over the likes of Ruslan Provodnikov, Mike Dallas Jr., Johan "El Terrible" Perez and "Hammerin" Hank Lundy, but he is hungry for more, and he plans on making a statement against Cano this November.
Name: Pablo Cesar "El Demoledor" Cano
Residence: Tlalnepantla, Mexico
Record: 29-5-1, 21 KOs
Age: 26 years old, 10-4-1989
Height: 5′ 9″
Stance: Orthodox
Twitter: @Canochampion
Instagram: @canochampion
One of Mexico's top fistic exports, 26-year-old Pablo Cesar Cano (29-5-1, 21 KOs) has been thrilling fans both at home and in the United States for years. First making an impact with his gutsy performance against the legendary Erik Morales in 2011, Cano has continued to fight the best opposition available, including Sugar Shane Mosley and Paulie "Magic Man" Malignaggi, and with victories over Johan "El Terrible" Perez, Ashley Theophane and Jorge "Panterita" Silva, he has proven himself as a top-notch competitor with championship potential.