Fight week began in full today in Las Vegas, and right here we have your one stop shop of updates. We have photo galleries from Manny Pacquiao's fan rally, and Floyd Mayweather's grand arrival event. We have more video promos and fight week videos from HBO and Showtime. We have ESPN updates, including a poll of their staff, and details on their coast to coast schedule of programming this week for not only Mayweather vs. Pacquiao, but the rest of the week's big events, and more. Take a look.
Pacquiao's Fan Rally
https://www.youtube.com/watch?v=zRSiBWj10vQ
Mayweather's Grand Arrival
Pacquiao Workout Photos

Fighter Quotes
FLOYD MAYWEATHER
"I don't have anything negative to say about Manny Pacquiao or Freddie Roach. People from different teams can say things, but when it comes down to it, it comes down to the two fighters.
"I don't focus on all the festivities going on. I just focus on being the best that I can be and doing what I'm supposed to do in the gym.
"I don't ever say that 'this is my toughest fight' or 'this is my easiest' fight. I feel like he is a competitor and anything can happen in the sport of boxing. I always want to go out there and be at my best.
"I've broken records before. Are we going to do record-breaking numbers again? Absolutely.
"One thing everybody plans for is to come forward and throw a lot of punches. They think it works, but it hasn't worked in 19 years. If that's his game plan, then we'll just have to see how everything breaks down.
"Pacquiao would be a better fighter if he wasn't so reckless. It's a gift and a curse. He's won a lot of fights by being reckless. But also being reckless can get you knocked out. Getting knocked out in a harsh way can affect you in the long run.
"People have criticized me for being a defensive fighter, but last night when I was at home sitting with my mother and my daughter, I thought to myself 'I'm proud of myself.'  To be in a sport for 19 years, the main thing is I'm going to get out of the sport and still have a sharp mind.
"I don't think one fight defines my career. All 47 fights played a major key. The bar is always set high for Floyd Mayweather. I think if we turn the table and if I had gotten knocked out by Marquez this fight would have never happened.
"I'm glad I was flashy and outspoken when I was younger. But I'm close to the big 4-0. I don't have to bash anyone. I know what I can do.
"Today I was thinking about how thankful I am for my fans. I'm so thankful for my fans. Every day when I'm training at the gym, there's 200 or 300 fans waiting out there for me.
"Saturday, before and after the fight, I will still be The Best Ever. One fight doesn't define my career. The great thing about my career is that I'm a smart businessman. A 19-year career with no punishment on the body, that's what we should talk about."
MANNY PACQUIAO
"What we are doing in training is very good because we're not focusing on one strategy. We're working on two or three strategies. Either way, if he wants to fight me that's good for me and if he wants to move around the ring I'm ready for that.
"I cannot say he is the most dangerous opponent of my career because I have not faced him. I have faced Oscar De La Hoya, Miguel Cotto, Juan Manuel Marquez and other great boxers.
"My confidence right now is different than any other fight I've had. I feel excited and  I have to prove something. I like being the underdog, because my killer instinct and my focus are there.
"I'm different than the first 47 he fought. I'm faster than them and I'm very confident for the fight. This is the moment that I believe he will experience a loss.
"I think we can win a decision. I always trust the commission, the judges and the officials. Our focus is not just on looking for a knockout but throwing a lot of punches in case it comes to a decision.
"I have not changed in my body in the last five years. I think the changes are that I have more experience now, better strategy and smarter movement. The speed and power has not changed.
"Thank you to all the media here. You are a part of what we accomplish in boxing. Without you who would know us? Without you who knows boxing? You have helped boxing and I thank you so much for the support.
"This is one of the most important fights for my boxing legacy. I want to make this fight a good result for my legacy. I want to win, that is my goal.
"I believe this is the right time for us to be fighting. More people are informed for this fight than ever before. People who aren't even boxing fans are interested in this fight.
"When I started fighting in America in 2001, no one knew who I was. Now, everyone knows Manny Pacquiao. A lot has changed since 2001.
"I am not only working for myself, but I work to help other people and to be an inspiration.
"I am very grateful for the overwhelming support of the fans for this fight."
More Fight Week Mayweather vs. Pacquiao Videos
https://www.youtube.com/watch?v=JGiPjzqp4lE
https://www.youtube.com/watch?v=U5X75i7ORZ0
What are ESPNers looking forward to?
ESPN is providing a huge range of coverage for Mayweather vs. Pacquiao. This is a round-up of on-air personalities who will be in Las Vegas and what they are most looking forward to.
Teddy Atlas, ESPN boxing analyst:
"I'm most looking forward to the weigh-in [live, Friday, 5 p.m., ESPN2] to gauge the excitement and true draw of the fight."
Brian Campbell, ESPN.com boxing writer/analyst:
"I'm most looking forward to the spectacle of fight week in what this will represent: boxing at its very best. Mayweather-Pacquiao is that rare modern matchup that brings with it a Super Bowl or World Cup atmosphere. On an already jam-packed May 2, the eyes of the sporting world will be locked in on Las Vegas."
Colin Cowherd, ESPN Radio host:
"I'm looking forward to being back where my career started. Seeing familiar places and faces while having a big fight to watch reminds me of some of the most exciting times of my career."
Todd Grisham, ESPN Friday Night Fights studio host/anchor:
"Since I am hosting our Thursday Night fight card from The Palms on ESPN2, I better say that's what I'm most looking forward to this week!"
Juan Manuel Marquez, ESPN Deportes boxing analyst:
"The fight week will be full of tension for the fighters and viewers. Mayweather and Pacquiao will want to be in the ring and the viewers will be waiting for Saturday to come."
Bernardo Osuna, ESPN boxing reporter/ESPN Deportes commentator:
"I am eager to be a part of the biggest spectacle in boxing history. The atmosphere in Las Vegas will be like no event ever before. Once the fight ends, the buzz in Las Vegas and around the world will be driven by what happened in the ring between Mayweather and Pacquiao."
Dan Rafael, ESPN.com senior boxing writer/analyst:
"I'm looking forward to having boxing front and center for the world because of this big fight. Las Vegas will be filled with fight fans, which is always fun to see. But I am most looking forward to a memorable fight."
Jorge Eduardo Sánchez, ESPN Deportes commentator:
"Prior to the fight, I'm expecting a very exciting week, full of information, details and adrenaline. It will surely be an unforgettable week."
Joe Tessitore, ESPN Friday Night Fights blow-by-blow commentator, in Las Vegas anchoring coverage for SportsCenter:
"I am most looking forward to soaking in the anticipation. It's as old as time, and proven true, nothing creates breathless anticipation like the moments leading up to the fight. Finally we have it."
Marcellus Wiley, SportsNation co-Host, ESPN Radio co-host:
"I'm most looking forward to the energy that jolts through your body when you see the fighters in their separate corners ready to get it on and that bell sounds, 'Ding, Ding!'. . . Whoa! #pumped."
Sportscenter is Coast to Coast for Mayweather vs. Pacquiao & More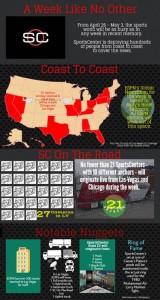 From punching to putting to the pigskin Draft and from horses to horsepower, along with hoops and hockey playoffs, "SportsCenter on the Road" goes Coast to Coast this week covering one of sports' busiest weeks.
While ESPN's many platforms have converged in Las Vegas for boxing's richest championship fight, SportsCenter has deployed its resources across the country to provide comprehensive coverage from Chicago (NFL Draft), Louisville (Kentucky Derby), San Francisco (World Golf Championships) and Talladega, Ala. (NASCAR's Sprint Cup race), while remaining nimble enough to follow the fluid news from the NBA and NHL playoffs and baseball's daily happenings.
Lindsay Czarniak and Steve Levy will get up close and personal with the week's two biggest events, anchoring SportsCenter from Las Vegas and the NFL Draft in Chicago. Czarniak is anchoring the 6 p.m. ET SportsCenter Monday–Tuesday–Wednesday–Friday from Las Vegas and Thursday's from Chicago, while Levy works Thursday's 11:30 p.m. show from the Draft and Saturday's 9 p.m. "Red Carpet Special" and post-fight SportsCenters from Las Vegas.
EVENT
COVERAGE
REPORTERS
Mayweather-Pacquiao
daily
Jeremy Schaap, Bernardo Osuna, Darren Rovell, Josina Anderson
NFL Draft

Thursday

–

Sunday

Chicago & reporters from NYC to Hawaii
Kentucky Derby

Thursday

–

Sunday

Jeannine Edwards, Matt Bernier
NBA Playoffs
daily
Warriors: Marc Stein; Cavs: Dave McMenamin; Spurs/Clippers J.A. Adande, Michael Wilbon, Ramona Shelburne
NHL Playoffs: Detroit-TB Game 7

Wednesday

Katie Strang
NASCAR: Sprint Cup at Talladega
Fri-Sat-Sun
Marty Smith
Golf: World Golf Championships

Tuesday

–

Sunday

Bob Harig
Baseball: Yankees/A-Rod
daily through HR 661
Andrew Marchand
Baseball: Baltimore/D.C region

Tuesday

Mark Schwarz
Baseball: KC/Ventura starts

Tuesday

Pedro Gomez