On Saturday night, the Floyd Mayweather vs. Miguel Cotto 24/7 series debuted, with episode 1. The Mayweather vs. Cotto fight will take place on Saturday, May 5, so it's three weeks out, and both fighters have been in camp for quite some time already. Right here, take a look at our full recap and rundown of episode 1 of 24/7 Mayweather vs. Cotto.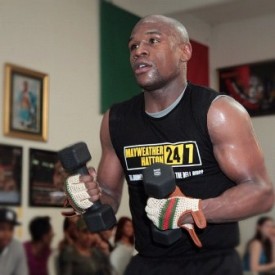 The first episode of Mayweather-Cotto 24-7 episode 1 begins with Floyd Mayweather hanging out with 50 Cent, talking about how he makes 24/7 the show. He says if he was making the show, maybe Miguel Cotto could get 10 minutes, and he and the Money Team would get the rest. It's a take over, it's their show.
Miguel Cotto appears, arm crossed, silent. He's not here to talk, he's here to talk. And he smiles. He then says, he doesn't need to talk about Floyd, Floyd is just a person who always needs attention. Cotto is just always preparing himself mentally for the event coming up. Cotto is training in Orlando, Florida with Pedro Diaz.
It's been four months since Cotto's rematch against Antonio Margarito, and we flash back to that fight, and the first fight between them. It was Cotto's chance for revenge against Margarito, the cheater with plaster hand wraps. Cotto talks about how he was doing well in the first fight, but wasted energy, and not doing that was  the difference. Cotto continued coming forward, pushing Margarito back, and busting Margarito and his eye up.
Cotto knew the fight was his once Margarito started to swell up. Cotto just stood there, looking at him, and enjoying the moment. Now we see him back in camp as he continues to talk about how that loss took confidence and belief away from him. But now he feels great, and that chapter is closed. Cotto is doing some interesting training, climbing up a rope in the gym, working a sledgehammer and more.
Now on Mayweather Cotto 24 7, we're back to Las Vegas, and the Mayweather gym. All the usual suspects are there, Uncle Roger and the rest of the team, and everyone going about their business in the same way. 50 Cent is hanging out at the gym too. We see Mayweather working the heavy bag, the speed bag, doing his patented stand up situps, using medicine balls and more.
While this seems routine, we hear about how it was unlikely that Mayweather would be in this position right now. He was able to get his jail sentence postponed for a May 5 fight, because he already had that reserved. About his impending jail time, he says June 1 is just another day, and it is what it is. He takes the good with the bad.
50 cent talks about jail, and he says that one day is too much, two days is too much. So it's not about thinking about the days, the waiting is the worst part, and that's worse than the ass whooping you get when you get there, if you get it. Mayweather will have some time to think about his life. Leonard Ellerbe talks about how the plea deal was about Mayweather moving forward and not putting his kids through more, and just stepping up and getting it done with.
Mayweather talks about the fight against Cotto, and going in there and doing damage. He was built for this. He loves it all. Cotto is a quiet guy, but he's coming in there to fuck him up, so Mayweather has that attitude as well.
Back to team Cotto in episode 1 of 24-7 Mayweather vs. Cotto, and Cotto's waking up at 4:30 in the morning for an early morning training session at the beach, and the whole family in the house gets woken up. It's the second camp for Cotto and Pedro Diaz, and Cotto calls him the mastermind behind the plan for the Margarito fight.
Diaz understood what Cotto was going through after the loss to Margarito, and how it was a complex situation. In many ways a desperate situation. He needed to prove to himself and to the world what he could do. Now, they know they're going against an undefeated fighter in Mayweather, but they also know they'll win, and confidence is key.
Mayweather talks about how the ring in the gym is the dog house. Then he goes on a rant about that's because it has a ring around it, like at a dog fight. But he doesn't want to get in trouble with those people… those PETA people. But fuck it, he wears chinchilla coats and whatever else.
Now, a new guy is at the gym today, and Mayweather makes a big show of getting him in the ring. Then we flashback to the Mayweather vs. Ortiz fight, and the flagrant headbutt foul, then the kiss, then the knockout aftermath. Uncle Roger jokes that Ortiz tried to make love to his nephew, and he knew he did wrong, and he got what he asked for.
Then we go to the Larry Merchant interview drama, and we get to watch how that all played out again. Mayweather said he won't do an interview with him the next time, either.
Back to Orlando and Team Cotto in Mayweather-Cotto 24/7 episode 1, and Cotto is with his kids and his wife, and talks about having so much love in his life, and how important that is for him. Three kids, a couple of dogs, the entire family is here from Puerto Rico. Cotto gets a bit emotional talking about it on camera. His wife then talks about the Margarito rematch, and how great that was, and how important it was for Cotto.
As a contrast to that family atmosphere, we then flashback to last year, and the Mayweather confrontation with his father, Floyd Mayweather Sr. But, today he comes into the gym and it's smiles and hugs all around. Things aren't exactly mended between them, but they are perhaps starting to move towards that.
That about wraps up the first episode of Mayweather vs. Cotto 24/7. Mayweather talks some trash about knocking Cotto out, Cotto talks about how Mayweather has never faced anyone like him. We get the training montage from both camps in the background, and the narration talks about fury, family and faith going into a fight. Pedro Diaz says invincible people only exist in movies. Mayweather says he's a winner, he was born to win, and he'll die a winner too.
——–
Be sure to keep on checking back with us at ProBoxing-Fans.com for more boxing news updates on the big fight, coming up in a few weeks. Thanks for checking out our Mayweather-Cotto 24/7 episode 1 recap.
Comments
comments