Floyd Mayweather Will Face Miguel Cotto on May 5th & Challenge for Cotto's 154 Lb Belt
It's official. Boxing superstar Floyd "Money" Mayweather will return to the ring, step up in weight and challenge three-division World Champion Miguel Cotto for his WBA Super Welterweight World title in what will be a gargantuan showdown between two future Hall of Famers who bring excitement and fierce competition every time they step into the ring. Mayweather vs. Cotto will take place on Saturday, May 5 at the MGM Grand Garden Arena in Las Vegas, Nev. and will be televised live on pay-per-view.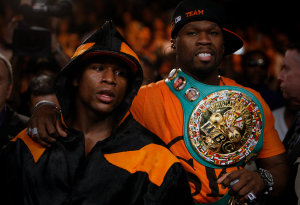 Mayweather, a seven-time world champion in five weight classes, is excited to be facing the heavier, much-tested Cotto, who is the pride of Puerto Rico and has the experience, heart and determination to give pound for pound king Mayweather the toughest fight of his career.
Mayweather vs. Cotto: Opening Quotes from the Fighters
"Miguel Cotto is a world class fighter who can never be taken for granted and continues to prove he is one of the best in boxing," said Mayweather, whose only other fight at super welterweight came in a World Boxing Council (WBC) world title win over Oscar de la Hoya in May 2007. "It will be a challenge for me to compete with him at this weight, but this is the type of test I thrive on and gives me the motivation to train even harder. I have no doubt in my mind that my title belt collection will increase once again and Cotto's reign as champion will come to an end on May 5."
Cotto, coming off of the second defense of his title, a spectacular tenth-round technical knockout win over Antonio Margarito in December 2011, is ready to face Mayweather and believes he is Mayweather's most competitive career challenge to date.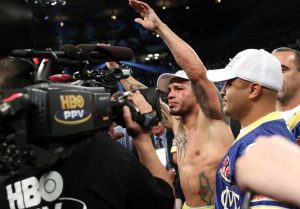 "I am here to fight the biggest names in boxing," said Cotto who true to his warrior spirit that has distinguished his entire career has accepted this challenge to face the undefeated Mayweather. "I've never ducked anyone or any challenge in front of me. I have accepted everything to give the fans what they like…great and exciting fights. That is what the sport of boxing is all about; making the fights that the fans want and deserve to see. On May 5, stay tuned, because I will convincingly beat Floyd Mayweather."
In addition to agreeing to the terms of the bout which will take place on Cinco de Mayo, one of boxing's biggest weekends, both fighters have agreed to Olympic-style drug testing for the fight.
"Floyd always asks us to find the best available competition for him to fight and we have found that in Miguel Cotto," said Leonard Ellerbe, CEO, Mayweather Promotions. "This is a very risky fight for Floyd as Miguel is a solid 154-pound champion who has already proven to have great boxing abilities and to be a very competent and strong puncher. This is a big test for Floyd, but as always I believe, he is the superior fighter with unmatched skills. This will make the difference and lead to another Mayweather victory the night of May 5."
"What we have here are two champions of amazing caliber set to meet in the ring on May 5 and give boxing and sports fan one of the most compelling match-ups in the sport's history," said Richard Schaefer, CEO, Golden Boy Promotions. "Floyd Mayweather has already achieved worldwide recognition as one of the best fighters ever and Miguel Cotto is one of the greatest fighters of this era. I commend both fighters for agreeing to the fight each other on one of the biggest weekends for boxing and also commend them for agreeing to participate in Olympic style drug testing, a precedent set by Floyd, which continues to uphold the integrity of the sport."
Mayweather vs. Cotto, a 12-round fight for Cotto's WBA Super Welterweight World title, is presented by Mayweather Promotions, Golden Boy Promotions and Miguel Cotto Promotions. More information on Mayweather vs. Cotto, including ticket prices, pay- per- view information as well as press tour dates and cities, will be announced shortly.
Of course, this officially puts to end the very long and drawn out saga of the potential Floyd Mayweather vs. Manny Pacquiao fight. Pacquiao vs. Mayweather won't be happening in May, or June, if at all.
If it does get put together, the earliest timeframe would be around November, after Mayweather has returned from his jail sentence. However, as we have learned in this, don't hold your breath for it to happen anytime soon.