Boxing is raving over the fireworks produced by Saturday's Floyd Mayweather vs. Miguel Cotto bout. While some observers expected Cotto to give Mayweather a difficult challenge (including yours truly), not many expected Junito to give Pretty Boy such a competitive run for his fabled money. Any lingering doubts about the post-Margacheato prowess of Miguel Cotto should now be well and truly banished.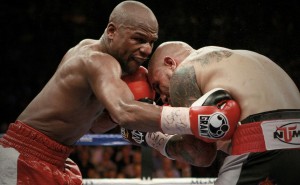 However, there is one problem. Not everyone saw the fight that the rest of the world saw. Our esteemed Proboxing-fans editor, Jake Emen, saw that hotly contested fight and scored it as 115-113. Even Floyd Mayweather saw the fight as possibly a close one, since he came out and closed the show in the 12th like a man who just might lose, and afterward he praised Cotto as "a helluva champion" and "the toughest guy I ever fought" (praise indeed considering what Jose Luis Castillo accomplished against Mayweather 10 years ago). Even most of the press saw the fight I just described, as you can see from the scores below:
Secondsout 116-112
ESPN 116-112
Associated Press 116-112
USA Today 115-113
Almost everyone agrees that Mayweather won by a clear margin, but certainly not a dominating one. Everyone, that is, except for Harold Lederman, Robert Hoyle, Patricia Joyce Harman and Dave Moretti.
The three judges serving that night didn't see a body-punching Cotto forcing Floyd Mayweather to stay focused and put his best stuff on display. Instead, they saw Floyd Mayweather dominating Cotto and handing him a hefty serving of public humiliation. I say that is what they must have seen, because how else can scores of 117-111, 117-111 and 118-110 be explained?
Those scores aren't symbolic of a clear, but hard-earned victory. Those scores mean victory by rout! HBO's Harold Lederman might very well be the only other person on the planet who agrees with those scorecards, as he too had it at 117-111.
Make no mistake: the judging at the MGM Grand on Saturday stank up the joint. For his part, Harold Lederman did his real job competently, keeping in mind that his job is to sell HBO's product, and not to offer truly objective, expert analysis. Just because everyone agrees that Cotto lost doesn't make the scoring any less objectionable, although without the charge of "robbery!", it does make it less scandalous.
With the judges scoring that fight as they did, how could Miguel Cotto have won it without a knockout? He stood about as much chance of winning on the scorecards as Juan Manuel Marquez did in his rubber match with Manny Pacquiao, and for the same reason: big time boxing is protecting both those guys.
To Floyd Mayweather and Miguel Cotto, I say "great job," and add that I hope jail isn't too hard on the Pretty Boy. To the judges and Harold Lederman, I hope that sick, guilty feeling creeps into your stomachs when you next check your bank account and see the direct deposit for Saturday's work has arrived.
Comments
comments