Betting odds: Floyd Mayweather vs. Robert Guerrero
We're finally just a few days away from the big May Day pay-per-view event, as Floyd Mayweather takes on challenger Robert Guerrero. There's been a lot of talk about which fighter will come out ahead, and whether or not the underdog can emerge victorious against the undefeated great.
Right here, you'll find a breakdown of the Mayweather vs. Guerrero odds and betting lines. Take a look and see if there are any intriguing numbers which you may want to capitalize on.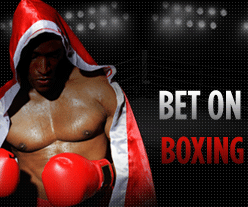 Sign up for Bovada and get a 20% bonus up to $100!
Sign up to bet on boxing with Bovada and receive a 20% cash bonus up to $100 on your first deposit!
Mayweather vs. Guerrero Betting Odds
Floyd Mayweather: -800
Robert Guerrero: +500
Over/Under 11.5 Rounds

It's not exactly a surprise that Mayweather is a very large favorite over Guerrero. And if you have tried to bet against Mayweather in the past, then you've come out on the wrong end of a lot of wagers.
Still, there's something very enticing about getting Guerrero at 5-1 odds against a 36 year old fighter coming off a one year layoff which included a three month stint in prison. Guerrero has the size, he fights from a southpaw stance, he has the heart and the grit, he has a strong chin and good power, he has versatility and he has momentum heading into the fight. There's a lot to like about his chances, particularly when you can get him at +500.
It's buyer beware, of course, because you're betting against one of the supreme talents in the game, and one of the best fighters of the past 25 years. But history says everyone loses eventually, fighters don't retire undefeated, and most of the time, you don't see the losses coming when they happen.
With the over/under line, you'd have to like either Guerrero to land a magic punch, or Mayweather to break Guerrero down and force a doctor or referee stoppage. I'd say the latter is more likely of the two.
Definitely some interesting things to think about with the betting numbers and the official Mayweather vs. Guerrero odds.