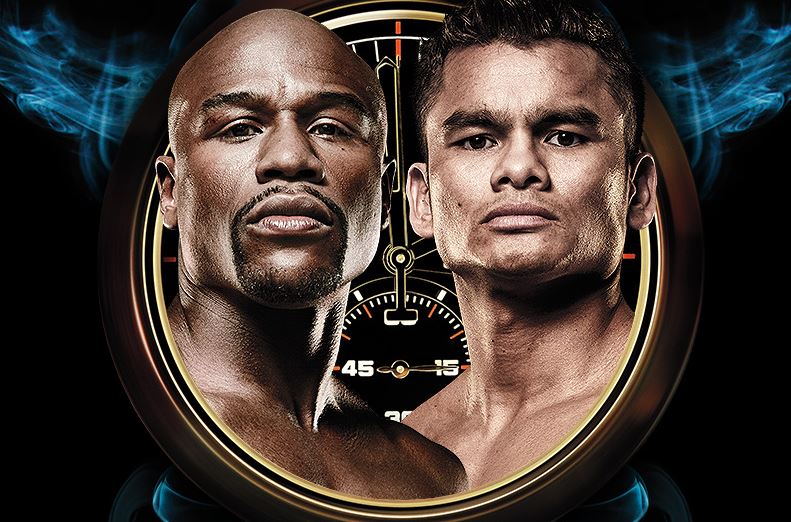 Floyd Mayweather vs. Marcos Maidana Round by Round Results:
On Saturday, May 3rd, "The Moment" has finally arrived, as Floyd Mayweather battles Marcos Maidana in the headline event of a stacked Showtime pay-per-view event from Las Vegas, NV.
Right here, you can follow along with our live Mayweather vs. Maidana results and round by round blog. We'll be providing you with ongoing coverage of the entire event, including the undercard, which showcases Amir Khan vs. Luis Collazo and the return of Adrien Broner.
Mayweather vs. Maidana Scorecard
| | | | | | | | | | | | | | |
| --- | --- | --- | --- | --- | --- | --- | --- | --- | --- | --- | --- | --- | --- |
| Round | 1 | 2 | 3 | 4 | 5 | 6 | 7 | 8 | 9 | 10 | 11 | 12 | Total |
| Floyd Mayweather | 9 | 10 | 9 | 10 | 9 | 10 | 10 | 9 | 10 | 10 | 10 | 10 | 116 |
| Marcos Maidana | 10 | 9 | 10 | 9 | 10 | 9 | 9 | 10 | 9 | 9 | 9 | 9 | 112 |
Mayweather vs. Maidana Round by Round Updates & Results
Rd 1: Maidana comes out throwing a right hand immediately. Nobody has landed a punch through 30 seconds. Maidana tries to get Mayweather in the corner, Mayweather circles out quickly. Mayweather jabs to the body. Then finds a quick 3-punch combo to throw. Maidana coming forward and trying to rough Mayweather up. Lands some shots inside. Gets Mayweather on the ropes, swinging wildly. Mayweather making him miss, but Maidana going hard to the body. Maidana has him on the ropes and is going to town. Mayweather looking for counters. Fighting off the ropes. Now Mayweather has Maidana on the ropes. Maidana goes low.
Rd 2: Mayweather comes out much more serious this round. He's picking Maidana off as he tries to come inside. Maidana with a hook, and a jab. Maidana gets him back on the ropes, Mayweather ties up, gets back to center ring. Maidana bulls him back to the ropes, landing big body shots. Mayweather answers to the body. Looks for an uppercut upstairs. Mayweather jabs to the body. Maidana's fans loudly chanting. Maidana slowing down compared to his early rapid fire aggression. Mayweather's round.
Rd 3: Mayweather looking for more of his own offense here. Jab to the body. And again. Again. Maidana throws, Mawyeather lands a counter right. Mayweather circles, they clinch up. Mayweather complaining from some rough housing. Maidana throws to the body. Lands an uppercut upstairs. Mayweather on the ropes. Now back in the center. Throwing punches with meaner intentions now. Maidana gets him back to the ropes, and throwing downstairs. Mayweather pushes him off with a foreman. Close round here.
Rd 4: Things getting rough in there. Tony Weekes warning both fighters. Maidana not letting Mayweather get set. Maidana jabs, goes to the body. Mayweather with an uppercut. Now a left hook. Floyd coming on strong here. A clinch. Floyd jabs. Mayweather might be cut. Maidana with clubbing downward punches, now hard body shots. Mayweather with a left hook to the body. Mayweather is cut, and doesn't like it. They trade at the bell, Mayweather's round.
Rd 5: Mayweather says to his corner that he was head butt, and replay shows that he was. Mayweather complains he can't see. First time he's been cut in his career, which is crazy. Mayweather launches a big right hand. Maidana misses big, they clinch. Mayweather looks a bit tired and frustrated. Rough clinch. Maidana jabbing. Gets him to the corner. This certainly isn't the fight Mayweather was expecting. Maidana's round.
Rd 6: Mayweather comes out with some strong jabs. Straight right. Maidana gets him back to the ropes. Counter right for Mayweather. Mayweather throwing some tired, arm shots though. Mayweather talking to the ref. Maidana right in his chest. Mayweather with two left hooks. Mayweather with a 1-2, and another. Now Maidana backing up. Big Mayweather right hand. Maidana with a body shot. Making it very, very ugly on the inside. Mayweather's round here, but this is very, very interesting.
Rd 7: Mayweather walking straight in now. Landing some big punches. Gaining confidence with his right hand. Doing damage. Maidana looking slower for the first time, and not charging in. Mayweather looks for his jab now. Mayweather with a lead left hook. Mayweather downstairs. Maidana misses with some big shots, goes to the body more. Mayweather fighting off the ropes. Doing damage with counter shots. Circles back to the center. Clinch. Mayweather lead left hook. Maidana thudding shots downstairs. Mayweather jabs, then lines up a couple of right hands. Maidana comes in wild. Mayweather's best round so far.
Rd 8: Maidana charges out. Going hard downstairs. Clubbing down with hard power shots to the head. Mayweather with a counter right. Mayweather gets hit by a hard low blow. Mayweather's pissed, lands a big right. Close round right now. Maidana charges forward and lands a big shot. Mayweather retaliates. Maidana gets him back to the ropes. Another clinch. Mayweather frustrated. Probably Maidana's round here, which means an even fight.
Rd 9: Slower start to this round. Mayweather lands a big right. And another. Lines up another, then jabs to the body. Another body shot. Jabs downstairs. Maidana roughs him up on the inside. Maidana jabs, Mayweather throws a left hook. Maidana misses with a monster left hook which would have been curtains for anyone. Mayweather with a 1-2. Mayweather fighting from a southpaw stance now. Back to orthodox. Throws a 4-punch combination. Big Mayweather round. Maidana jabbing. Mayweather with a 1-2.
Rd 10: Was Maidana taking the last round off, or did Mayweather finally take control? Mayweather jabbing. Looks more confident. Big right hand. Lands an uppercut. Mayweather opening up now. Another uppercut. Maidana looking slower. Maidana bumping his chest, saying bring it. Charges forward. Goes to the body. Mayweather with a lead right. More dirty clinches, both guys throwing forearms. Mayweather with a big right downstairs, and a second. Maidana jabbing. They trade rights. Mayweather jabs. Mayweather's round, punctuated by a right at the bell.
Rd 11: Lots of swinging and missing from each guy to start. Mayweather lands to the body, then back upstairs. Maidana looking tired right now. Mayweather with an uppercut, then two left hooks. Jabs to keep Maidana at bay. Mayweather leads with a right, then ties up. Another clinch. Maidana gets him to the ropes. Landing some big shots, some of his best work in a while. Hard body shot. Mayweather tying up. Mayweather with a left. Maidana tackles Mayewather into the ropes. Mayweather complains. Maidana almost tackles him again. Mayweather with a big right at the bell. Things very interesting still with 1 round left. Close round, could have gone either way.
Rd 12: Crowd electric as the final bell begins. Mayweather working behind his jab. Mayweather with a double left hook. Mayweather jabs downstairs. Then a right upstairs. Maidana throwing bombs. Mayweather flicks a left jab. They clinch and get broken up. Maidana with a left hook downstairs. And another. Throwing more bombs upstairs. Mayweather trying to circle away. Ties Maidana up. Right hand from Mayweather. Long clinch here. Mayweather with another straight right. Mayweather takes the 12th. Maidana thinks he won the fight. And he did a great job, and it could be close, but Mayweather did enough to win.
We have Mayweather winning a 116-112 decision. Definitely close rounds in there, and wouldn't expect to see some funny things on the scorecards…
Official cards: 114-114 DRAW, overruled by 117-111 and 116-112 for Floyd Mayweather, via Majority Decision.
Maidana and his team aren't happy, but that's a fair verdict.
Mayweather says he gave the fans what they wanted tonight, a tough and competitive fight. Maidana believes he won, and not only that he wants a rematch, but that he's the one that needs to give Mayweather a rematch, because he was the winner.
Good stuff tonight, and Mayweather got past a very tough challenge from Maidana.
Undercard Results & Fight Night Updates
12:25am – OK, finally time to get the instructions & get started with the fight!
12:15 am – Maidana all smiles and quiet confidence for his ring entrance. Mayweather opts for some kind of circus themed entrance, with clowns, jugglers and more. Lil Wayne is rapping. Justin Beiber in tow. Craziness.
12:06 – National anthem time… and we get three of them tonight, as for some reason, they include the Mexican national anthem
12 am – Khan vs. Collazo is over. Mayweather-Maidana next!
11:00pm – Khan & Collazo making their entrances now.
10:50pm – Broner-Molina now finished. Khan vs. Collazo next.
Fight night weights for Mayweather vs. Maidana: Mayweather – 148 lbs; Maidana – 165 lbs, which means El Chino rehydrated with almost 20 pounds overnight, wow.
10:05 – Broner & Molina in the ring, fight set to start.
9:56 pm – Love vs. Periban is finished. Broner vs. Molina next.
9pm – Alright it's 9pm Eastern and the pay-per-view broadcast of The Moment has officially begun. J'Leon Love takes on Marco Antonio Periban first on the four-fight card. Stay tuned for the start of our live coverage!
Amir Khan vs. Luis Collazo Scorecard
| | | | | | | | | | | | | | |
| --- | --- | --- | --- | --- | --- | --- | --- | --- | --- | --- | --- | --- | --- |
| Round | 1 | 2 | 3 | 4 | 5 | 6 | 7 | 8 | 9 | 10 | 11 | 12 | Total |
| Amir Khan | 10 | 10 | 10 | 10 | 10 | 10 | 9 | 8 | 10 | 10 | 10 | 10 | 117 |
| Luis Collazo | 9 | 9 | 9 | 8 | 9 | 9 | 10 | 9 | 9 | 7 | 9 | 9 | 106 |
Amir Khan vs. Luis Collazo Round by Round Results
Rd 1: Khan with an awkward combination to start things off. Collazo throws a jab as Khan is busy pawing. Slow round. Khan with a nice straight right. Charges forward with another. Collazo with a right hook. Khan with another right hand. Khan's round here.
Rd 2: Khan comes out busy in the second. He lands a big right which shakes Collazo up. Collazo looking to establish his southpaw jab. They get tied up a bit and Khan doesn't mind the rough-stuff inside. He looks strong at this weight. Khan with his jab. Collazo switching between southpaw and orthodox now. Khan with a combination, Collazo answers. Another Khan round.
Rd 3: Khan continues to find a home for his right hand. Collazo ties up on the inside. Khan with a quick 1-2. More clinching from Khan. Now Collazo coming forward. Making more of an effort to lead. Khan lands another right. Then another after a quick reset.  All Khan here.
Rd 4: Collazo sent down at the very start of the 4th. Khan now opening up and looking to do more damage. Collazo not badly hurt, he's fighting back, and now coming forward. Khan sticking out his left as a range finder. Connects with some big bombs. Collazo just taking shots. But he unloads a combination in return. He's holding his hands at his waist and just walking forward right now. Trying to show Khan what's what. He gets picked off a few times, but Collazo doing some good work here.
Rd 5: A lot of holding from Khan, but he's being allowed to do it. Collazo looking to get back to his jab. More holding. Collazo continues walking him down. Khan with a quick combo, pushes him aside, moves away. Khan gets him in a head lock. Collazo with a nice four punch combination. Coming forward throwing. Nice end for him, still Khan's round.
Rd 6: Nice combination at the start of the round from Khan. Collazo with a jab, then a hook downstairs. Khan with a 1-2 then pushes him off. Collazo now getting rougher on the inside when Khan is holding. Quick right hook from Collazo. Collazo gets him to the ropes and a few straight lefts are thrown. Khan ties up, turns around, lands a few punches and keeps things in the center of the ring. Very close round, could go either way. Still think it's for Khan.
Rd 7: Collazo doing a good job walking Khan down, but Khan just letting it happen, then tying him up. Collazo doesn't initiate enough despite walking him down, he's just coming in and then letting Khan either do work, or clinch. Khan with a quick flurry of shots. Collazo coming straight in. Collazo with a body shot, Khan complains it's low. Could be Collazo's first round here.
Rd 8: Collazo deducted a point in the 8th for low blows. Considering the amount of holding that Khan has been doing, without warning or interference, it's pretty unjust. Collazo comes in swinging. Lands a big left which sends Khan backward. Khan tries to hold on, finally gets warned by the ref. Khan then lands a  nice 1-2. Another one a few seconds later. Collazo with another shot. And now Khan gets a point deducted for holding! Now, interesting round to score – 9-8 for Collazo.
Rd 9: Collazo coming out aggressively at the start of the round. Khan throws a big 1-2. Collazo answers with a few shots. Khan circling more now, goes downstairs, then covers. He's not holding after the deduction. Khan with a nice body shot. Collazo presses forward, lands a straight left, misses with a hook. Close round, goes to Khan.
Rd 10: Khan with a 3-punch combination. Collazo with a jab, then a right hand. Khan hurts Collazo with a left downstairs. Khan starts opening up with Collazo fading into the ropes. Now Khan sends Collazo down. Collazo sits on one knee until the count of 9.  Khan with a big right hand upstairs as Collazo looks to the referee. Collazo still with hands down. Khan opening up with Collazo on the ropes. Khan teeing off, Collazo dodging most. Collazo just stands there, hands down, inviting Khan in as the bell rings.
Rd 11: Khan doing a lot of work with his jab now. He goes back downstairs. Collazo following him around. Looking for a home with his hook. More clinching it. Khan warned for holding again. Collazo still coming ahead. Khan landing more clean shots.
Rd 12: Khan gets bulled to the canvas and gets hit low in a clinch. He's taking his time getting up. The referee warns both guys. Khan taking his time though. Once he's up, he immediately throws a big right. Khan throwing some quick combinations. Collazo bloodied but still walking in, hands down. Khan still doing lots of clinching. Khan with some jabs, and some circling.
We have Khan winning a very wide, if not pretty, decision, 117-106
Official cards: 117-106, 119-104, 119-104
Adrien Broner vs. Carlos Molina Results
Broner comes out with his hands low, clearly confident in his superior speed and skill. Using his should roll, looking for big right hands. Pawing out his jab as a rangefinder. Molina lands a body shot, will need to keep that up and slow him down.
More of the same at the start of the 2nd. Broner gets lazy with his defense and Molina tags him a few times, fires himself up, and the crowd. At the start of the 3rd, Broner tosses Molina to the canvas and gets a hard warning from referee Kenny Bayless. Molina comes back with some more work to the body. He's throwing much more now, and his activity is serving him well. Broner lands a big right hand, but a good round for Molina.
Molina doing a real good job taking the fight to Broner right now. He's doing really good work to the body, staying busy, and Broner isn't doing much in return. Broner just looking to pick him off here and there, but Molina is the consistent one right now.
Broner getting himself into the fight more now. He's using his speed to land clean shots and making Molina second guess himself. Doing some showboating though, certainly making everyone watching at home hope to see him lose yet again. And as I finish typing, he pulls out the old Adrien Broner hump, to jeers from the crowd. What in the world goes through this guy's head?
Broner also gets warned for some of his elbows and forearms that he's working in there. Molina looking tired out right now in Round 6. But he's still in the fight. Broner more active now and is landing mostly at will.  Molina tries a charge inside but he's markedly less busy than he was a few rounds ago when he was seeing some success.
In Round 7, the fight becomes more and more in Broner's control. He's teeing off now and Molina seems a bit resigned to his fate at this point. Broner slows up in the 8th, he's either resting and taking the round off or he just lost focus a bit. Either way, pace has continued to slow here into the 9th. But Broner now just keeping Molina at the end of his jab. Plenty of showboating going on, but not dealing too much damage.
Fight continues at this rate through the close. Broner will win, but not exactly impressive here, and still creating nothing but haters with his attitude and showboating.
Official scores: 99-91, 98-92 and 100-90 for Broner
Listen, the right guy clearly won the fight here, but to say Molina didn't win a single round, or only won one round… it's absurd.
J'Leon Love vs. Marco Antonio Periban Results
The fight begins with Love working behind a quick, sturdy jab, and using lots of footwork to move in and out, and Periban pressing forward and looking to be aggressive and do damage. Suddenly Periban gets a bloodied nose, and by Round 2 it's bleeding pretty badly. It's bothering him a bit and it could be broken. Love staying behind the crisp jab and using it to good effect.
Periban comes out in the 3rd and buzzes Love. He backs him into the corner and unloads, but Love avoids most of it and then ties him up. Periban stays committed to his pressure though and lands a few more good shots on Love. Slows down by the end of the round, but did good work for much of it.
Love has a nice comeback round in the 4th, taking back control of the fight. Periban has to make this is an ugly fight if he has any hope, because Love is too skilled when he has a chance to pick him apart.
But just like that in the 5th round, Periban gets Love badly hurt with a huge right hand. He starts unloading against the ropes, and Love's head is being snapped back. It looks like referee Jay Nady is about to wave it off, but then he somehow does it, and Love escapes with a clinch. Then Periban gets him hurt again, and finally officially scores a knockdown, although he also manages to land a shot or two to the back of the head with Love down. Then Nady literally tosses him down across the ring… what a crazy, crazy sequence!
Love seems to have settled down here in Round 6. Periban more complacent and it allows Love to do his work. Love lands a few big shots which push Periban back. Periban bouncing around backward now, and cut over his left eye.
Since that big round for Periban where he almost scored the stoppage, it's been all Love. Periban maybe gassed out after that barrage, but either way, Love has come on strong through the 6th and 7th.
Periban complains to his corner that blood getting in his eyes from that cut. His face is certainly a bloody mess. He just can't figure Love out right now, and in the process of trying, he has slowed down and he's following Love around now instead of attacking.
Ultimately, Love did an excellent job coming back from the knockdown in Round 5. If you're Periban or his team, you're wondering what if — because they almost had, and could have had, a stoppage win there. But that's not the way it played out. Looks like Love did enough to win on the scorecards.
Official scores: 95-93, 97-92 and 96-93 for Love
—–
Be sure to keep on checking back for more over the coming days, including post-fight aftermath, analysis, fight photos, and all the rest, and thanks for stopping by for our live Mayweather vs. Maidana results coverage!