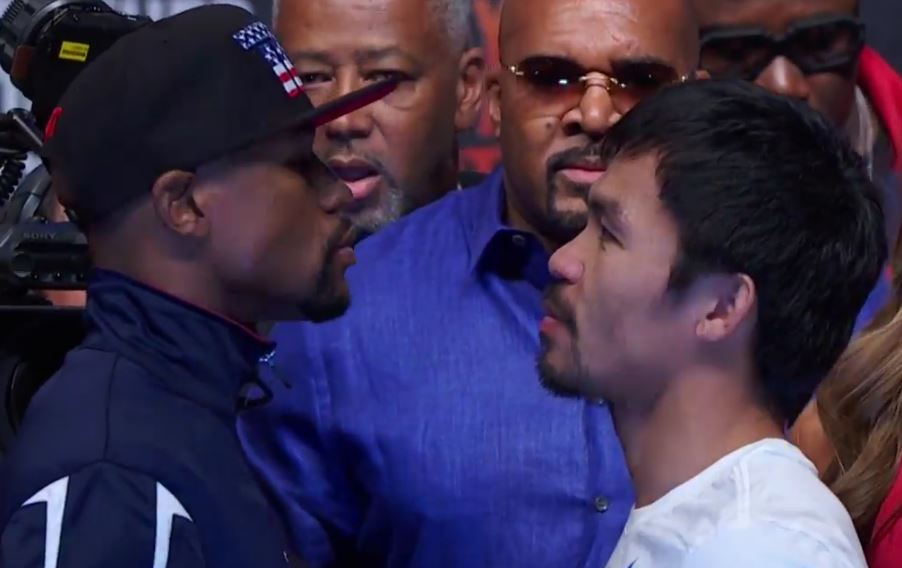 Official Floyd Mayweather vs. Manny Pacquiao Weights:
It's the day before the big day, which means it's time for the fighters to step on the scale and size each other up. Right here, we have the official Mayweather vs. Pacquiao weigh-in results from the MGM Grand in Las Vegas, Nevada, along with photos of the two fighters, and analysis of what it all means. Take a look.
Mayweather-Pacquiao Weigh-in Photos
Mayweather vs. Pacquiao Weights
Floyd Mayweather: 146 lbs
Manny Pacquiao: 145 lbs
Both guys were in phenomenal condition of course, and each was shredded. Neither had an issue making weight, and were comfortably under the limit.
There was no funny business during the weigh-ins. The two made weight and then had a fairly short weigh down. Pacquiao smiled and nodded, Mayweather was stoic and still, and that was it. Neither said anything provocative and things were pretty calm.
Prior to the actual weigh-in, Pacquiao was all smiles as he walked out to the packed crowd. He took a selfie of himself and his team and was clearly relishing the moment of this once in a lifetime experience. The crowd loved him, and he was certainly relaxed. Mayweather was certainly enjoying the scene too, but not as wildly, outwardly happy as Pacquiao. He got a big crowd cheer, but not as loud as Pacquiao's.
There was basically a sold out arena at the MGM Grand to watch the fighters step on the scales today. They even had to sell tickets to the event, with the proceeds going to charity, so that the throngs could even be controlled. It was a raucous environment, with big support for both sides, but clearly more vocal support for Pacquiao, while Mayweather received a mixed welcome, which shouldn't come as a surprise.
Undercard Weights:
Leo Santa Cruz: 124.5 lbs
Jose Cayetano: 125 lbs
Vasyl Lomachenko: 125.5 lbs
Gamilier Rodriguez: 126 lbs
That does it for the Mayweather-Pacquiao weigh-ins, but be sure to hang out with us all weekend long. Tomorrow night is the big night – finally – and right here is your place to be all evening long, with our live Mayweather vs. Pacquiao results coverage.