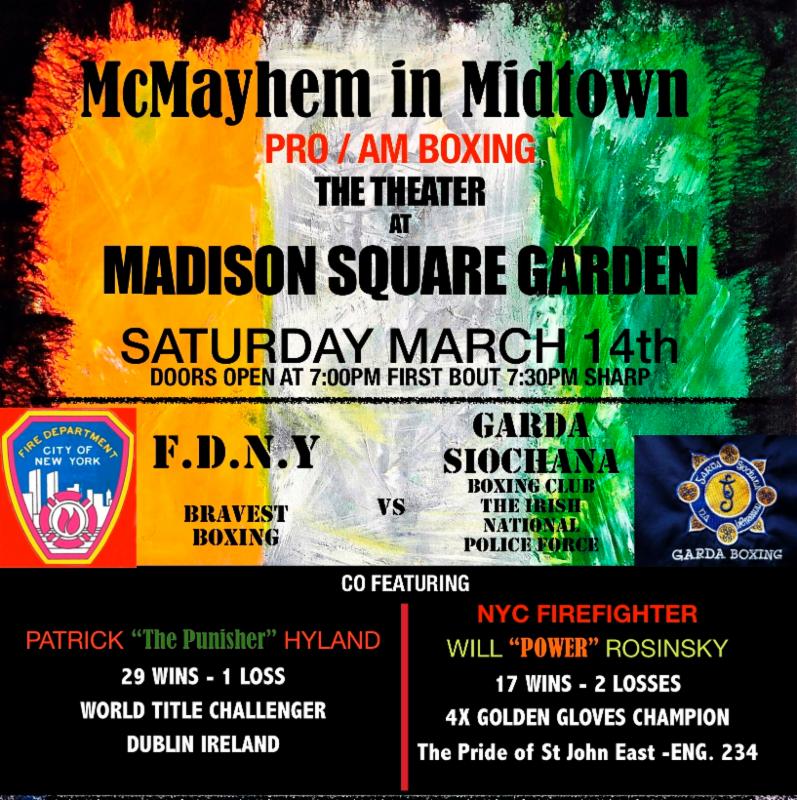 All three of the pro bouts for tomorrow night's "McMayhem in Midtown" card weighed-in earlier today. The card, promoted by DiBella Entertainment, Ring of Fire Promotions, Murphys Boxing and FDNY Bravest Boxing takes place tomorrow evening at the Theater at Madison Square Garden, in New York City. The card is headlined by former world title challenger Patrick "The Punisher" Hyland (29-1, 13KO's).
The co-feature bout of the evening sees the long-awaited return of popular light heavyweight contender-turned-New York firefighter Will "Power" Rosinsky (17-2, 9KO's).
Opening up the pro portion of the card will be Irish Middleweight contender Gary "Spike" O'Sullivan (19-1, 12KO's)
The amateur portion of the card will mark the third meeting between the FDNY Bravest Boxing team and Garda Siochana Boxing team of the Irish National Police Force, who will be making the trip over from Ireland with the 2015 Transatlantic Championship at stake.
Doors open at 7:00 PM, with the first bout scheduled for 7:30 PM.  Below are the complete weights from today's weigh-in.
RED CORNER BLUE CORNER
10 ROUNDS – SUPER FEATHERWEIGHTS
Patrick Hyland vs. Manuel de los Reyes Herrera
Dublin, Ireland Planeta Rica, Colombia
29-1, 13 KO's 21-15-1, 15 KO's
127.2 lbs. 128 lbs.
8 ROUNDS – LIGHT HEAVYWEIGHTS
Will Rosinsky vs. Paul Gonsalves
Queens, NY Harwich, Mass
17-2, 9 KO's 7-5, 3KO's
174.4 lbs. 173.8 lbs.
8 ROUNDS – SUPER MIDDLEWEIGHTS
Gary O'Sullivan vs. Milton Nunez
Cork, Ireland Barranquilla, Colombia
19-1, 12KO's 28-12-1, 25KO's
164.2 lbs. 165 lbs.