Press Release: Former Great Mexican Champions Talking up Chris Arreola and his shot at Heavyweight History

Throughout history there have been scores of outstanding Mexican boxers who have held world titles in various weight classes, most notably, between 118 pounds to 135 pounds, while fighting their way to worldwide stardom.  But amazingly, the storied history of Mexican warriors and the heavyweight division has never produced any boxer of Mexican descent who has won a world championship in the heaviest of divisions.
That could all change this Saturday, Sept. 26, as the WBC's No. 1 contender, Chris Arreola (27-0, 24 KOs) takes on WBC World Heavyweight Champion Vitali Klitschko (37-2, 36 KO) at STAPLES Center in Los Angeles, Calif.  Presented by K2 Promotions in association with Goossen Tutor Promotions, the scheduled 12-round title bout will be the main event of the HBO "World Championship Boxing" telecast.
Despite his swarming, hard-hitting style and undefeated record, the crowd-pleasing 6-4, 250-pound Arreola – whose birth name is Cristobal and is known in boxing circles as "The Nightmare" — enters the contest as the perceived underdog by most boxing experts to the 6-7 ½, 250 pound Ukrainian giant.  However, the 28-year-old Arreola, who hails from nearby Riverside, Calif., by way of East LA, will be fighting in front of a highly partisan crowd filled with thousands of his hometown fans and those coming up from Mexico to support the man they hope – and believe – will make boxing history by becoming the first-ever Mexican Heavyweight World Champion.
Here are some observations by eight of those aforementioned Mexican greats who held world titles as to Arreola's challenge of Vitali Klitschko:
Julio Cesar Chavez: "It is always good that a fellow countryman tries to accomplish some feat in boxing.  If Arreola defeats Klitschko, he will go down in history as one of the big surprises."
_______________________________________________________________________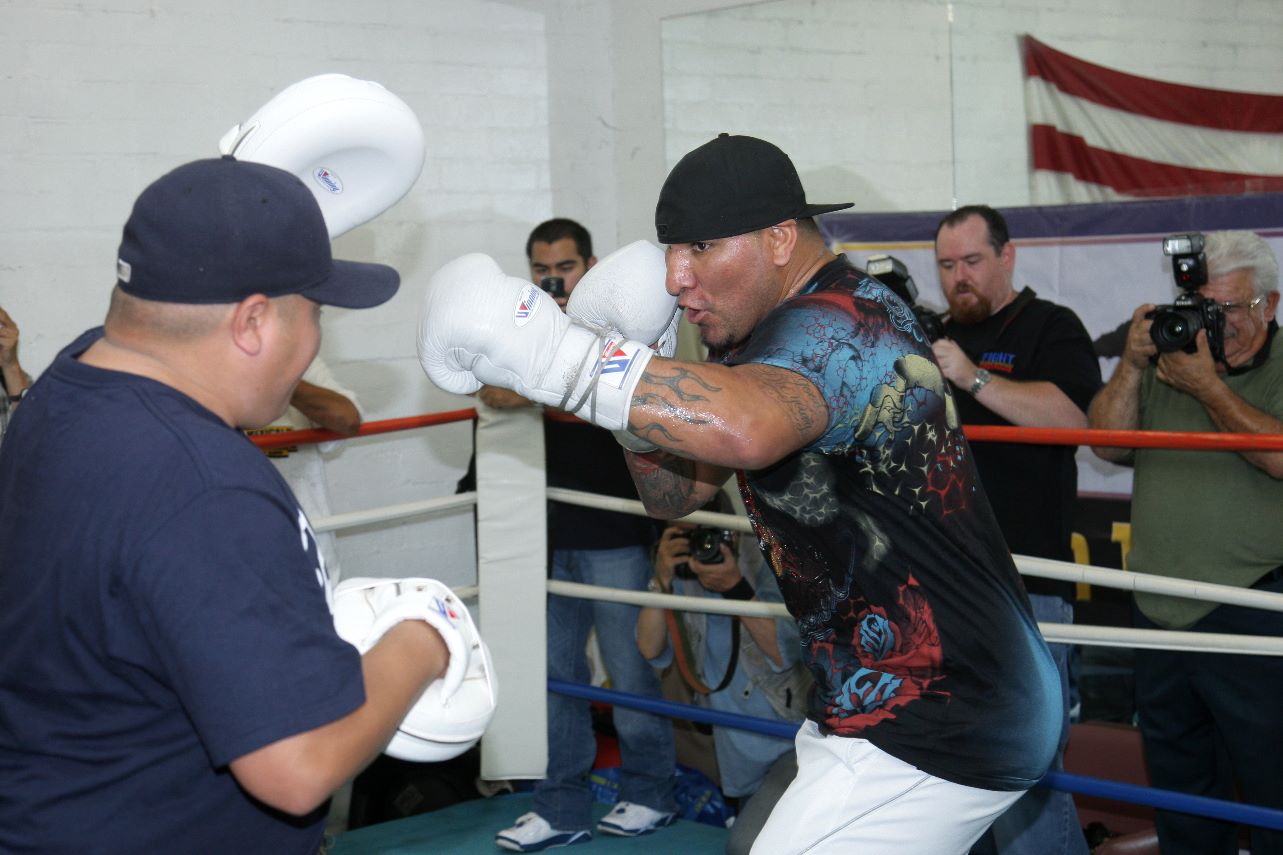 Pipino Cuevas: "It is a great opportunity and it should be taken advantage of.  I hope Arreola wins.  He has a hard punch, and he cannot be ruled out.  But the current champion, Klitschko, has more power in his fists than any other fighter.  It is a very tough fight for Arreola, but if he wins, all the success will be for him."
_______________________________________________________________________
Humberto "Chiquita" Gonzalez: "We will be paying a lot of attention to what Arreola does against Klitschko.  I find it very difficult for Chris to win this bout, however we should not forget he is an undefeated fighter, and he has a hard punch."
________________________________________________________________________
Erik "El Terrible" Morales:  "It is a real event to Mexican boxing.  Moreover if Cristobal wins the title, it will be the cherry on top of the cake in the history of Mexican boxing, as we have had great fighters in almost all the weight divisions, but in this one, which is the most difficult division in boxing, we had never had a great fighter."
________________________________________________________________________
Ruben Olivares: "The fact that boxers like Arreola have the opportunity to fight for the WBC World Title is very good, so that we know if he is capable of winning it or not.  If Arreola wins, that will have a great impact on boxing, which is what we are waiting for.  Arreola must show he has the balls, just like a real Mexican fighter does."
________________________________________________________________________
Carlos Zarate: "It seems to be a difficult bout for Arreola, but taking his record into account, he has probabilities to win, as Klitschko has already fought a lot.  If Arreola wins, it will be something shocking.  Imagine!  The first Mexican to win a heavyweight world title.  He could become an idol in Mexico like Raul 'El Raton" Macias, Ruben 'El Puas' Olivares and Julio Cesar Chavez."
________________________________________________________________________
Rafael Ruelas: "Based on the fights that I've seen, I think his chances are very good.  He's a strong-willed indivdual and it takes a lot of willpower and courage to go after a champion.  I think that's a quality he has along with the power in his hands, which will increase his chances tremendously."
________________________________________________________________________
Gabriel Ruelas: "I've seen many of their fights and I think Chris has got a very good chance.  I think he's going to surprise Klitschko.  He is very, very strong and hits hard.  This is a very important fight for the Mexican people because we have never had a heavyweight champion.  This would put us further on the map and he knows that, so I think that motivation is going to help him push forward.  I believe he's got a great chance; I do.  Not just a good chance, but a great chance!"
Photo Credit: Jan Sanders/Goossen Tutor Promotions