Live Cotto vs. Trout Results
On Saturday night, December 1st at Madison Square Garden in New York City, Miguel Cotto challenges Austin Trout for his WBA Junior Middleweight title strap. Right here, fight fans can check out our live Cotto vs. Trout results and round by round coverage, offering a detailed and constantly updated account of the fight and how it's playing out. Will Cotto resurrect his career yet again and position himself in line to challenge Saul "Canelo" Alvarez, or will Trout assert himself as one of the key players in the division moving ahead?
Cotto vs. Trout Scorecard
| | | | | | | | | | | | | | |
| --- | --- | --- | --- | --- | --- | --- | --- | --- | --- | --- | --- | --- | --- |
| Round | 1 | 2 | 3 | 4 | 5 | 6 | 7 | 8 | 9 | 10 | 11 | 12 | Total |
| Miguel Cotto | 10 | 9 | 10 | 10 | 10 | 10 | 9 | 9 | 9 | 9 | 9 | 9 | 113 |
| Austin Trout | 9 | 10 | 9 | 9 | 9 | 9 | 10 | 10 | 10 | 10 | 10 | 10 | 115 |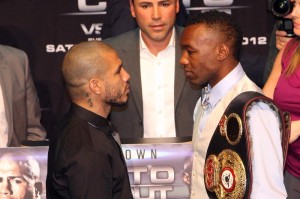 Cotto vs. Trout Round by Round Results
Rd 1: Cotto looking to find a home for his left hook from the start. Both guys looking fast at the start. Trout jabbing, sometimes circling, sometimes standing his ground. Trout lands a left.  Cotto briefly gets him on the ropes. Trout lands a left, Cotto counters and tags Trout, sending him backward. Close first round, I edge it to Cotto.

Rd 2: Trout looking to establish distance. Cotto gets in though. Trout starting to hold on inside to keep Cotto from doing work. Trout dictating things here in this round. Cotto swarming in, but missing. Good Trout round.

Rd 3: Cotto starts the round with a bit more fire. Trout tags him to the body. Cotto gets him to the corner, but Trout circles out. Cotto gets him to another corner. Lands a left hook. Lands another in the center of the ring. Trout misses a straight lead left. Cotto gets to the body, then upstairs. Trout lands a left hook, best of the night. But Cotto answers with his own left. Cotto's round, good action.
Rd 4: Cotto basically selling out to get inside. Still looking for that left hook. Trout working the 1-2s. Cotto with a straight left. Then with a 1-2. Trout with a combo in return. Cotto pressures, they tie up on the ropes. Trout lands a jab as Cotto jumps in. These are close tough rounds, hard to score.
Rd 5: They're starting to mix it up more. Trout deciding to answer fire with fire. Trout dictating here, but Cotto lands that left hook he's been looking for. Trout not fazed, but it was a good shot. Trout back to the 1-2s, they get tangled up. Cotto the aggressor, and Trout hits him low, referee calls a break to the action. Cotto just more effective with his pressure than Trout is with his boxing.
Rd 6: Cotto's power is starting to be felt by Trout here. I think he's slowing down a little bit — or he's saying I'll fight your fight, but he's getting hit hard for the efforts. This is Cotto's ball game. But Trout gets him on the ropes, lands a straight left, and another shot, but Cotto pivots out. Still, Cotto's round again, great flurry at the bell.
Rd 7: Cotto lands a left hook. Trout lands a nice straight shot. Stopped Cotto in his tracks, Trout opening up. Trout pressing forward now. Cotto lands a counter right. Lots of infighting here. Trout working the jab, looking confident now.  Throwing and landing right hooks. Cotto has a cut on his left eye. Trout pressing forward and landing combos. Big Trout round.
Rd 8: Trout looking to continue his momentum. He's landing big shots. Uppercut lands. Right hook. Cotto walking in but it's a slow forward motion, not his earlier swarming pressure. Trout very confident in there still. Cotto less so, and starting to get busted up. Cotto rallies at the end of the round, gets Trout to the ropes, but Trout's round.
Rd 9: Trout applying the pressure. Cotto gets hit low, and he's hurt and turns away. Referee eventually calls a stoppage, kind of a funny scenario there. Trout on his toes, and jabbing. Cotto can't get inside anymore. Trout gets him to the ropes, they have an exchange. Trout's round, and suddenly this fight is very interesting.
Rd 10: Cotto is finding it very hard to get into punching range here. And he's worn out from dealing with Trout's strength and size. When he does get in, Trout ties up. Trout throws a big combination, lots of body shots. This is turning into a Guerrero-Berto style inside brawl. Suddenly though Cotto lands a big shot, staggers Trout. Cotto comes in but the round's over.
Rd 11: Cotto's face really showing a lot of damage right now. Trout lands an uppercut. Cotto is starting to circle around a bit because he can't get in, but Trout just dictates then. Trout has Cotto hurt. Lands another big straight shot. Trout throwing big combinations , Cotto tries to switch it up and goes southpaw. Big Trout round here.
Rd 12: Fight up for grabs in the 12th. Trout still aggressive here. Jabbing, staying busy. Cotto bulls inside, pushes him off. Crowd uneasy. Cotto lands a jab, circles. Trout lands a hook. Then a jab. It's rough on the inside. Cotto's going all out to do damage, but isn't landing much clean. Trout still applying pressure. It's looking like the end of Miguel Cotto's career here, maybe… Trout still pouring it on. They flurry and wildly exchange to the bell as the crowd erupts. Ding ding ding.
ProBoxing-Fans.com has it 115-113 for Austin Trout.
Official scorecards: 117-111, 117-111, 119-109, all for Austin Trout! Still the undefeated champion.
—–
10:30 pm – Ring walks!
10:20 pm – They have a tribute to Hector Camacho before the main event, including a silent 10 count…
10:05 pm – Velez stops Sanchez. Main event NEXT.
9:45 pm – Jacobs just won by TKO. Velez-Sanchez next.
9:20 pm – The first fight featuring Danny Jacobs is being showcased. Then we have the Jayson Velez fight, and then the main event, maybe around 11 pm.
Undercard Results
Jayson Velez vs. Salvador Sanchez II
The undefeated Jayson Velez made very short work of Salvador Sanchez II, who looks exactly like his uncle and namesake, but fights nothing like him. Velez was just of a completely different class. He sent Sanchez down in the 2nd, and again in the 3rd, before the fight was stoppage. Velez wins by TKO3.
Next up, Velez is slated to get a title shot against Daniel Ponce de Leon.
Danny Jacobs vs. Chris Fitzpatrick
Danny Jacobs continued his comeback with a dominant showing over the outmatched Chris Fitzpatrick. Jacobs dominated from the outset, besides taking off the 4th round to recoup a bit after dishing out some damage in the 2nd and 3rd rounds.
Jacobs took over physically and athletically, and he was just too much for Fitzpatrick to handle. After the 5th round, Fitzpatrick's corner pulled the plug and didn't let him come back to take any more damage.
Danny Jacob via TKO5.
—
Be sure to check back with us later in the weekend for full post-fight coverage, analysis and aftermath. Thanks for checking out our live Cotto vs. Trout results!