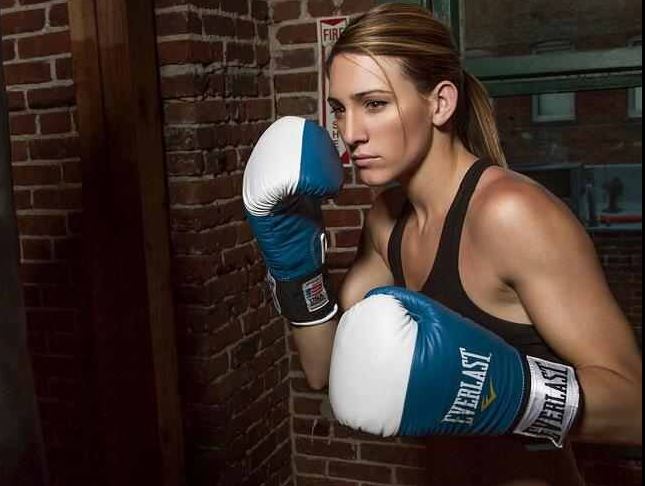 It took a day longer than she hoped, but lightweight Mikaela Mayer (Los Angeles, Calif.) achieved her dream of becoming Olympic Trials champion on Sunday afternoon. Mayer and 2014 Youth Olympic gold medalist Jajaira Gonzalez (Glendora, Calif.) met in a one-bout event at the Cook Convention Center in a winner-takes-all showdown.
After enduring a 15-minute shrill fire alarm, the two boxers stepped into the ring for the bout. Mayer clearly made adjustments from their meeting last night and enjoyed two former Olympic head coaches Al Mitchell and Basheer Abdullah in her corner.
The two boxers made it clear from the opening seconds that they were both going to leave it all in the ring, engaging in furious exchanges throughout the first two rounds. Gonzalez looked to take control in the second, backing Mayer in to the ropes and landing strong shots. Yet Mayer changed it up in the third round, utilizing her movement and reach to attempt to halt Gonzalez's charges.
The fourth round was anyone's ballgame and the two boxers left the judges with a difficult task as the bout ended. As the officials tallied the scores, the two boxers and their supporters waited in suspense until Mayer was announced the winner by a 2-1 decision.
"This is the best feeling I've ever had in my entire life. It wouldn't be a Mikaela Mayer story if it didn't end like this. Losing in the finals and falling into the challengers bracket, that's how my life has always been. Perseverance has always been my key word," Mayer said.
"Hat's off to Jajaira, she's definitely one of the toughest opponents I've had in a long time. I had to rework my entire game plan yesterday and today. I couldn't just go in and hope that by doing the same thing, I'd come out with the same outcome.
"We had to pick up the movement and pick up the boxing skills. I couldn't stand in front of her. It was the third round, I started to pick up my movement and I said let me just have fun with this, use my boxing skills and have fun with her because that was the only way that I could pull this off. Making her miss was the key."
Mayer didn't have much time to adjust from her unanimous decision loss in Saturday's competition but said she didn't allow herself to have a pity party.
"I was definitely hurt after last night because I made it to the finals. It was like a dream come true, all I had was one more fight and I could take home this Olympic Trials win and I fell in to the losers bracket. I was very angry and very frustrated and very sad but I had to pull myself together. It was hard but I had to pull myself together," Mayer said. "It was late last night that it changed.
"Laying there you feel sorry for yourself for a second but you just have to pull yourself out of it. I had my whole family here and they've been super supportive.
I just had to remember that I'm the best and that's why I'm here and that's why I won. I know there's still more to go but this is the first step. If I didn't take this step, there are no more steps. I'm the happiest girl alive right now. This is a dream come true."
Mayer joins 2016 Olympic Trials champions Virginia Fuchs (Kemah,
Texas) and Claressa Shields (Flint, Mich.). The trio will now have to qualify internationally via a continental tournament in March or the World Championships in May.
Gonzalez holds two pieces of USA Boxing history as not only the first
female Youth Olympic gold medalist from the United States but also the first American female to win both junior and youth world boxing championships. Prior to this week, the 18-year-old hadn't loss since her sixth bout.
Comments
comments