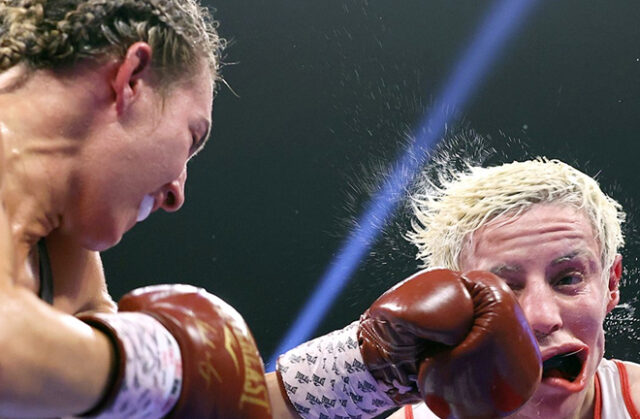 Mikaela Meyer and Maiva Hamadouche served up a fight of the year contender in Las Vegas, but it was Meyer that unified the IBF and WBO super featherweight titles with a hard fought points win.
Meyer came into this one as the WBO champion, having won the vacant belt against Ewa Brodnicka in October last year, while Hamadouche was making the seventh defence of her IBF crown that she won way back in 2016.
When we say a slugfest is breaking out on ESPN + …

A SLUGFEST IS BREAKING OUT ON ESPN+ #MayerHamadouche 🤯 pic.twitter.com/FkOTilJrzf

— Top Rank Boxing (@trboxing) November 6, 2021
It proved to be a breathless battle between the pair in nearly constant toe to toe action. Meyer's skills and accuracy were slightly topping the non-stop throwing from the Frenchwoman, but it was competitive stuff that you couldn't take your eyes off. After a whirlwind opening few rounds, where Hamadouche had more than her fair share of success, Meyer enjoyed a strong middle section of the contest, slowing her opponent down with focused attacks to the body. Meyer did have to take shots in order to give out her own, but she performed admirably under heavy fire, and looked a clear winner of the fight.
ALL OUT SLUGFEST 🤯@MikaelaMayer1 comes out on top as the new UNIFIED Junior Lightweight Champion 🏆🏆@boostmobile | #MayerHamadouche pic.twitter.com/oR2MFatf6E

— Top Rank Boxing (@trboxing) November 6, 2021
The judges scorecards were harsh on Hamadouche to say the least. Scores of 100-92, 99-91 and 98-92, all in favour of Meyer, were way too wide. There was little doubt that Meyer won the bout, but the scorecards didn't reflect the success and the heart that Hamadouche showed.
THE MOMENT 🙏@MikaelaMayer1 x #MayerHamadouche pic.twitter.com/Oo4FpiI507

— Top Rank Boxing (@trboxing) November 6, 2021
Talk quickly turned to further unification for the victor, with WBC and IBO champion, Terri Harper, in action next weekend, and WBA ruler Hyun Mi Choi, future options for Meyer.
"The game plan was to use my jab, but in the back of my head I knew she was going to keep it close and keep me on the inside" said Meyer post fight.
"This is everything I trained for. It really hasn't even sunk in, but I'm proud of what I did. I'm proud of my team. We're going to celebrate this one for sure".
"I really wanted to show everyone in the division and the naysayers that I didn't have the power and grit to stay in there for ten rounds with Hamadouche, and that I am the best in the division".
"I am coming to be undisputed, and I want the big fights".
A couple of lightweight eight rounders made up the undercard. Luis Melendez took a tight win on the scorecards against Thomas Mattice by three identical scores of 77-75, while Andres Cortes remained unbeaten as he scored a third round stoppage win against Mark Bernaldez.
That'll get your attention 😳#MayerHamadouche co-main event heads into the final rounds on ESPN+. pic.twitter.com/HEiadwMLxt

— Top Rank Boxing (@trboxing) November 6, 2021
There was an upset at middleweight, as Tyler Howard lost his unbeaten record in his 20th contest, as Ian Green took a wide points win over eight rounds. Two scores of 79-72, and a third at 80-71 confirmed a dominant win for Green. Cleveland based Abdullah Mason made his pro debut, and the lightweight stopped Jaylan Phillips in two rounds. At super middleweight, Rowdy Legend Montgomery knocked out Martez McGregor in three.
That throw your mouth piece to the hometown crowd celly. 😬#MayerHamadouche | LIVE on ESPN+ pic.twitter.com/pstLOZzGnG

— Top Rank Boxing (@trboxing) November 6, 2021
Welcome to the pros, Abdullah Mason 😤

The young gun earns a TKO victory in his first professional outing. #MayerHamadouche | LIVE on ESPN+ pic.twitter.com/2kd17JLHaV

— Top Rank Boxing (@trboxing) November 6, 2021
🎥 Bonus looks of the Montgomery KO cause the ringside view is THAT good. #MayerHamadouche | LIVE on ESPN+ pic.twitter.com/8gCMncX6Vw

— Top Rank Boxing (@trboxing) November 6, 2021