The weigh-in and press conference was held on Thursday to discuss the Warriors Boxing and Sampson Boxing ESPN Friday Night Fights-televised boxing event entitled "Superbrawls", scheduled for tonight, (Friday, February 3), in the Dallas Events Center at the Texas Station Gambling Hall & Hotel in Las Vegas. The ard is headlined by the Edison Miranda vs. Isaac Chilemba light heavyweight battle. You can take a look at what all the fighters had to say, and some pictures from the event, right here, along with the complete weigh-in results for the card.
Superbrawls will be topped by a 10-round light heavyweight main event between Colombian powerhouse Edison "Pantera" Miranda and South Africa's WBC #6, WBA #13, and WBO #14-rated Isaac "Golden Boy" Chilemba, and also feature two up-and-coming warriors in the eight-round co-main event: Rances "Kid Blast" Barthelemy (14-0, 11 KOs) against fellow undefeated Hylon Williams Jr. (15-0, 3 KOs).
As a very special added attraction, unbeaten heavyweight prospects Magomed Abdusalamov (12-0, 12 KOs) Moscow, Russia, and Cuba's Pedro Rodriguez (8-0, 6 KOs) will lock up in a six-round battle.
Weigh-in Results
Main Event: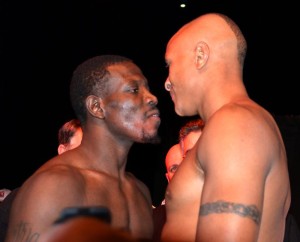 Edison Miranda 174.5 vs. Isaac Chilemba 174
Co-Main Event:
Hylon Williams Jr. 130 vs. Rances Barthelemy 130
Televised Featured Attraction:
Magomed Abdusalamov 227 vs. Pedro Rodriguez 243
Undercard:
Roberto J. Acevedo 163 vs. Velvet Malone 163
Evgeny Gradovich 127 vs. Robert Osiobe 129.5
Cameraon Kreal 136.5 vs. Jesus Gutierrez 136
Lamar Russ 162 vs. Roberto Yong 157.5
Quotes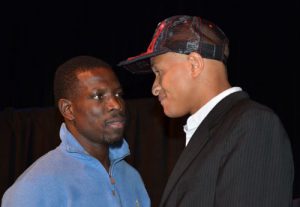 Edison "Pantera" Miranda
I've been hearing what he's been saying on the Internet. I want him to know this is not Africa with lions and tigers. This is ESPN.
This fight won't last five rounds.
I've fought so many great fighters. Give me one name of who you have fought. He hasn't fought anybody. I'm going to destroy him.
I feel sorry for all the other light heavyweights in the world.
Isaac "The Golden Boy" Chilemba
I'm looking forward to the fight.
I was supposed to fight next week on the Berto/Ortiz undercard when my manager told me about the opportunity to take on Edison Miranda on ESPN. I was very excited.
We have the game plan to beat Edison and I can't wait to start exchanging punches with him.
Pedro Rodriguez
I'm going to show the world this guy (Abdusalamov) is not such a badass and I'm going to show the world what I can do tomorrow night.
"Mago" Magomed Abdusalamov
I will do the same thing to this opponent that I did the last time I was here. Watch what I did to Rich Power. That's what I'm going to do to him.
Hylon "Suave" Williams
I know he's very well prepared well, but so am I.
Thanks to my opponent for taking the fight, a lot of people have wanted to see this fight for a long time and tomorrow, we will put on a great show.
Rances "Kid Blast" Barthelemy
My trainer, Miguel Diaz is the best in boxing. I haven't stopped training since my last fight.
I've already beaten one undefeated fighter and tomorrow night, I'm going to do it again.
Topping the all-action undercard will be "can't miss" Puerto Rican super middleweight prospect Roberto Jose Acevedo (2-0, 1 KO) in a four-round showcase fight against Las Vegas resident Velvet Malone (0-3).
Other bouts scheduled include a noteworthy six-round super featherweight tussle between Igrim, Russia's undefeated Eveny Gradovich (11-0, 6 KOs) and Las Vegas' Robert Osiobe (11-3-4, 6 KOs); a four-round junior welterweight match-up between Vegas residents Cameron Kreal (0-0-2) and Jesus Gutierrez (1-0, 1 KO); and Puerto Rico's Juan Carlos Velasquez (10-1, 5 KOs) in a six-round super featherweight bout against TBA.
Comments
comments