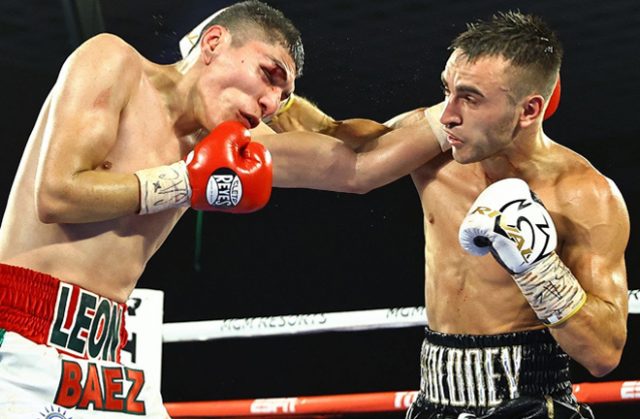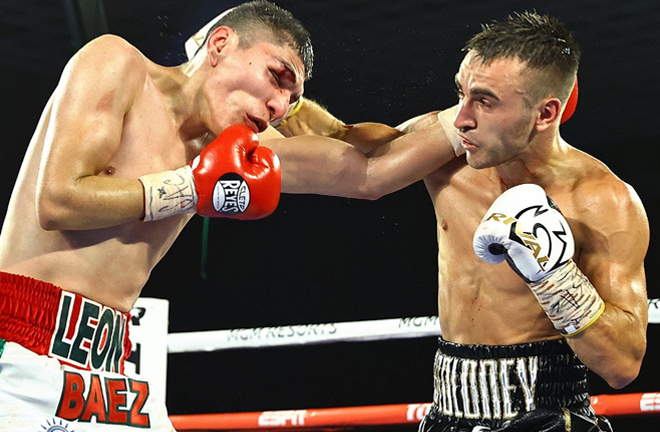 Jason Moloney stayed on course for a World title shot after scoring a stoppage win against the tough Leonardo Baez inside 'The Bubble' in Las Vegas.
After watching his twin brother Andrew lose his WBA Super Flyweight title on Tuesday night in a shock loss to Joshua Franco, Jason had no such problems in the second Top Rank show of the week.
It was an assured performance from the Australian, who will look to get back into the Bantamweight World title picture in 2020 after a dominant win here.
The 29-year-old (21-1, 18 KOs) narrowly failed on the cards via split decision in a tilt at Emmanuel Rodriguez' IBF belt in 2018, and he has kicked on towards title level since.
From the outset of this scheduled ten rounder, Moloney decided to get on the inside of Baez (18-3, 9 KOs) and subsequently just worked him over during the contest.
Quick short right hands and hard body shots did the damage as Baez simply couldn't stamp any sort of authority on Moloney.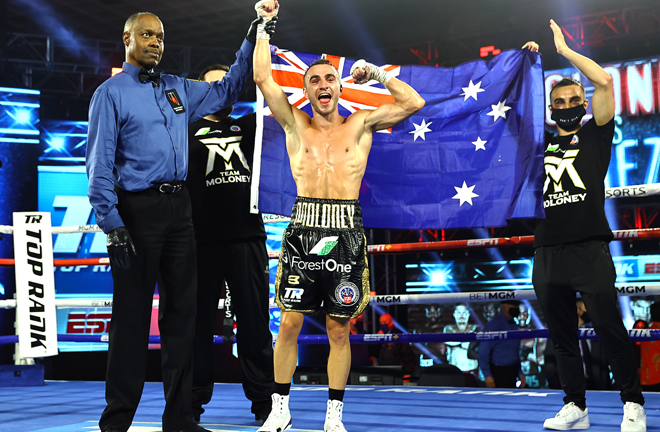 As the bout wore on, the Mexican sported cuts over both eyes, and was being slowly worn down by the accurate Moloney.
It seemed as though a Moloney stoppage win was imminent, but his opponent's corner wisely decided to save their man for another day at the conclusion of the seventh round.
At the time of the stoppage, Moloney was comfortably ahead by scores of 69-64 (twice) and 68-65.
It was a brave display from Baez, but he was just outworked by the Aussie, who now has his sights set on a second World title shot, with rankings of now lower than #4 in all four governing bodies, as he chases the likes of unified IBF and WBA 'Super' champion Naoya Inoue.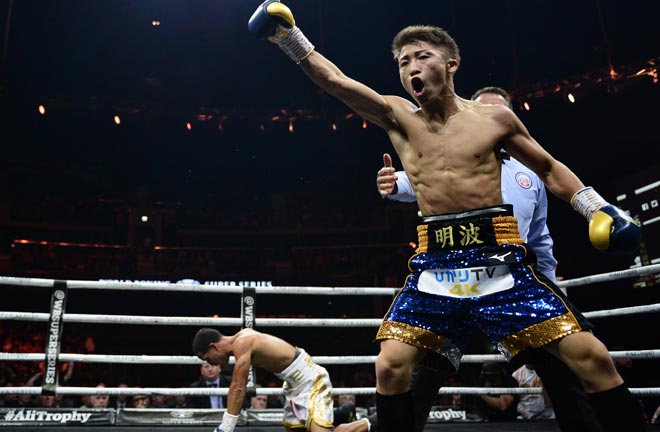 "I think I sent a big message," Moloney said post-fight.
"I knew Leonardo Baez was going to be a really, really tough challenge.
"He's an absolute warrior, as you saw.
"He pushed me hard and I showed how bad I want this. I'm ready for any of the champions at 118lbs.
Seven rounds of THIS 🤭@JasonMoloney1 went to work on the inside from start to finish and it's stopped, as the Bantamweight contender earns the TKO victory over Leonardo Baez. #MoloneyBaez pic.twitter.com/6xkYPcT3FE

— Top Rank Boxing (@trboxing) June 26, 2020
"I just wanted this so bad. I'm so driven and so dedicated, I just want this so much.
"This is the biggest opportunity of my career, and I'm so happy now.
"I sacrificed so much for six weeks, leaving my fiancé and my baby. I'm just over the moon."
Super Featherweight Abraham Nova (19-0, 14 KOs) remained unbeaten as he overcame a tricky start to earn a unanimous decision win against Avery Sparrow (10-2, 3 KOs).
Sparrow began by boxing smart, with good technical skills and movement to frustrate and confuse Nova, but by the second half of the contest, "El Super" began to assert himself a lot more, using his right hand and body assaults to stop Sparrow in his tracks.
The Puerto Rican landed a hard right hand on Sparrow's chin in the eighth which left him in survival mode, and Nova saw the job out to record the win, with scores of 99-91, 97-93, and 96-94, seeing him take a clear win.
Nova is on course for a World title shot in the near future with rankings of #6 and #7 by the WBO and WBA respectively.
𝐎𝐍𝐄 𝐒𝐓𝐄𝐏 𝐂𝐋𝐎𝐒𝐄𝐑 to a title shot for @abrahamnova22, who let it fly late to earn the UD over Avery Sparrow. #MoloneyBaez pic.twitter.com/IOiwNXtMYC

— Top Rank Boxing (@trboxing) June 26, 2020
Featherweight Orlando Gonzalez-Ruiz (15-0, 10 KOs) also remained undefeated, knocking down Luis Porozo (15-3, 8 KOs) twice, but being largely frustrated in an eight round points win.
The Puerto Rican scored knockdowns in round two from a short left hand, and seven, with a left to the body, but for large periods after, the Ecuadorean proved elusive to hit.
In the end the 24-year-old had to settle for a 77-73 (twice) and 76-74 win on the scorecards.
At Welterweight, Vlad Panin (8-1, 4 KOs) edged a six round contest with Benjamin Whitaker (13-4, 3 KOs) via majority decision. Two scores of 58-56 trumped a 57-57 draw verdict.
Another close one at ten stone seven saw Reymond Yanong (11-5-1, 9 KOs) take a split decision verdict over Clay Burns (9-8-2, 4 KOs). 59-55 and 58-56 verdicts in favour of Yanong beat a 58-57 score for Burns.
Kingsley Ibeh (4-1, 4 KOs) gained revenge at Heavyweight with a fourth round stoppage victory against Waldo Cortes Acosta (5-3, 2 KOs). Acosta had edged a four round split decision last October.