This past Saturday, on Dec. 10, in front of a packed house at the Bell Centre in Montreal, former junior middleweight world champion Joachim Alcine (33-2-1, 19KO's) turned in one of the most impressive performances of his 12-year professional career in winning an exciting 12-round decision over the highly regarded hometown favorite David Lemieux (25-2, 24KO's).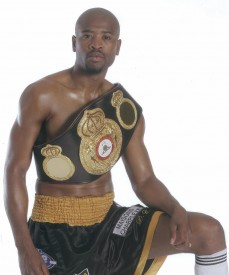 Going into the fight, many viewed Alcine as a sacrificial lamb for the extremely dangerous Lemieux, who wascoming off his first loss eight months earlier.  All of the pre-fight talk leading up to the bout focused on how Lemieux was rededicated to the sport, had switched trainers, and was ready to resume his quest toward a world title.  No one seemed to be paying much attention when Alcine calmly stated beforehand that he was finishing up his best ever training camp and that it was going to show come fight night.
When the fight started, Lemieux came out hard and fast as expected, bombing away with both hands looking to put an end to the fight quickly.  Alcine had prepared for that though, keeping a high guard to block many of the shots and staying on his toes moving effortlessly around the ring. Alcine, now 35 years old, was looking more like the fighter who, in 2007, went into the backyard of undefeated WBA Light Middleweight Champion Travis Simms, in Bridgeport, Connecticut, to take Simms' title in dominant fashion via 12-round unanimous decision.
By the middle rounds, it was clear that Lemieux was tiring and Alcine, 13 years his senior, was the fresher of the two, boxing beautifully and even staggering the heavy-handed Lemieux on a few occasions.
Heading into the championship rounds, the fight was close, but Alcine's experience proved to be the difference, as he was able to sweep the last four rounds on the scorecards to win a majority decision with two tallies of 116-112 in his favor and the third judge calling the bout even at 114-114.
With his career back on track, Alcine has big plans for his immediate future.
"I'm ready to take care of business against anybody Lou DiBella puts in front of me.  I can fight at 147, 154 or 160 pounds right now. I want the biggest and best fights out there for me.  Sergio Martinez, Julio Cesar Chavez Jr., and 'Canelo' Alvarez are my top three targets right now, but, like I said, I'll fight anybody they put in front of me," said Alcine.
"With his stellar performance against David Lemieux, Joachim just showed the boxing world that his best days are still ahead of him.  Joachim wants to fight the very best and Lou DiBella and I will work tirelessly to help him achieve his goals," said advisor Greg Leon.
Comments
comments