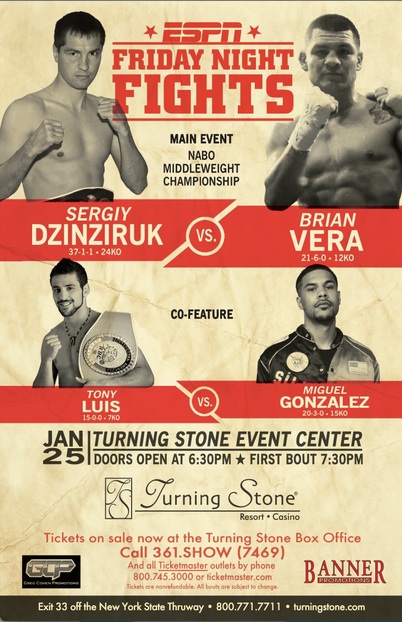 Vera vs. Dzinziruk Friday Night Fights at Turning Stone

The Turning Stone Resort and Casino Event Center has announced nationally televised championship boxing will return to its arena.
On January 25, 2013, ESPN Friday Night Fights will present a 12 round main event between NABO Middleweight Champion Brian Vera (21-6-0, 12 KOs) from Austin, Texas, defending his title against former WBO Junior World Champion Middleweight Sergiy "Razor" Dzinziruk (37-1-1, 24 KOs) of the Ukraine.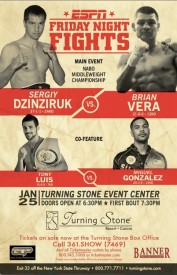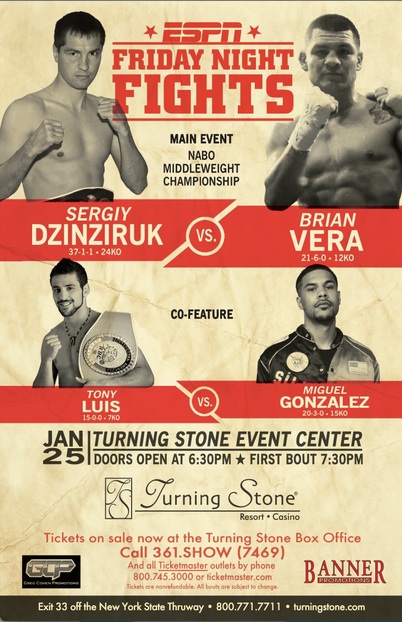 The 30 year old Vera is currently ranked fourth in the WBO's middleweight division.  His opponent, 36 year old Dzinziruk, won the NABO title after taking Jonathan Gonzalez (15-0-1, 13 KOs) to a draw in September.  At this time, the boxer is ranked 11 with the WBO and 39 by the WBC.  Vera cemented his reputation after taking down then undefeated middleweight star Andy Lee in 2008, as well as having two memorable wins against former WBC Super Welterweight Champion Sergio Mora.  Dzinziruk originally took the WBO junior middleweight belt from Daniel Santos.
The bout will be the headliner for a full night of boxing in Verona, New York.  Also on the card is a junior welterweight bout between Tony "Lightning" Luis (15-0, 7 KOs) from Cornwall, Ontario, Canada, going up against Miguel "Silky Smooth" Gonzalez (20-3, 15 KOs) out of Cleveland, Ohio.  Luis is looking good going into this first challenge after a September first round knockout of Andres Ledesma (16-21-1, 11 KOs).  Last February, previously undefeated Gonzalez suffered his first loss after a unanimous decision in a tense clash with Mike Dallas, Jr. (19-2-1, 8 KOs).
The fight is being promoted by Greg Cohen Promotions.  Cohen is said to be delighted to return to one of New York's finest event locations, Turning Stone.  He's brought three of his fights to the casino and resort in the last six months.  Though his company, alongside Banner Productions, takes their bouts around the world, he likes the commitment and hosting capabilities the casino brings to his championship level events.  It's fast becoming a favored arena.  He expects January 25 to be yet another fantastic night of boxing and is sure fans will not want to be left out.
There are other fights planned for the evening that will be announced at a later date.  The doors will open at the event center that Friday, January 25 at 6:30 p.m.  The first undercard fight is expected to start at 7:30.  Tickets will range between $25 and $70.  Visit Ticketmaster or call the Turning Stone box office (315.361.7469) for details and tickets.  The ESPN2 telecast will begin at 9 p.m.