Nordic Fight Night Results:
Patrick Nielsen (24-1, 12 KOs) won his super middleweight debut with a dominant display against George Tahdooahnippah (34-2-2, 24 KOs) last night at the Ballerup Super Arena in Copenhagen.
The Danish boxer took control of the fight from the opening bell, working well behind a southpaw jab and targeting the Oklahoma-based Native American's head and body. In the third-round two left hooks to the liver sent Tahdooahnippah to the canvas but the 36 year-old was able to find his feet at the count of eight. Following the knock down, Nielsen continued to press and punish the 'Comanche Boy' forcing him to quit on his stool at the start of the eighth-round.
''This was a really important victory for me,'' said Nielsen. ''I would of liked to have seen him go down, but I'm really pleased with my performance. I stuck to the game plan and it paid off. At super middleweight I'm stronger and better than ever. Now it's my time to shine!''
''I was impressed with Patrick tonight,'' said promoter Nisse Sauerland. ''He systematically broke Tahdooahnippah down and made a proud warrior quit. He showed what he is capable of and has sent a message to the entire super middleweight division.''
An action packed undercard saw a potentially show stealing performance from Danish featherweight Dennis Ceylan (14-0-1, 7 KOs). The Aarhus-boxer impressed with a gutsy performance to outpoint former world champion Dmitry Kirillov (31-6-1, 10 KOs).
Swedish super middleweight star Oscar Ahlin (12-0, 10 KOs) made easy work of Alvaro Gaona (14-5, 9 KOs), flattening the Mexican with a spectacular left-hook-counter with 2 minutes 44 seconds gone in the first round. Ahlin's countryman Otto Wallin (10-0, 8 KOs) secured his tenth professional win with a second-round technical knockout victory over David Gegeshidze (14-8-1, 3 KOs).
Danish middleweight Abdul Khattab (11-0, 3 KOs) outpointed Mikheil Khutsishvili (37-23-5, 18 KOs), while Norwegian talents Tim-Robin Lihaug (11-1, 6 KOs) and Kai Robin Havnaa (3-0, 2 KOs) recorded stoppage victories and South Africa's Kevin Lerena (12-1, 7 KOs) opened the show with a unanimous points decision.
McMayhem in Midtown Results
On Saturday night, highly touted Irish featherweight contender Patrick "The Punisher" Hyland, of Dublin, headlined an exciting 11-bout pro-am card held at the Theater at Madison Square Garden, in New York City, titled "McMayhem in Midtown". The evening was promoted by DiBella Entertainment, in association with Ring of Fire Promotions and Murphys Boxing, and sponsored by Manfredi Auto Group and Everlast.
Facing southpaw Manuel De Los Reyes Herrera, 128, of Planeta Rica, Colombia, Hyland, 127¼, kept pumping his jab forcing his foe on the back-foot for the entire first round. Whenever in close, Hyland would unleash swift, crackling combinations to the head and body. In round two, with Hyland pinning Herrera to the ropes, the pair stood toe-to-toe trading power shots to the delight of the crowd. Setting up stinging straight rights that snapped Herrera's head back in the third, Hyland was visibly breaking down the Colombian. A pulverizing right uppercut to the midsection brought Herrera to his knees for a full count at 1:04 of round four. With the victory, Hyland, now 30-1 (14 KOs), moved another step closer toward title contention. Herrera's record dropped to 21-16-1 (15 KOs).
Ozone Park, New York's popular light heavyweight contender-turned-firefighter Will "Power" Rosinsky, 174½, ended a two-year-plus ring absence, impressively halting Paul Gonsalves, 173¾, at 2:59 of the opening round. Looking very sharp, Rosinsky, a four-time New York Golden Gloves champion, scored four knockdowns overall. The first came halfway through the frame when Rosinsky landed a left hook to the body. After Gonsalves got to his feet, Rosinsky, now 18-2 (10 KOs), was determined to finish him off, scoring the final three knockdowns with dynamite straight right hands to the head. Gonsalves, from Harwich, Mass., is now 7-6-1 (3 KOs).
Promoted by Murphys Boxing, which is fronted by Ken Casey of the Celtic rock band Dropkick Murphys, Gary "Spike" O'Sullivan, 164¼, of Cork, Ireland, took on the tough Milton Nunez, 165, of Barranquilla, Colombia, in a scheduled eight-round super middleweight contest. From the opening bell, O'Sullivan applied pressure, often trapping Nunez against the ropes and pounding away at the body with powerful hooks. O'Sullivan was particularly effective when following up with his overhand rights upstairs. Nunez tried to counter O'Sullivan's aggression, but none of what he landed had any effect on the Irishman. In round three, a combination finally put the tiring Nunez on the canvas. When he arose, O'Sullivan stalked him around the ring, rarely missing a punch, until a sweeping left hook to the chin staggered Nunez once again, leading to the referee's stoppage at 2:20 of the frame. O'Sullivan upped his record to 20-1 (13 KOs), while Nunez fell to 28-13-1 (25 KOs).
The amateur portion of the card featured the tie-breaking third meeting between the FDNY's Bravest Boxing team and the Garda Siochana Boxing team of the Irish National Police Force. Winning seven of the eight matches, the FDNY earned the 2015 Transatlantic Championship.
50 year old Heavyweight Bronco Billy Wright Wins Again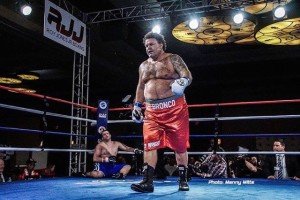 Last night 50-year old WBC #16 heavyweight contender, "Bronco" Billy Wright (47-4, 38 KOs), annihilated Gilberto Matheus Domingos (22-3, 20 KOs), stopping the Brazilian with a devastating body blow at the 1:15 mark of round one. The10-round main event took place on the RJJ Boxing Promotions at the We Ko Pa Casino in Fort McDowell, Arizona.
With the victory, "Bronco" Billy extended his winning streak to 18, 14 of which came by way of knockout in consecutive bouts.
"I'm very grateful for the opportunity to defend my WBC belts here in the United States as it's been a long time since I fought here." said Bronco Billy Wright. "Mauricio Sulaiman has been a man of his word, moving me up the rankings as I continue to win fights. Right now I'm a #16, looking to crack the top 15 with this victory. Against Domingos, I wanted to make a statement and end the fight early with a knockout. The plan was to go in and land as many powerful body shots as possible. It worked and I came out on top. I'm going to keep marching up the WBC rankings with the goal getting a big fight against any of top contenders. The problem is, none of these guys want to fight me. I'm ready to take on all comers ahead of me."
In addition, Bronco Billy recorded his 29th first round knockout. One of his goal is to break the heavyweight record for 1st round knockouts held by Shannon Briggs which stands at 35.