Sunny Edwards was crowned IBF Flyweight champion as he produced a boxing masterclass to outpoint long serving former champion, Moruti Mthalane.
Edwards had earned his title shot as a result of featuring high in the IBF rankings at both Flyweight and Super Flyweight, while Mthalane had reigned as a world champion for the best part of eleven years, and hadn't been defeated since 2008.
Edwards was elusive in the opening round as the champion took his time to study his challenger, and Edwards was flitting in and out of range to fire off point scoring shots.
Mthalane began to close the range and come forwards from the third round as he inched into contention, and he landed a decent left hand in the session, although Sunny landed some cracking body shots towards the end of the round.
Sunny was boxing and moving to perfection, and the South African was stalking without much success, but the sixth saw him inch ever closer to getting into the argument, getting into range and managing to land with some meaty shots.
The 38-year-old veteran was expected to come into the equation in the second half of the fight, but he was breathing heavily at the end of the seventh as a result of a difficult nights' work chasing his younger opponent around the ring, and 'Showtime' continued to box superbly.
The ninth saw Edwards' output drop and it was a rare round off, but he was back on it in round ten, firing off flashy combinations and using his feet to yet again leave Moruti chasing shadows.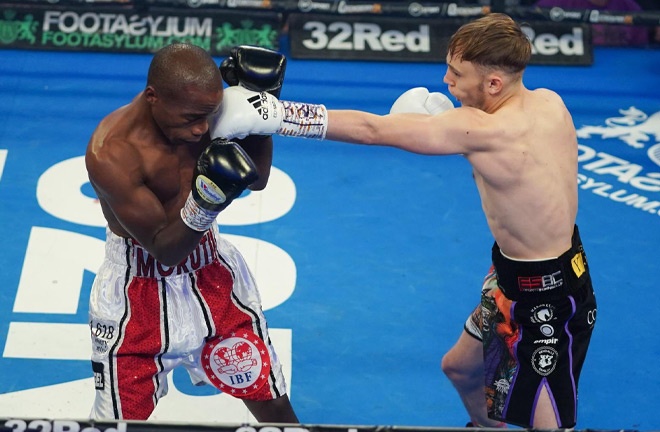 Moruti had a strong penultimate round, but he surely needed a knockout to win as the last three minutes loomed, and he never looked likely to succeed in that mission, as Edwards stayed firmly out of trouble to send the fight to the scorecards.
Scores of 120-108, 118-111 and 115-113 confirmed the 25-year-old Croydon man as the new champion of the world.
"It was a quiet build up, me and him [Mthalane] are friends, but I knew it would be hard. I had it about 7-5 or 8-4 in rounds," said the new champion to Steve Bunce post fight.
"I feel like I deserved to win. It might not be pretty at times, it might not be exciting all the time, but I'm hard to beat.
"After the sixth round, he came good in rounds seven and eight, but I could hear him breathing, and his sharpness fell in the later rounds".
Chief support came from 2016 Olympian, Michael Conlan, and the Irishman dropped down a weight class to pick up the vacant WBO Intercontinental Super Bantamweight title in an entertaining tussle against Ionut Baluta, eventually taking a majority decision win.
Baluta had made a name for himself as an upset merchant with previous wins over former world champion, TJ Doheny, and, in his most recent outing, David Oliver Joyce, but he came up just short against Conlan here.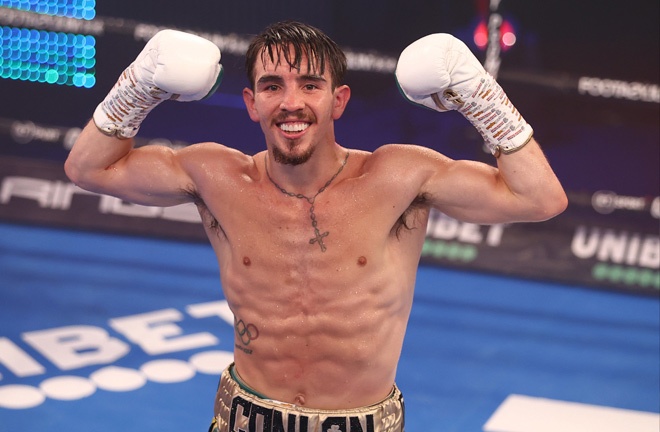 Baluta's work rate was relentless, but he was always going to tire from the frantic pace he had set himself, while Conlan went through the gears to stay out of serious trouble and dictate the action in the main.
Towards the end of the contest, the Madrid-based Romanian came on strong, and came forward to try and take Michael out of his comfort zone, and his effort alone brought him into the argument as the fight went the distance.
A stalemate scorecard at 114-114 was overruled by cards of 115-114 and 117-112, as a relieved Conlan moved to 15-0 in what was a tough nights' work.
The British Super Welterweight title eliminator on the bill went the way of Troy Williamson, who looked like he was behind on the cards before halting Scotland's Keiran Smith in six rounds.
After a competitive start to the contest, Darlington's Williamson made the breakthrough in round six, landing with a solid right hand to get Smith going on the ropes, and a follow up attack felled the Scot heavily, and referee Bob Williams rightly waved the fight off.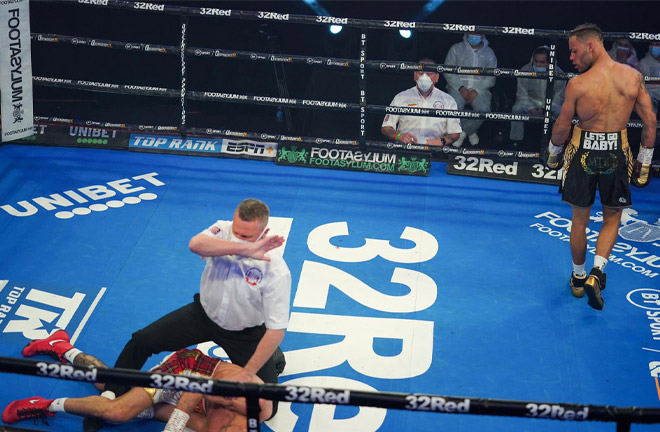 Smith needed medical attention for some time after the conclusion, but thankfully eventually got to his feet as Williamson moved a step closer to a clash with current Lonsdale Belt holder, Ted Cheeseman.
Ryan 'The Piranha' Garner had his latest outing, and the Southampton man had to go all six rounds, and overcome a nasty cut, to take a 60-54 win over the tried and tested Jordan Ellison at Super Lightweight.
The televised show opener came at Super Welterweight, where Joshua Frankham won all four rounds against Naeem Ali.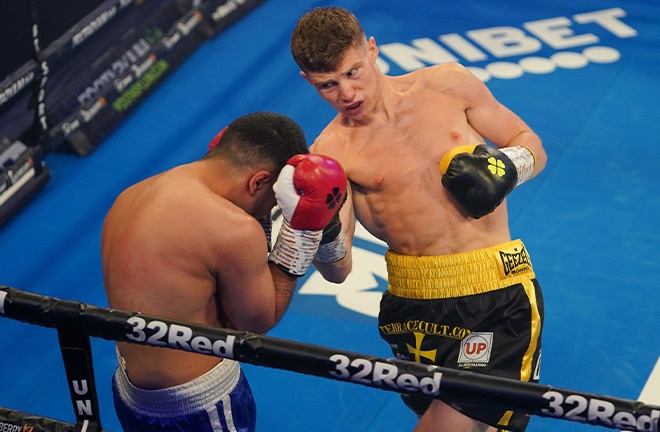 Levi Frankham made his professional debut, and took a points win over four against Paul Cummings.
Another debutant was Jonathan Kumuteo, and the Congo born Super Welterweight got off to a flyer in the paid ranks, winning early against Dale Arrowsmith.
Liverpool Super Bantamweight Andrew Cain went the distance for the first time as a professional after six previous stoppage victories, sealing a points win against Stephen Jackson.