Fight Pick & Preview – Cleverly vs. Kovalev:
August 17th's light heavyweight title fight brings boxing championship action back to Cardiff, when local hero Nathan Cleverly meets the Russian slugger coming by way of America, Sergey Kovalev. The fight ought to draw attention from more than just the Welsh, and for three reasons. First and most obvious, Cleverly's WBO belt is on the line. Second, this is a match between two rising, undefeated contenders.
Third, Kovalev has a guaranteed shot at Bernard Hopkins' IBF title, whether Hopkins wants to be involved or not. Defeating Cleverly keeps that shot intact, and potentially sets up an IBF-WBO unification. If Kovalev loses, however, the IBF fight goes up in smoke. It certainly speaks to Kovalev's confidence and guts that he went ahead with fighting Cleverly, with either a more lucrative Hopkins fight or an easier fight for a vacant IBF belt hanging in the balance.
Sergey Kovalev (21-0-1, 19 KOs)
6'0″ tall, 72 1/2″ reach, 30 years old
Russian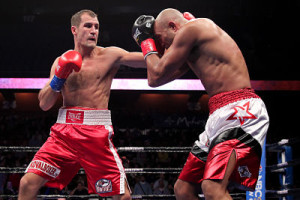 Kovalev's aggressive ways have propelled him into title contention in a very short space of time. He is a rugged, go-forward and force the action fighter imbued with toughness, stamina, good hand speed, and top notch power. A look at his fights or at his record will show that Kovalev hits as hard as anyone in the light heavyweight division, albeit as more of a heavy hands puncher, rather than an explosive power puncher. Even so, my guess is that if Kovalev isn't on the same par as Adonis Stevenson, he is only one step behind him.
Against this, it must be said that most of Kovalev's opposition hasn't reached beyond gatekeeper status. How Kovalev might deal with either a world class chin or a world class boxer remains to be seen.
Nathan Cleverly (26-0, 12 KOs)
6'1 1/2″ tall, 74″ tall, 26 years old
British
Current WBO Light Heavyweight Champion
A Welshman seeking to follow in the footsteps of the great Joe Calzaghe, Cleverly is also a busy boxer. He is rangy, quick with his hands, feet, and body, has good stamina, and uses these attributes to sustain a high work rate in the ring. His main deficit is his merely average power, which works against him when Cleverly goes into crowd pleasing mode and mixes it up.
Even so, Cleverly is impressive in that even though he is still improving, he has beaten two fellow up-and-comer light heavyweights in clashes of the undefeateds Tony Bellew and Karo Murat. However, rather than building from those towards world class opposition, his last three fights have all been steps down in class versus those bouts, drawing criticism and impatience from even his own fans.
Cleverly vs. Kovalev Analysis & Preview
Cleverly's moderately greater experience will count for very little in this match, as the younger man has never seen anyone as tough or as powerful as Kovalev. Of course, Kovalev has never seen anyone as fast, agile, or skillful coming out of the other corner either. Both men are entering new territory.
Even so, my gut feeling is that Nathan Cleverly has the confidence and the ability to force his game plan on Kovalev, and use busy, fast hands and moderate changes of direction to befuddle and stymie the onslaught of the Russian bulldozer. The question is if Cleverly will stay on his feet and at range, or will he allow his love for crowd-pleasing combat to draw him into a toe-to-toe contest with Kovalev. If the latter happens, and Kovalev scores even one good, flush shot, it will probably be the last time Cleverly tries slugging with the Russian. Cleverly might survive Kovalev crushing his button, but the resulting hurt will discourage him from trying such foolishness again.
Cleverly vs. Kovalev Prediction

This smacks of a bull vs. matador contest, and that's what I see unfolding. Cleverly will lead Kovalev around, working the angles and his superior speed to get off first, and relying on footwork, agility, and sound defense to avoid the worst of Kovalev's attack. Unless Cleverly trades and gets into trouble, I see him piling on the points for a clean win.
Prediction: Nathan Cleverly UD12 Sergey Kovalev