"I'd accepted the fight [with Stokes] the day after my dad died and I'd said yes straightaway. If I hadn't have taken that fight, if I hadn't have won the title, I know I wouldn't have been in this situation. I could have easily let it destroy my life and put everything on my hold but I knew my dad would have wanted me to crack on and win the title for him so to be able to do so is a million dreams come true."
Stoke sensation Nathan Heaney burst onto the social media stratosphere last year when footage of his, now, infamous ring walk went viral.
In his seventh bout, in June 2019, Heaney contested the vacant Midlands Area title in a hellacious fight with Tom Stokes.
Lifting that belt was so much more than just a first professional title, it was the perfect tribute to his late father Joseph George Heaney. Joseph has battled mental health issues for a while and tragically took his own life just weeks before his son would be crowned champion.
The middleweight had caught the eye of Frank Warren. He'd done enough to earn a spot on Queensberry's 'Midlands Mayhem' card in November.
Things remained in the balance until April when an email was pinged through and, shortly thereafter, a promotional contract inked.
Speaking to Pro Boxing Fans as the dust settled on the fanfare afforded to him with that announcement, Heaney refused to hide his excitement at the development.
"I'd sort of had an idea [that Queensberry were keen to sign me] just before I fought Serge Ambomo in October. There was a little bit of pressure on me to go into that fight and win but win in good fashion.
"A week before that fight I'd sort of got the nod that they wanted me on that November show in Birmingham and things went from there, I guess.
"I'd boxed on BT Sport having taken 400 people over with me and it just went a bit quiet, if I'm honest. So we went away and had the IBO fight. There was a big buzz created but I assumed, with lockdown, nothing was going to happen but afterwards we got an email and now I'm a Frank Warren fighter!"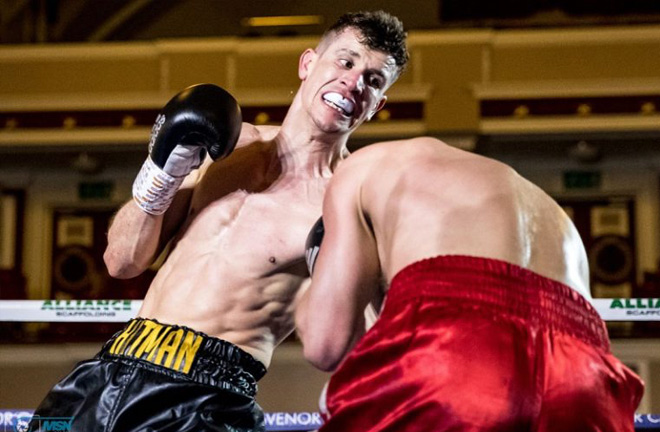 That IBO title fight against Christian Schembri, for the Continental title, on March 13th. A comfortable 10 rounds saw Heaney take the decision emphatically and, having been in action recently, his perspective of lockdown is considerably different to that of many fighters.
"It's been different for me, compared to other boxers, I'd obviously fought in the middle of March in a ten rounder so I was always going to take some time off afterwards. I've still been training, obviously not as hard as usual, but keeping that routine and having a little time just to chill out.
"The amount of recovery I've been getting this past couple of months has been welcomed. I haven't been punched in about nine weeks, not taking that cumulative damage and just letting the body rest up. That's, oddly, what I'm missing most, being in the gym and having a spar. It's great being fit and physically conditioned but you need that extra bit before you go into a fight."
The Tom Stokes fight at Stoke's Kings Hall was a pleasure to witness and, knowing now, the emotions of the night are a testament to Heaney's strength of character. I asked him if he realised, in the fight, just how entertaining it was or whether that only dawned on him upon reflection.
"I remember we'd got to around seven against Tom Stokes and in my head it just sort of clicked 'this is worth £35' because, let's be honest, for most people, it's a lot of their hard-earned money so they don't want to come and watch a boring fight.
"It was a good back and forth fight, Tom came out really strong and I pushed on in the later rounds. That sowed the seed for where we are now and it was an incredible night."
The 31-year-old credited his coach, Steve Woodvine, enormously after that performance and they clearly have an intertwined relationship.
Whilst Heaney commented that the seeds were planted after his scrap with Stokes, but some would feel he'd been rooted as 'one to watch' for a while. 'Hitman' boxed on the undercard of Sam Sexton vs Hughie Fury. His third professional fight and his first pro stoppage.
"It was good to get the stoppage and it was dead weird when it happened because I wasn't particularly going for it, to be honest. What felt best was that, when I came out of the ring, Mick Hennessy came up to me and was singing my praises with real excitement in his eyes.
"He'd tucked a little bonus to Errol [Johnson, Heaney's manager] just to sort of say 'well done' and it was a real confidence boost to know someone like him thought a lot of me even at that stage."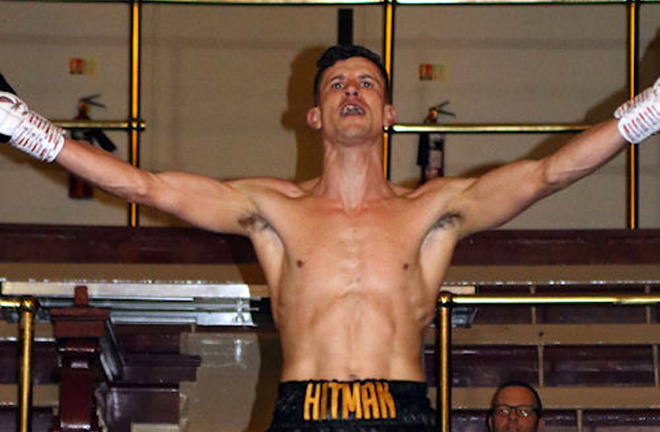 Now signed to a promotional deal with Queensberry Promotions the 31-year-old has plenty of options whenever we see boxing resume. There have been plenty of fighters staking their claim to be his next opponent but the Staffordshire fighter insisted they'd have to do more than just talk to earn their spot.
"I'm not getting drawn into a fight by someone badmouthing me or trying to disrespect me because there's so much to the depth to the division that there will always be options." Heaney continued.
"I'm managed great by Errol Johnson and some of these guys calling me out, to be honest, I don't really know who they are. Now I could retaliate to these fighters and make bad blood where there isn't any because, for me, it's about stepping in the right direction and taking fights that make sense for where I'm at. I've got to take it as a compliment, I suppose, because I must be doing something right."
His signing with Frank Warren has rather set the tone for the past couple of weeks, with eight new signings being announced by Queensbury since the turn of the month with "more to come" promised.
Most notably many have been outside of London and part of boxing hotbeds with large amounts of emerging talent: Nottingham's Ekow Essuman one such name. Heaney told Pro Boxing Fans he was proud to be a part of that exciting future.
"The signings he's making are very clear that he wants to bring boxing back to these parts of the country that have been underappreciated for a long, long time.
"[Warren] phoned me and said 'don't worry, your fans aren't going to have to travel far.' So there's the direction that they want to be putting shows on up here and that feels great to be a part of. To be the first one announced was special and they did a class promo video to go along with it."
The goals from his promoter have been ambitious from the outset. Multiple times he's voiced his desire to get a world title fight at Stoke City's ground, the bet365 Stadium. No pressure, then.
"He's said that a couple of times so I'm going to try and hold him to that. I think he first said it on the radio before I was actually signed with him so now we've got that partnership, as long as I keep winning, hopefully, we can bring big-time boxing back to Stoke."
Reflecting on his first two and a half years as a professional. Short but sweet, Nathan Heaney summed up his emotions better than any of us could. Here's to many more dreams becoming reality for the pride of the Potteries.
"It's the dream I've always had but was never convinced would become a reality."