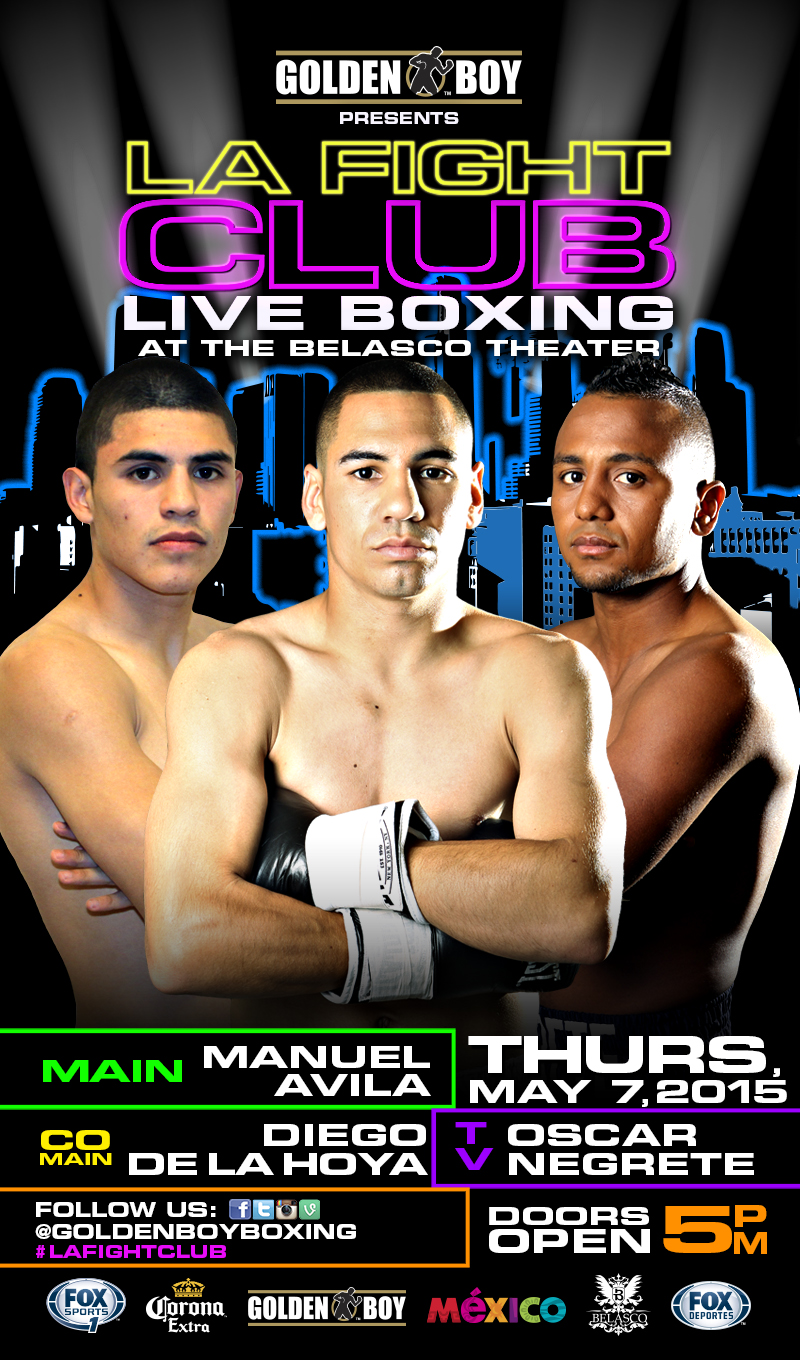 Golden Boy Promotions will bring another night of fights to the Belasco Theater on Thursday, May 7 in the third installment of its monthly series LA FIGHT CLUB. In the main event of the night, Manuel "Tino" Avlia (16-0, 7 KOs) will take on Mexican-American fighter Erik Ruiz (13-2, 6 KOs) in a 10-round super bantamweight bout. Ruiz will replace previously announced main event fighter Rolly Lunas, who had to withdraw from the fight due to a severe injury.
Set to make his LA FIGHT CLUB debut, promising undefeated fighter Diego De La Hoya (9-0, 6 KOs) of Mexicali, Baja California, Mexico will take on fellow Mexican Ramiro "Zurdo" Robles (12-2-1, 6 KOs) of Guanajuato, in what is sure to be a high intensity eight-round featherweight co-main event. Colombian native and current Angeleno Oscar "El Jagura" Negrete (8-0, 3 KOs) will look to defend his current undefeated status against seasoned fighter Luis "Titi" Maldonado Jr. (38-13-1, 29 KOs) from Mexicali, Baja California, Mexico in a televised six-round super bantamweight match up.
Hailing from the Westside Boxing Club in Los Angeles, fan favorite and rising star Nick Arce (2-0, 1 KO) and Texan Marco Alcaraz (0-5) will fight for airtime in a four-round featherweight swing bout. Returning to LA FIGHT CLUB after a victory in the premiere edition, Los Angeles' own Jesus Delgado (4-0-1, 1 KOs) will face Benjamin Vinson (1-2, 1 KO) of Nogales, Arizona in a non-televised four-round lightweight battle.
The undefeated Emilio Sanchez (7-0, 6 KOs) of Los Angeles will take on a yet-to-be announced opponent in a six-round super bantamweight bout, and making his professional debut, 18-year old amateur standout Miguel Alcantara of East Los Angeles will facea yet-to-be announced opponentin a four-round bantamweight fight. Newcomer Zachary Cooper (2-0-2, 2 KOs) of Las Vegas, Nevada will take on Diego Padilla of Los Angeles, also making his professional debut, in a four-round super welterweight bout.
The undefeated Manuel "Tino" Avila has taken the local boxing scene by storm since his professional debut at Fight Night Club at Club Nokia in Los Angeles in 2010. Avila's last bout in Los Angeles was decision win against David Reyes on the undercard for Bernard Hopkins vs. Chad Dawson at Staples Center in October 2011. 2014 was a busy year for Avila, as he took on and defeated Enrique Quevedo, David De La Mora, and Sergio Frias.
Erik Ruiz made an impressive professional debut on June 3, 2011 knocking out veteran Shaun Solomon in Woodland Hills. Hailing from Oxnard, the 24-year-old has racked up wins over Jonathan Alcantara, Brandon Gushiken, and Victor Raul Capaceta in 2014. Ruiz will make his second appearance of 2015 fighting against the undefeated Manuel Avila.
Fighting out of the Westside Boxing Club in Los Angeles, 18-year-old featherweight Nick Arce is a former amateur standout who entered the professional boxing world in style in November of 2014 with a fourth round knockout of Adalbert Valenzuela. Since then the Los Angeles favorite has fought Lyonell Kelly on Feb. 27 winning by second round knockout.
Marco Alcaraz, of Greenville, Texas, made his professional boxing debut taking on Francisco Cruz in Fort Worth Texas on September 20, 2014. Facing such tough opponents as Edgar Alarcon and Frankie Agnew in 2014 and Luis Guevara and Fernando Garcia in 2015, the 39-year old will take on undefeated Nick Arce on May 7 at LA FIGHT CLUB.
Diego De La Hoya has kept fans thrilled with his impressive skills in the ring since making his professional debut in 2013. Fighting with power, the Mexicali, Mexico native has stayed busy in 2015 with an impressive victory over title contender Manuel Roman at Fantasy Springs Resort Casino in February. The 20-year-old fighter is looking to excite fans once again and keep his undefeated status when he makes his LA FIGHT CLUB debut at The Belasco Theater.
Hailing for Guanajuato, Mexico, the hard-hitting Ramiro Robles made his professional debut at the young age of 17, triumphing over Carlos Hernandez Mejia in Queretaro, Mexico. Robles worked to establish an impressive record of 12 wins since his debut. On July 9, 2014, Robles made his U.S. debut against undefeated Joseph Diaz Jr., ultimately losing after a grueling ten rounds. Robles will make his LA FIGHT CLUB debut in his first fight of 2015 against Diego De La Hoya.
Undefeated super bantamweight star Oscar Negrete of Los Angeles will get in the ring eager to continue his winning streak and maintain his undefeated status on May 7. 2014 was a good year for Negrete as he secured wins over Carlos Medina, Gabriel Braxton and Salvador Perez. Negrete has stayed active thus far in 2015 winning via decision against Fernando Fuentes at Fantasy Springs Resort Casino in this past February.
LA FIGHT CLUB will mark the first fight of 2015 for seasoned boxer Luis Maldonado Jr. Maldonado Jr. made his professional debut against Daniel Navarete on April 17, 1998 in his hometown of Mexicali, Baja California, Mexico. The veteran has been fighting consistently since his debut. He most recently took on Joseph Diaz Jr. on April 26 at the StubHub Center in Carson, Calif. and Roy Tapia on November 13 at the Fantasy Springs Resort Casino in Indio, Calif. in 2014.
Jesus Delgado made a stand-out appearance at premiere event of LA FIGHT CLUB on March 6, dominating Rocco Espinozain all four-rounds, releasing relentless powerful punches to win the bout by unanimous decision. Since his professional debut in January 2014, Delgado has stayed local, building up his name and reputation on the Southern California boxing circuit and will continue this quest on May 7.
Benjamin Vinson of Tugard, Oregon, takes on Jesus Delgado in his fourth professional fight at LA FIGHT CLUB. Previously, the 28-year old has faced Andres Reyes in 2015 and Jeff Hatton and Jeremy McCleary in 2014 at the Emerald Queen Casino in Tacoma, Washington.
Making his professional debut in 2013, Los Angeles undefeated featherweight Emilio Sanchez can do it all in the ring. Sanchez won his first three bouts via first-round knockouts and has continued to impress with 2014 victories over Jonathan Ramos and Juan Alvarado. The young but experienced fighter triumphed over Luis Cosme at the March 6 edition of LA FIGHT CLUB at The Belasco Theater in downtown Los Angeles.
18-year old, Miguel Alcantara of East Los Angeles will be making his professional debut at The Belasco Theater. With an amateur record of 68-12, the Desert Showdown and Silver Gloves winner is ready to give fan a great show on May 7.
Undefeated 29-year old, Zachary Cooper, hailing from Seattle, Washington and fighting out of Las Vegas is set to make his LA Fight Club debut. The up-and-coming boxer defeated his first two opponents, Rafael Umarov and John Solis, at the Emerald Queen Casino in Tacoma in 2013. His appearance on May 7 will mark his first bout of 2015 when he faces Diego Padilla of Los Angeles who will be making his professional debut.