In one of the sport's most recent worst kept secrets, Nigel Benn has staggeringly announced a return to the professional arena at age 55. We are being told that money is no object to Benn, and that he has secured his financial future a long time ago, so he is presumably coming back to boxing to "scratch an itch". The show itself is entitled "One Last Fight For Closure".
He will face the 40 year old Cameroonian former WBC Super Middleweight Champion, Sakio Bika, at Resort World in Birmingham on Saturday 23rd November. The little known British & Irish Boxing Authority have agreed to sanction the ten round attraction, at a weight limit of 178.6 pounds. No formal application had been made to the British Boxing Board of Control, and any request would have likely been refused.
BBB of C Chairman, Robert Smith said: "Nigel Benn has not boxed for a long, long time," "We have not had a formal application for a licence from him but we had a conversation in the summer and we advised him that he was very, very unlikely to get one.
"It is not in the best interests for him, or for the sport."
We have seen boxers carry on way past their prime, and fighters such as former WBC Heavyweight Champion, Oliver McCall, still continues to plod on against obscure opposition while well into his fifties. The exception to this rule in recent times has been Bernard Hopkins, who defied Father Time to win World Light Heavyweight Titles into his fifties.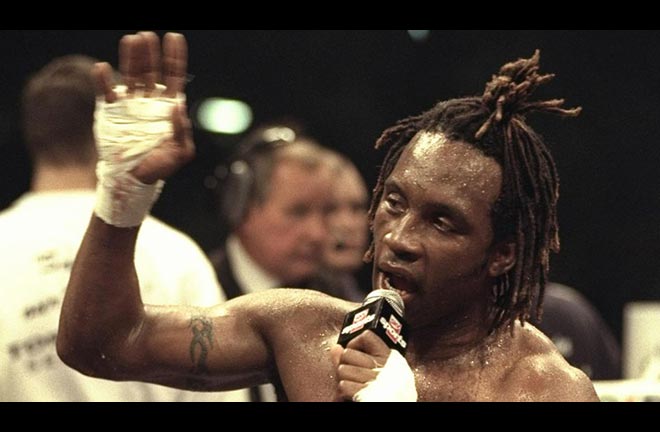 Benn's return though is a complete polar opposite. Not seen in a licensed contest since November 1996, Benn lost the last three bouts of his first career.
Sugar Boy Malinga upset him in Newcastle via split decision in March 1996 to relive the Ilford man of his WBC Super Middleweight crown, and then "The Dark Destroyer" was stopped in four with a damaged ankle in an unsuccessful challenge for the WBO belt against Steve Collins in July of the same year, and retired in six rounds of their rematch four months later.
His opponent in Birmingham, is certainly no pushover, although Sakio Bika, in comparison to Benn, has had a much shorter break from the sport.
Bika was last seen campaigning in Australia, where, in October 2017, he outscored Geard Ajetovic to win the WBC International Silver belt at twelve stone. He has faced some hard men in his paid career, with losses to class operators including Joe Calzaghe, Andre Ward and Adonis Stevenson in spirited challenges for various World Titles . The African has never been stopped in a 44 fight ledger.
He won the WBC belt in June 2013, with a majority points win against Marco Antonio Periban for the vacant title.
Benn has insisted that the meeting with Bika is in no way financially motivated, with his promoter and friend, Mark Peters saying "I wouldn't support Nigel if I didn't believe he was fit to box". "Nor is he doing this for financial reasons".
"He is far from skint, in fact, he has just built a massive 10-bedroom property for himself in Australia, where he lives".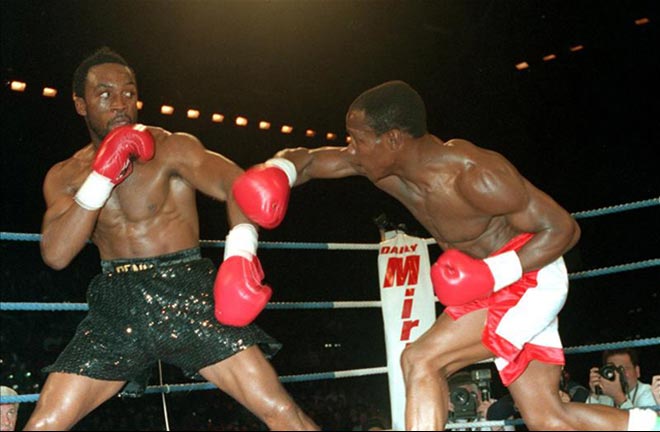 Not only is the contest itself bizarre, it has also been announced at the initial press conference, that the fight will be broadcast on pay per view, with the little known Epicentre website hosting the action for the princely sum of £14.95. Added to this, there is to be a portable brain scanner and a specialist in head trauma available at ringside on the night of the fight.
Benn is far past his prime, although in excellent physical condition. In his pomp, he was a fearsome puncher, who scored multiple spectacular early finishes, and was a Commonwealth and WBO Champion at Middleweight, before winning the WBC belt at Super Middle, with a fourth round stoppage of Mauro Galvano in October 1992. He would make nine successful defences of the famous green belt, including a tenth round knockout of Gerald McClellan in February 1995 that would change both men's lives forever. McClellan would suffer life threatening injuries, after a blood clot on the brain, and their meeting would haunt Benn from there on.
The concerns with Benn v Bika are multiple.
If Benn wins impressively, will he be tempted to make a full comeback, despite his claims to the contrary. If he is knocked out or badly dominated by Bika, will this cause lasting permanent damage? There are so many concerns and questions, that sadly won't be answered until the first bell rings in Birmingham.