Fight Pick & Preview – Donaire vs. Darchinyan Rematch:
Nonito Donaire and Vic Darchinyan will fight in a rematch from a 2007 bout on November 9 as part of a big tripleheader out of Texas. A lot has taken place since their first fight–a one-punch KO win for Donaire. At the time, Darchinyan was an unbeaten titleholder whose name was starting to crack the bottom part of some PFP lists. Donaire's win over Vic propelled the "Filipino Flash" into stardom, while Darchinyan struggled to reclaim his momentum.
Date: November 9, 2013
Site: American Bank Center, Corpus Christi, TX
Weight Class: Junior Featherweight: 10 Rounds
Nonito Donaire, 31-2 (20 KOs), San Leandro, CA
vs.
Vic Darchinyan, 39-5-1 (28 KOs), Glendale, CA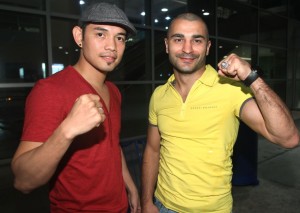 Until his last fight, Donaire was flying high as one of the very top fighters in the sport. He garnered belts in 4 weight classes, with his only loss a dozen years in the rear-view.
Then he came out on the wrong end of a boxing lesson given by Guillermo Rigondeaux and while he didn't squander all of the momentum he built up, he now is in a position in which he is unaccustomed–where he has to rebuild.
Darchinyan is getting up there at 37. While not the consistent force he once was, his fall from the top has been a bit exaggerated. He can still fight.
Darchinyan remains an awkward and hard-hitting fighter who cannot be overlooked. Since the Donaire setback, he has won and lost some big fights. To this day, the only fighters who beat Darchinyan are top-flight champions–a decision loss to Joseph Agbeko in 2009, a split nod to Abner Mares in 2010, and consecutive decisions to the two best bantamweights in the world–Anselmo Moreno and Shinsuke Yamanaka in 2011-12.
Donaire is a big favorite to win the rematch and rightfully so. While Darchinyan is still a tough task, losing has become something that is more acceptable in his career. Worth noting, however, is that he has not seen his durability subside, with the Donaire knockout the only stoppage defeat on his long and difficult resume.
This rematch is certainly belated. Over 6 years was too long for Darchinyan to wait. There is a possibility that it actually worked in his favor. At all points during the last 6 years, a potential rematch was viewed as a probable blowout. Some of that sentiment remains, but this is the first time Donaire has been in any kind of career limbo and that could bode well for Darchinyan.
A lot of fighters have forced us to recalibrate our notions of what an old fighter is. Donaire is only 30, but there was a time where that would be considered long in the tooth for a lower-weight fighter. He could be past his peak. To base that on his performance against Rigondeaux could be a faulty measuring stick, as the Cuban champion has and will continue to make fighters look a lot worse than they are.
That doesn't mean there aren't questions worthy of asking about Donaire. He'll be a week from his 31st birthday. He's risen in weight cavalierly and is coming off his worst showing where he looked decidedly flatter than usual. While he has notched some big wins since beating Darchinyan, there was something aimless about his career trajectory. On the right side of that equal sign, you have a fighter who may be a bit overripe and not the tiger of old.
This fight should provide some answers. Donaire will be at his most urgent, facing an old foe and looking to restore some luster after the Rigondeaux debacle. The same can be said for the southpaw puncher Darchinyan. Another loss makes getting back into the championship picture a tall order.
This fight will be viewed as his final opportunity and don't expect for that dynamic to be lost on the former champion. Fighters can be enlivened as the light at the end of the tunnel becomes more visible. It's shining brightly now for Darchinyan.
Donaire vs. Darchinyan II Prediction:
While Donaire's win over Darchinyan wasn't a fluke, the knockout part of it perhaps was. Unless Donaire can nail him with the perfect shot that he can't see, this has the look of a long tough bout. I expect a spirited encounter with both men putting it on the line. Again, the better all-around game of Donaire will allow him to edge rounds.
Darchinyan can still rattle an opponent, even at 122 pounds. Donaire's punches, however, will stand out more–both in terms of sharpness and power. Donaire will have to get through some rocky moments. Who knows, he may even get buckled or see the canvas. Over the long haul, he'll put enough rounds in the bank to emerge a deserved unanimous decision winner in a grueling 12-rounder.
Prediction: Nonito Donaire wins by unanimous decision.