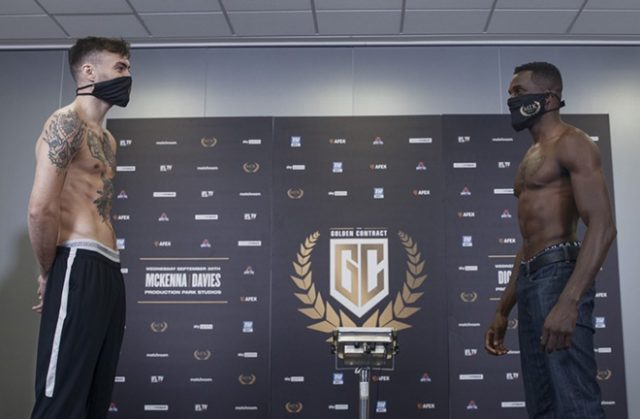 Ohara Davies and Tyrone McKenna traded final words, as the pair weighed in identical for their MTK Golden Contract final on Wednesday.
Davies and McKenna will settle their long-running feud in a highly-anticipated Golden Contract final showdown in Wakefield live on Sky Sports.
The pair both hit the scales inside the Super-Lightweight limit at 9st 13lbs 12oz and were both fired up, as they exchanged final pleasantries during their face-off.
Light Heavyweights Liam Conroy and Serge Michel also came in exactly the same at 12st 6lbs 12oz ahead of their MTK Golden Contract semi-final.
The victor will face Ricards Bolotniks in the final, following his unanimous decision win over Hosea Burton in Riga on Saturday.
Steven Ward tipped the scales at 14st 6lbs 4oz, inside the catchweight limit of 14st 8lbs for his clash with Jone Volau who came in at 14st 1lb.
Ward fights for the first time since a first round loss to Bolotniks in the MTK Golden Contract quarter-final in December, but has since moved up from Light Heavyweight.
Unbeaten Cruiserweight Will Hamilton looks to progress to 2-0 after weighing in well inside the limit at 13st 13lbs with opponent Genadij Krajevskij also making weight at 13st 5lbs 8oz.
Ben Fail scaled at 11st 4lbs 2oz for his professional debut against Robbie Chapman who weighed in heavier at 11st 9lbs 4oz.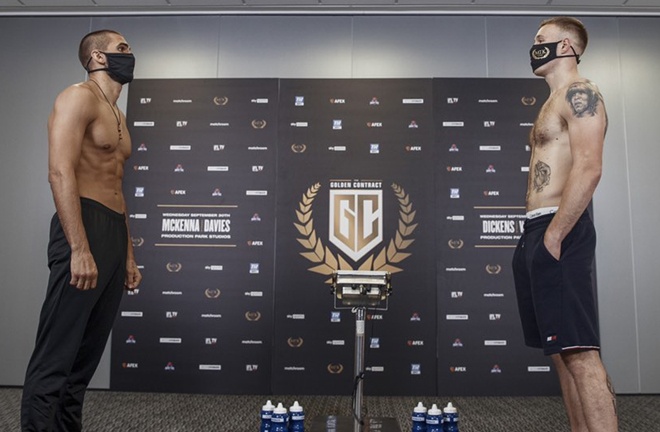 Fail turned over with MTK Global in July following an impressive amateur stint which featured 78 fights, picking up a national title and Haringey Box Cup title.
The show goes ahead despite Tuesday's postponement of the Featherweight final between Jazza Dickens and Ryan Walsh, after Dickens and trainer Derry Mathews tested positive for COVID-19.