Ola Afolabi (19-2-4, 9 KOs) thinks he is ready to finally claim the WBO Cruiserweight World Championship. On June 8, the man from Great Britain will renew his feud with defending champion Marco Huck (35-2-1, 25 KOs). After previously losing and fighting Huck to a draw, Afolabi believes that now it is his time to shine at the Max-Schmeling-Halle in Berlin, Germany.
For that reason, the 33-year-old has brought himself into tremendous shape due to changes in his preparations leading up to the fight. In the following interview, Afolabi explains what he has done differently this time round and why he is time has come at last.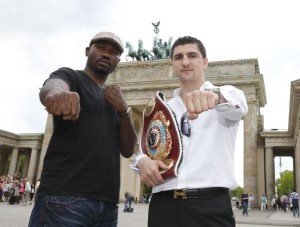 Ola Afolabi, it has been over a year that you last stepped into a ring. In May 2012, you fought out a draw against your very next opponent Marco Huck. What do you remember of the fight?
Ola Afolabi: It was extremely tough. Towards the end of it, I lost my focus. That allowed him to get back into the bout. My mental preparation ahead of the fight was not ideal and that took its toll back then.
How is your training going? You have been in Germany for a few weeks now…
Ola Afolabi: It has been really good. I have started my preparations back in November of last year. I went to Big Bear in California to work on my conditioning, which I have also been working on while we were staying in Zinnowitz, Germany. If I compare my current fitness level to previous camps, it is a difference of day and night.
According to yourself, you have been preparing for this fight since November. Is there any danger that you might have been doing too much and that your intense training could have cost too much energy?
Ola Afolabi: No, there is no danger whatsoever. I have mostly been working on my conditioning by running a lot as well as on my mental strength. Sparring only started a few weeks ago. I will be at my best when I step into the ring come June 8.
What do you mean when you say, that you have been doing things you were not doing in your previous preparations?
Ola Afolabi: I have been learning from fight to fight. As I did not have an amateur career, I had to gain experience by fighting against professionals. I am still a raw product. A big difference is that I have changed my diet. I am eating properly and take vitamin supplements. I quit eating Cheeseburgers and other junk food and have turned to healthy food instead. It makes a huge difference. I could make the weight for the fight right now. So by not having to make weight I can concentrate on my training and keep my focus.
You have been quite openly talking about your preparations via the social media, keeping your fans but also your opponents up to date with the progress. Why do you do that and isn't there a danger of giving away too much?
Ola Afolabi: I am very proud of myself and the way the preparation has been going so far. I want my fans to know, that I am not just talking but backing it up. It also keeps me motivated when the supporters give me a positive feedback.  Moreover, I am only posting photos of my progress. I do not talk about my sparring and I do not go into detail. All it does is that it should motivate Huck. He knows that I am ready. So he better be ready himself.
On June 8, you will try to rab the WBO World Championship of Huck for a third time. With what kind of attitude are you going into the fight?
Ola Afolabi: My attitude is pretty simple. This was my belt, this is my belt and I am coming to finally take it from him. I honestly do not see how I could lose this fight. I have been working to hard on myself and on the tactics. I should already have won the title last year. Now the time has finally come.
After two previous encounters, you must know Marco Huck quite well now. Where do you see his strengths and weaknesses?
Ola Afolabi: Huck always comes to fight. When he turns up, he is going for it. He is a bit like a robot and just keeps coming. He is actually too tough to know when he has been hurt. I do not want to talk about his weaknesses. You can ask me again after I beat him.
Obviously, you are planning to win. If everything works out for you, would you then be prepared to face him a fourth time?
Ola Afolabi: I do not know. If it is good business why not. But first, I would like to take on the mandatory challenger Firat Arslan. After that, I would go for Huck again.
What will be the outcome of June 8?
Ola Afolabi: I am not going into the fight looking for a knockout. That would increase the risk of over-pacing during the first few rounds. However, I see myself stopping Huck early. Regardless of that, I am going to do whatever it takes to leave the ring as the winner.
Comments
comments