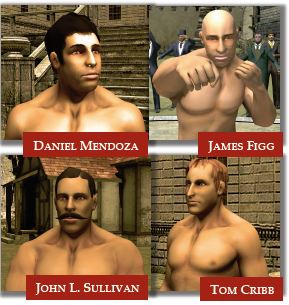 Oldetime Sports has officially announced their bareknuckle boxing video game, entitled Knuckle Up. The company is holding a KickStarter Campaign to help raise funds for its release, and is offering boxing fans and gamers a variety of ways to get involved and experience exclusive content or other special features or opportunities. Learn more about the game and what it's all about right here.
Before there was Mixed Martial Arts or an Ultimate Fighting Championship, there was Bareknuckle boxing. No gloves, no enforcement, and plenty of blood! Set in the 16th through 19th century, Oldetime Knuckle Up pits gamers to square off in one-on-one matches. For the first time, players will experience the same brutal intensity and "no holds barred" rules under which historic fearless, tenacious, and bold to the core sparrers like Bareknuckle greats John L. Sullivan and Tom Cribb fought.
Each character is brought to life by authentic voiceover dialects, facial/body/personality back-stories, and a motion capture mixture of boxing, wrestling and mixed martial arts (without the kicking).
Immediately you are thrown in the fray to raise and thrust your fists for money. Oldetime Knuckle Up, a pure game of skill, gives you a chance to beat or be beaten at the mercy of an unforgiving crowd, while enduring some of the most realistic and gruesome fighting conditions. Your decisions not only change your fighting style, appearance, power, and speed, but also whether you encounter a quality or bribed handler and whether you get a patron to cover your stakes.
You must expect the unexpected! A spirited Oldetime Knuckle Up crowd could vigorously cheer you on as you build up your reputation, heart, and earnings to become their hero fighting for America, England and Australia championships, and ultimately becoming a champion.
On the opposite end of that spectrum, an unruly crowd could rush you with bludgeons for fighting too well or dirty, or the police or mob, could invade or halt your fight in a hole-and-corner gathering – collapsing the scene in violence and disorder. Putting on a good show for your spectators can be as important as winning your match.
Key Game Features
• Experience over 10 different fighting styles with more to come as you rise through the ranks.
• Unlock two power rankings through Knuckle Up's reputation meter and heart meter to gain control and precision, strength and resolution recovery, position advantages and power, along with more of a cut of the purse at the end of the bout.
Unlock 12 special body crippling and knockout blows based on your character.
• Battle at least 30 opponents to earn various patrons to cover your stakes and buy customized, character-building items like knickers, boots, belts, training camp, medicine, hospital lodgings, attention from the ladies, and much more.
• Earn victories to experience the crowd showering you with gifts – from money and fine dining to cigars and whiskey and more – to make a living between fights and retire with some dignity.
• Let your showmanship gain you even greater benefits like owning a boxing gym, amphitheater, or pub, along with enjoying protection from tough crowds or ruffians.
• Fight outdoors and inside 7 classic Bareknuckle venues in scenic Britain and Ireland or rough-and-tumble New World spots like Brooklyn.
• Play solo against the computer, challenge a friend in arcade style, or take the match online.
From the boxing crowd reputation meter to the heart meter, this solo and multiplayer Steam-based game gives gamers strategic challenges that go beyond a typical fighting game. Are you ready to let your showmanship influence your rise to the gore and glory?
"The enthusiasm amongst reviewers, the boxing industry, and gaming community for Oldetime Knuckle Up has been amazingly overwhelming," noted Oldetime Sports and Co-Founder Jean Borgella. "With the help of
a great team and partners from all over the gaming community, our Oldetime Knuckle Up launch will come just in time for the 2013 Cinco de Mayo. We can't wait to share the game and our various Kickstarter
Campaign incentives worldwide, and truly appreciate everyone's invaluable support."
There are several ways for boxing fans to get involved right now:
• Watch & Win Contest via www.knuckleup.com/watchwin, which will reward two (2) winners with prizes, ranging from a boxing match ringside ticket to exclusive access to behind the scenes boxer interviews or access to exclusive boxer interview clips;
• Kickstarter Campaign Video via www.kickstarter.com/projects/oldetime, which features several incentives, ranging from an exclusive complimentary game download before public launch and Oldetime Knuckle Up swag bag with promo poster, digital game rules, and more to having a chance to have a character named after winner to be featured in game; and
• Pre-Order Link via: www.knuckleupgame.com/preorder.