Undefeated middleweight prospect Michael "The Brazilian Rocky" Oliveira (17-0, 12 KOs) has been selected as the winner of the Brazilian International Press Award's Outstanding Brazilian Athlete in the United States winner for the third straight year.
The 21-year-old Oliveira, rated No. 13 by the World Boxing Council ("WBC"), is the reigning WBC middleweight champion. The charismatic boxer was born in Sao Paulo but moved to Miami when he was two weeks old.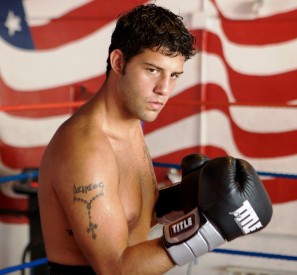 Oliveira won the 15th edition of the Brazilian International Press Awards in 2011, edging UFC star Anderson Silva by 24 votes. The group nominees also included past Indy 500 winning driver Helio Castroneves, as well as NBA players Nene Hilario and Anderson Varejao, marathoner Luiz Souza, motorcyclist Ramyller Alves and MMA fighter Rodrigo Minotauro.
"I'd like to thank all my fans for supporting me with their votes," a humbled Oliveira said. "Being nominated with all of these great Brazilian athletes is an honor in itself; to win this prestigious award for the third straight year is truly unbelievable. I may live in the United States but Brazil remains No. 1 in my heart. No matter what the outcome of any Brazilian sporting event, including boxing, despite everybody taking it very seriously, the show always ends with Samba music and partying."
Oliveira's father and president of his M.O. Productions boxing promotional company, Carlos Oliveira, recently announced that Michael will fight Brazilian living legend, four-time world champion Acelino "Popo" Freitas, on June 2 at Conrad Punta Del Este and Resort Casino in Uruguay.
The Brazilian International Press Awards ceremony will be held May 14 in the Amaturo Theater at the Broward Center for Performing Arts in Fort Lauderdale, Florida.