Team Oliveira has collectively decided to drop undefeated WBC South American middleweight champion Michael "The Brazilian Rocky" Oliveira down one weight class to junior middleweight, starting with his Brazilian mega-fight against four-time world champion Acelino "Popo" Freitas, which is tentatively scheduled for May 19 in Rio de Janeiro, Brazil.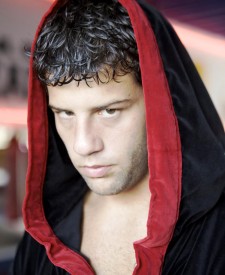 In his Canadian debut last Saturday, fighting in the third different county (US and Brazil) in his last three fights -Oliveira won a unanimous eight-round decision (79-73, 77-75, 77-75 against Sergei "Baltic King" Melis (18-8, 7 KOs) in Mississauga, Ontario.
Oliveira (17-0, 12 KOs), rated No. 14 by the World Boxing Council ("WBC"), battled the rugged Estonian in a spirited Special Middleweight Attraction "It was a war," Michael's father/promoter Carlos Oliveira (MO Productions) described the Oliverira-Melis fight. "Overall, it was a very good experience for Michael. It went back-and-forth, every round, and Michael was a warrior. Michael has been fighting much bigger opponents, so he'll now be dropping down to his natural fighting weight at 154 pounds."
"My conditioning proved to be the difference," Michael spoke about last Saturday's fight. I executed the plan but I thought that it was going to be a much easier fight than it was. He really surprised us. He didn't do anything that we saw him do on tape. It was another valuable learning experience. This fight was more important for me to fight eight hard rounds, instead of knocking somebody out in the first round. It proved my point that video tapes don't show everything. He threw more lefts in his old fights and a lot more rights against me.
"I had another fight planned and it was cancelled, so I took this one on short notice, and had to lose 20 pounds in one week. During the fight I felt deprived, not hydrated enough, and my opponent made me suffer. But, I'm still 17-0."
The 21-year-old Oliveira is listed as 5′ 9″ but he always gave away height, reach and weight fighting as a middleweight. He had been a super middleweight until head trainer Orlando Cueller joined his corner just three fights ago. "He's not a real 160-pounder and it showed," admitted Cueller, who is best known as Glenn Johnson's trainer. "He weighs maybe 162-63 pounds the night of the fight, but his opponents are in the mid-to- high 170s. Michael's been giving away too much height and weight and from now on he'll be fighting at a junior middleweight. The Russian came to win and the same-day weigh in affected Michael. We had the weigh in at 10 AM, paperwork lasted until around 1 PM, and he didn't eat until after that.
"He had to make adjustments during the fight and did. We've only been together 10 months. He listens and remembers what I tell him, but it's still going to take a while for him to get past bad habits he developed over four years. He's very young and without any amateur background, so Michael's experience is what he's learning in the gym. He's working on more lateral movement, moving his head more, and keeping his left high. He has the heart of a champion, though."
Carlos is scheduled to fly next week to Brazil to go over final details for Michael's May 19 fight in Rio against Freitas. "I'm looking forward to it," Michael added. "Everybody is going to see a much better fighter against Freitas than the other night. Making 154 won't be a problem. I was 157 the fight before last and I'll be losing weight under proper supervision during training camp. I'll bring my power down to 154 and won't be fighting bigger, stronger opponents who way up to 180 pounds in the ring.
"Freitas is an excellent, veteran fighter who is very smart and crafty. I'll have youth and more speed and strength on my side, but he's going to have years of experience on me. I'm taking training seriously for this fight, as if it is my first world title shot, and we will be training outside of Miami without any distractions."
The 36-year-old Freitas, a living legend in Brazil, has been retired for nearly five years. He stands 5′ 6″ and 135 pounds was the highest weight he fought at during his illustrious career.
"Michael will be younger, faster, more active and bigger than Freitas," Cueller noted. "We'll have eight solid weeks of hard training, bringing in good sparring partners who are similar to Freitas. We'll be preparing to fight the best Freitas, not the one who's been retired."