The men's Olympic boxing quarterfinals for the Flyweight and Welterweight divisions were held on Tuesday. The last remaining member of the USA boxing team, Errol Spence, was in action in the Welterweight division, where a win would assure him of at least a bronze medal and a chance for more. So how did things fare for Spence and Team USA's final chance for a men's boxing medal at the London 2012 Olympics?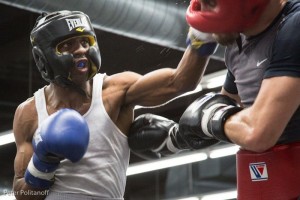 USA Boxing Results: Errol Spence vs. Andrey Zamkovoy
Errol Spence was in action thanks to an overturned decision, and was team USA's only remaining hope to bring home a medal from the men's boxing competition at London.
Last time out, Spence entered the ring and looked nervous, clearly feeling the pressure as the last boxer left on the team. This time though, he seemed much more relaxed and at ease, and why not? He has a second chance here, do your best and make the most of it.
The first round saw a lot of clinching as the two southpaws kept running into one another. The Russian seemed to be initiating more of the clinching though, while Spence was trying to work behind his jab. Getting frustrated perhaps, he began shoving off on the inside then looking for his shots. Zamkovoy managed to grab a 4-3 lead after Round 1.
Spence was much busier at the start of the second. He stayed on the attack and looked to press Zamkovoy to the ropes. The Russian's height advantage though made it easy for him to stick his jab when he wanted to, and he looked to hook off the jab. He won the second 5-4, grabbing a 9-7 overall lead.
Zamkovoy continued staying behind his jab, then tying up on the inside after combinations. Spence struggled to get into a rhythm or find a successful approach to land his shots. Spence began pouring it on with about a minute left in the fight, but Zamkovoy was covering up well and popping off his jab.
Zamkovoy took the third round 7-4, and won the match 16-11.
It's official this time, the men's USA boxing team will not win any medals.
There was plenty of other exciting action on Tuesday, especially for the local fans. Irish Flyweight Michael Conlan advanced to the semifinals, and earned himself a bronze, by defeating Frenchman Nordine Oubaali, who had previously defeated American Rau'Shee Warren.
British Flyweight Andrew Selby, one of the best Flyweights in the world, met talented Cuban Robeisy Ramirez. Unfortunately for the British team, which had been firing on all cylinders, the Cuban was jut too good for him on this night at least, and won 16:11.
Also in action for the British boxing team was Welterweight Freddie Evans. Evans stormed out to a 7-2 lead, but allowed his Canadian opponent to get back into the fight. He pulled off the gas in the third round, and it appeared he could be heading for an upset loss. The fight ended up tied at 14:14, and Evans got the nod though via countback.
Meanwhile, the two major players and rivals at Welterweight, number 1 seed Taras Shelestyuk and number 2 Serik Sapiyev were both in action. Shelestyuk won an unpopular decision over France's Alexis Vastine via countback, after the final scores were tied to advance and assure himself a bronze. Meanwhile, Sapiyev took home an easy 20:9 decision.
Complete Olympic Boxing Results – Flyweight, Welterweight Quarterfinals
Men's Fly (52kg) ALOIAN Misha wins 23:13 CINTRON OCASIO Jeyvier
Men's Fly (52kg) LATIPOV Jasurbek loses 15:10 NYAMBAYAR Tugstsogt
Men's Fly (52kg) OUBAALI Nordine loses 22:18 CONLAN Michael
Men's Fly (52kg) RAMIREZ CARRAZANA Robeisy wins 16:11 SELBY Andrew
Men's Welter (69kg) SHELESTYUK Taras 18:18 VASTINE Alexis (Shelestyuk wins on countback)
Men's Welter (69kg) CLAYTON Custio 14:14 EVANS Freddie (Evans wins on countback)
Men's Welter (69kg) SPENCE Errol loses 16:11 ZAMKOVOY Andrey
Men's Welter (69kg) MAESTRE PEREZ loses 20:9 Gabriel SAPIYEV Serik