"[I] just [want] people to know my name, do you know what I'm trying to say? I want everyone to know me and watch me, to think, 'I want to box like he does!'"
World titles remain the main reason all young boxers enter the paid ranks and Adan Mohamed is no different, but there's much more to his ambition than world championships.
Mohamed, who will compete in his second professional bout this Saturday on the undercard of Daniel Dubois vs Bogdan Dinu, grew up a bundle of energy with a sibling rivalry which saw the brothers head to the boxing gym in a bid to release some of the energy both boys contained.
"Well, I've got a twin and we're both a bit hyperactive, always fighting so my mum and dad just took me down to the gym," Mohamed told proboxing-fans.com.
"I started at Repton from nursery up to the seniors, so I was there for a good few years.
"It was class you know. All the best boys were there, so you get the best sparring and carry on learning up there."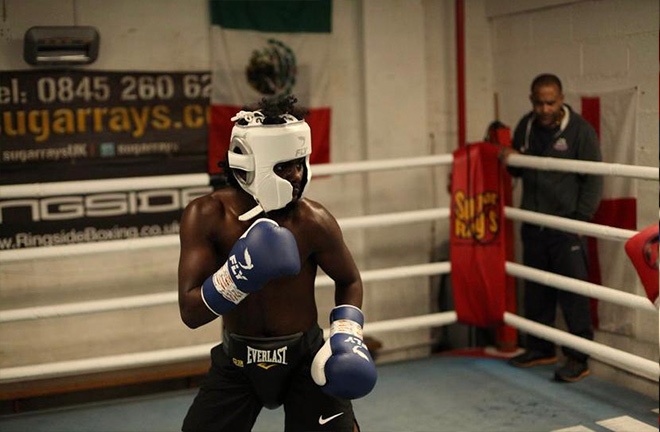 The 19-year-old thrived in the ring, possessing a talent which has seen him dedicate his life to the sport, unlike his brother, Adan grew from the teachings received in the Bethnal Green gym.
"He [Adan's brother] didn't like the coaches shouting at him, he didn't like the pressure! He's probably my biggest supporter, he's not missed a fight until this one so he's fuming about that."
As an amateur, the super bantamweight did dream of competing in the Olympic Games, but found the routine of the unpaid code uninspiring.
"I did [have ambitions to go to the Olympics] but I got bored of the amateurs, going through the same stuff, the ABAs and that I'd done it loads of times. I just felt like it was time to turn over."
Mohamed now punches out of Gator ABC under the watchful eye of 'Big Don', Don Smith.
Smith has been around the circuit for a long time quietly going about his work behind the scenes, as he worked with the likes of Craig 'Spider' Richards, Conor Benn and more recently Anthony Joshua for his last bout beating Kubrat Pulev.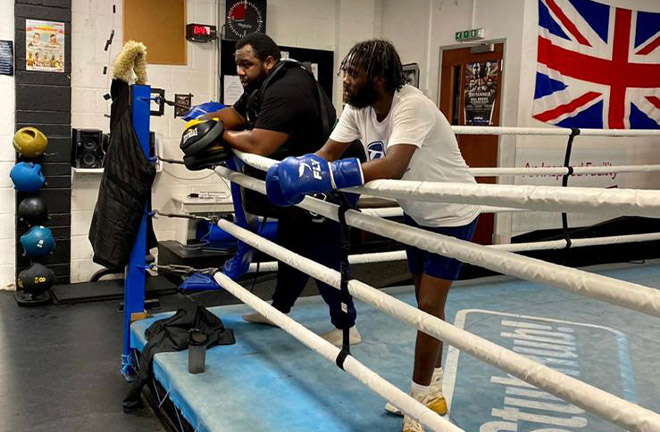 Speaking about his young charge Smith said: "He's a good kid, full of energy. On the interview he seems a quiet kid, but in the gym he is full of banter and jokes.
"We've built a good relationship over the last year. When I first met him we just did a bit of pad work just doing a few things. I had seen him box for Repton doing really well."
'Big Don' believes his fighter will feel no pressure at all as he has been on the big stage as an amateur.
"He's really experienced, you know, for a young kid. He has boxed in Europeans, so going into this fight he's not going to feel the pressure, because he's boxed in front of crowds and he's boxed in front of nobody.
"He has done it all before this is just doing it in a different setting."
In the opposite corner to Adan will be respected road warrior, Luke Fash who has entered the ring on 62 occasions as a pro, losing 59, only being stopped five times.
Finally, Coach Don, who has worked at the highest level of the sport revealed what it was that had shown him why Adan Mohamed has the potential to reach the highest of heights.
"He's hard working, that's one of the great things I liked about him. He don't miss no days, every day he's in the gym. He never takes a day off, I don't think since I've been training him he's taken a day off.
"The training is hard. There's not a lot of pro fighters out there doing the training that he's doing. He's fit, he's fit to do six rounds, he's fit to do eight rounds on Saturday night.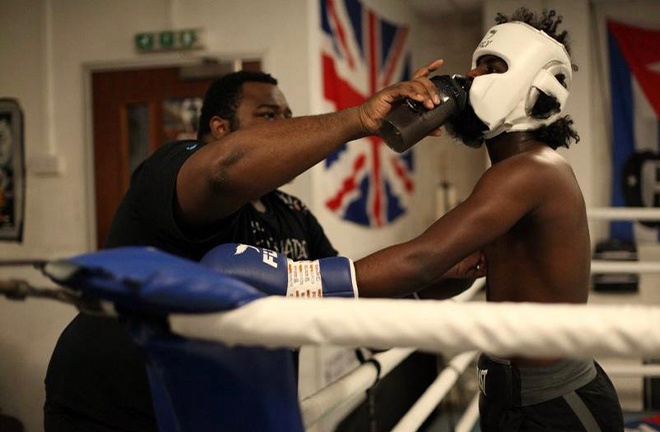 "I'm really excited, man. He's so talented but he's so young. Those two coupled together makes me really excited for the future.
"If he keeps his head screwed on like he has it screwed on now, keeps working hard, stays focused he can go all the way. And he knows it as well, I don't expect anything less from him because he has shown me already he is on the path way to doing that.
"He will do it, he's got everything he needs."
Watch the full video interview with Adan and Don prior to Adan's debut here:
Watch the updated interview with Don Smith ahead of Mohamad's  second fight: