"As a young fighter sometimes I come in the gym, do my session and sometimes I just sit down and watch all the experienced lads train and see what they do, you just pick up so much from the other lads."
Astley VIP Boxing gym is a star-studded gym housing former champions, champions in waiting and what owner and former British, Commonwealth and European titlist Jamie Moore will be hoping it produces many more gems for the future.
Lightweight prospect Aqib Fiaz is one of many plying his trade in the Manchester gym and on Saturday night, he will fulfill a life-long dream in fighting at the Manchester Arena on the undercard of Scott Quigg's Super-Featherweight showdown with Jono Carroll.
"I can't wait to fight at the Arena where I've been going to years," an ecstatic Fiaz explained.
"It's a dream of mine to fight there so early on in my career, I'm blessed to be in that position."
Almost 12 months on from his professional debut, Fiaz switches from the Oldham Leisure Centre, where he made his first bow to the bright lights of Manchester's primary venue, in his first fight of the year after racking up four victories last year, all by decision.
The 20-year-old will have hopes of an equally busy, if not more arduous schedule this year, but unlike most faces the hurdle of managing his professional life with his stringent university studies.
You'd be hard placed to find a handful of other pros combining these two strikingly different worlds and the Manchester University second year student regularly turns downs the lures of young student life to hone his craft, however such is his intent on achieving his goals in the sport, the Oldham man appears content to make the sacrifices required.
"I struggle sometimes, but sometimes I have to make sacrifices other young students don't have to make, but I enjoy it so it's well worth it."
After Saturday night, Fiaz who by his own admission is rarely seen on campus during the lead up to fights, will return to his sports science course and although his focus is distracted somewhat by his ambitions inside the ring, the Lightweight cites the many benefits of his degree in helping him profit in his professional journey.
Asked whether his university course is beneficial towards boxing, Fiaz responded: "Yeah, learning how to look after yourself properly with all the mobility, it's just about keeping yourself injury free mainly and its going well so far.
"Touch wood I don't get any injuries and that's what were working towards, our goal and injuries along the way don't really help, so its a massive part."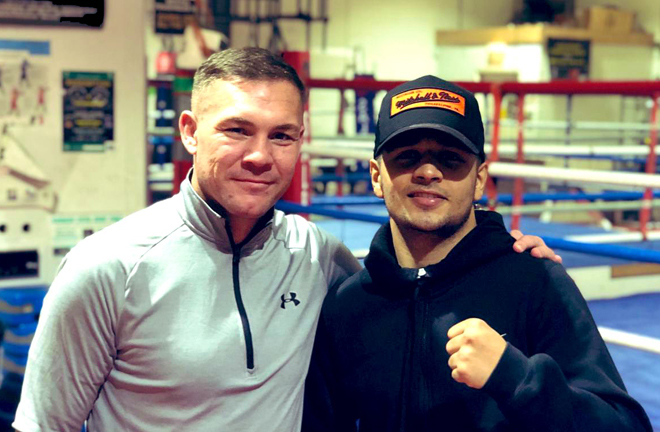 Fiaz, a nine-time area champion, first walked into Astley VIP as a sparring partner for two-weight world champion Carl Frampton, however it would soon lead him on a path to being a fully fledged member of the thriving set-up which also houses WBO Super-Lightweight mandatory Jack Catterall, WBC Light-Welterweight mandatory Chantelle Cameron, four-time world title challenger Martin Murray and until recently, the former Commonwealth Lightweight champion, Tommy Coyle.
And the prospect is grateful for the faith Moore has showed in him, as plots his path to success under his tutelage.
"I was first called in here as a sparring partner for Carl Frampton for the Josh Warrington fight, I was his main sparring partner for it.
"Then I asked Jamie (Moore) if he'd train me and I'm just thankful to be in a place like this.
"As a young fighter sometimes I come in the gym, do my session and sometimes I just sit down and watch all the experienced lads train and see what they do, you just pick up so much from the other lads."
A bright future awaits the young 140lbs fighter, especially if he negates his first major hurdle at the Manchester Arena this Saturday and his co-trainer Nigel Travis says his young charge is a "dream" to guide.
"The kid's got bags of potential, he's a pleasure to work with," Travis explained.
"(Aqib) gives you 100% every session, will do whatever you ask of him and it's a dream to coach someone like that.
"He's very talented, I knew him as an amateur, he beat Connor Tudsbury and you see the size of him"
"Very excited about him, but its the work ethic he's got is second to none so we expect him to do very well"
The exciting prospect will be entering the ring his hero Ricky Hatton graced 15 times in a career which will linger in the memories of fight fans across the country and Fiaz will hoping to announce himself to the public in similar fashion on his first show live on Sky Sports, as well as on DAZN in the USA.
Hatton will be present in the venue and city he is so adored, in the corner of former ABA champion, Ibrahim Nadim in his second outing following a successful debut at York Hall in December.
The 20-year-old continued: "Ricky Hatton was probably one of my favourites.
"He was a big body puncher, going forward, aggressive fighter, big following. I loved Ricky Hatton when I was a young kid watching him.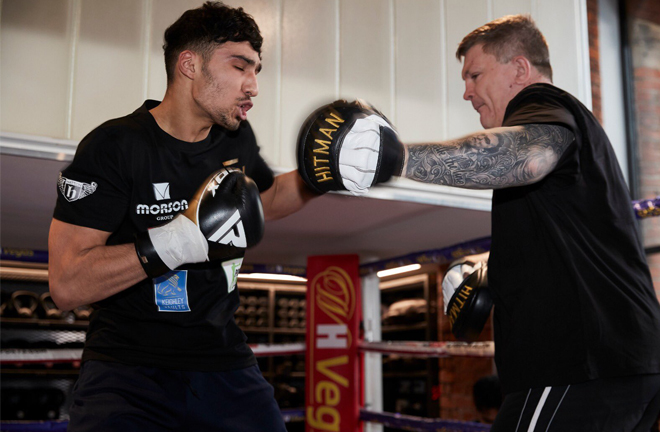 "Then growing up going to the arena to watch him and seeing him now as a trainer coming in and out the gym, I was starstruck at first"
"I'm not really bothered," the former Team GB member exclaimed when questioned if he was looking for titles this year.
"My job is to fight and win whoever they put in front of me.
"My manager Steve (Wood) and Jamie (Moore) put whoever they want in front of me, whether thats with a title on the line or not, it doesn't really matter to me, I've got to beat the person in front of me and that's that"
Fiaz will face durable journeyman Dean Jones (1-26) on Saturday as he aims to maintain his unbeaten streak and he remains happy to bide his time rather than chase titles, which is perhaps understandable at such an embryonic stage of his professional career.
It remains to be seen how his professional career will unfold, but Fiaz certainly has everything in front of him and behind the scenes to suggest he can forge a successful journey, with a graduate degree to sit on the mantelpiece back in Oldham.