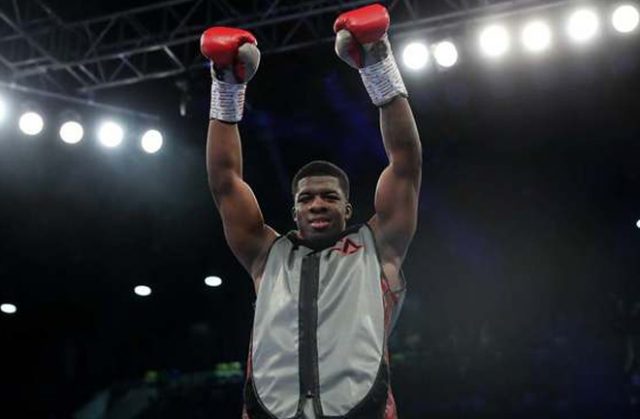 "Its the hunger. I did the sport before it was a trend. I liked it from early and I want to win titles. Until I accomplish all of that I think I'll always be hungry."
Heavyweight prospect David Adeleye may have only had two professional bouts, but his experience runs deep beyond his years and his role in one of the most colossal heavyweight showdowns of our generation has only increased his highly-regarded pedigree and profile.
The 23-year-old raced to a first round stoppage of Dmitrij Kalinovskij on his debut at the Copper Box Arena in December, displaying ferocious power and pinpoint accuracy, before being drafted in as one of the four main sparring partners for Tyson Fury, as he prepared for his rematch with Deontay Wilder in the Top Rank gym in Las Vegas in February.
Adeleye along with fellow British heavyweight contender George Fox, Cruiserweight Jordan Thompson and American Jared Anderson whipped Fury into condition with several rounds of brutal gym wars, as the Brit stormed to a 7th round stoppage at the MGM Grand Garden Arena to become a two-time heavyweight world champion.
Sugar Hill Steward, nephew of the late, great Emanuel Steward and former world champion Andy Lee, both products of the famous Kronk Gym in Detroit, where Fury walked into in 2009, ultimately masterminded the strategy.
And the heavy handed heavyweight, who now trains out of Buddha Box in Mayfair, believes the experience will serve him well as he begins his own journey.
View this post on Instagram
"[Sugar Hill] is more of a guy that focuses on footwork and throwing punches at the right times," the Londoner exclusively told Pro Boxing Fans.
"He's so precise and having a trainer like that around at such an early stage can only work in your favour, you start to learn the game way more, you see it from a different perspective.
"It was good having Andy Lee, a former World Champion [there too], he was giving us tips as well.
"He goes off the Kronk style boxing as well so him and sugar hill were on the same page, so it was nothing really too far apart.
"He was teaching the same things Sugar was teaching, it was real good."
Adeleye, a Business Management graduate from the University of Wolverhampton would often travel down to London to fulfil his amateur obligations, before returning to his studies, which he would also combine with training, as he harboured ambitions to turn pro.
"Its a discipline but you can get it done at the end of the day," he said.
"I stayed with my coach down in London. He would text me saying 'you've got a fight on this day.' I would come back down to London, train, I was training up at university anyway.
"Typical day, wake up, have a lecture, go home, train in the evening, go jogging and literally the same thing again next day, next day.
"If I had a bout coming up, I'd more or less email my lecturer, they'd give me time off.
"I'd go back down to London, train in London, get ready for the bout and then come back up and then catch up with my uni work. My lecturers were quite understanding thankfully."
Adeleye excelled in the unpaid ranks despite the distractions of student life, winning the junior ABAs, senior ABAs and novice championships, whilst sparring with the likes of former two-weight World Champion David Haye, former Super-Middleweight titlist George Groves, Derek Chisora, Joe Joyce, as well as former Dale Youth club stablemate Daniel Dubois, whom he has done numerous rounds with.
The unbeaten power puncher decided to focus his final piece of university work around his now full-time profession and admits concentrating his dissertation on boxing has given him a richer understanding of the sport and the finer details, which can benefit a fighter as well as damage them if they are not educated on the fundamentals of the business side of the sport.
Adeleye continued: "It was more or less the discipline of boxing, the laws inside it and how it helps youth and helps people stay out of trouble.
"I found out a lot of things, I found out how the sport of boxing operates, contracts, loopholes, how much it could generate and knowing your rights and how good it could go for you if you do know your rights and how bad it could go for you if you don't know your rights."
The Londoner, who signed with Frank Warren's Queensbury Promotions last July has an unrelenting desire to reach the heights of those who have set the standard before him and cites the last reigning Undisputed Heavyweight World Champion, Lennox Lewis and former champion Larry Holmes as two of his inspirations, but admits he would not compare his style to anyone from the past.
"I loved the likes of Lennox Lewis, [Muhammad] Ali but I used to watch the smaller weights like Roy Jones Jr, he's my favourite boxer," Adeleye explained.
"I used to love how he used to let his hands go. He had the speed as well as the skill and power.
"Larry Holmes, he probably had the best jab in the game, he used to upset a lot of people with his jab, I used to watch him a lot."
Adeleye is certainly a heavyweight contender to keep an eye out for and whilst the landscape remains uncertain in 2020, amid the COVID-19 pandemic the Brit remains hungry and intent on achieving his goals and insists he is not fazed with the lures of fame, as his profile and name become more familiar.
Reflecting on the public reaction since his sparring with Fury and his motivation within the sport, Adeleye exclaimed: "A few more people know me now, but I don't let it get to me, it doesn't mean nothing, I've still got a lot to prove.
"I'd rather stay humble, stay grounded and when the time's right everything will sort of fall into place.
"Its the hunger. I did the sport before it was a trend. I liked it from early and I want to win titles.
"Until I accomplish all of that I think I'll always be hungry."
Frank Warren has a pool of heavyweight talent in his roster with Fury, the WBC and Ring Magazine champion, Daniel Dubois and Joe Joyce, who are scheduled to settle their grudge in July, as well as Nathan Gorman who is looking to bounce back after defeat to Dubois and now Adeleye, who has all the credentials and talent to establish himself in that mix in the immediate future.