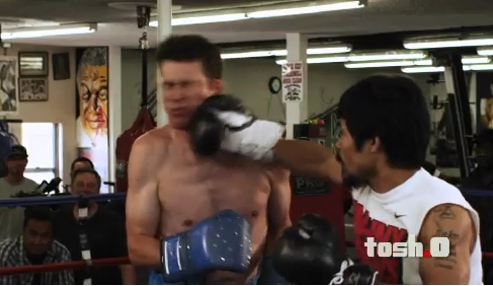 Last night on the season premiere of Tosh.0 on Comedy Central, Daniel Tosh stepped into the squared circle with none other than the pound for pound champion himself, Manny Pacquiao. Like Shane Mosley learned two weeks ago, when Pacquiao hits you in the face, chances are you are going to get knocked down. Take a look at the video of Pacquiao punching Tosh and a few photos of the event as well.
Pacquiao Punches Tosh – The Video
Pacquiao Punches Tosh – Photo Captures
Photos and video from the Tosh.0 website.
The build-up to Pacquiao punching Tosh in the face was pretty funny. Tosh enters the Wild Card Gym wearing gloves bedazzled up with rhinestones. He doesn't know how to get into the ring, so he crawls under the ropes. Comedian and MMA announcer Joe Rogan is there with Tosh for moral support, and shows him how to use a mouth guard.
Right before he gets ready, Tosh admits to being scared shitless now. Pacquiao then hits him flush in the face with a right hand, and he crumples to the canvas and rolls around for a bit. It's not like Pacquiao threw a hard shot or wound up at all, just a short little right hand, and it was more than enough to send Tosh reeling. Good stuff. After the segment, Tosh says, "See Mayweather, that's how a man behaves". Zing.
The knockdown and domination streak for Pacquiao continues, as does his successful mission to be funny on every comedian's television show in the country.
Comments
comments