Manny Pacquiao and Keith Thurman are set to collide at the MGM Grand Arena in Las Vegas this Saturday with the WBA welterweight strap on the line. It could be the final fight for Pacquiao, the 40-year old part-time politician and boxing legend. Thurman, meanwhile, will look to re-establish his supremacy in one of the sport's best weight divisions and has boldly promised to send his accomplished foe packing into retirement.
Tale of the Tape
Pacquiao (61-7-2, 39 KOs) needs no real introduction after having dazzled boxing fans countless times over the course of his 24-year ring career. The Filipino dynamo holds the distinction of being the only fighter to win twelve major world titles in eight different weight divisions.
He was named Fighter of the Decade in the 2000s. He was also named Fighter of the Year three times by the iconic Ring Magazine and has been ranked first multiple times on ESPN's pound-for-pound top boxer's list over the past 25 years.
Pacquiao dominated the sport during his historic climb from flyweight to welterweight and has been a PPV powerhouse, generating some $1.2 billion in revenue over the course of his career. Add to this a Who's Who list of top opponents and you have the essential ingredients of a future Hall of Famer.
Undefeated American Thurman (29-0, 22 KOs) is the reigning WBA champion and a dangerous opponent. However, it's taking the former unified champion some time to regain his form after a litany of injuries sidelined him for 22 months and he has only competed once since March 2017.
His triumphant return came against a game but mismatched Josesito Lopez a week after Pacquiao defeated Adrien Broner. Although Thurman won by majority decision, he was hurt in that fight and appeared to be on the verge of being knocked out in the 7th round before rallying down the stretch to seal the win.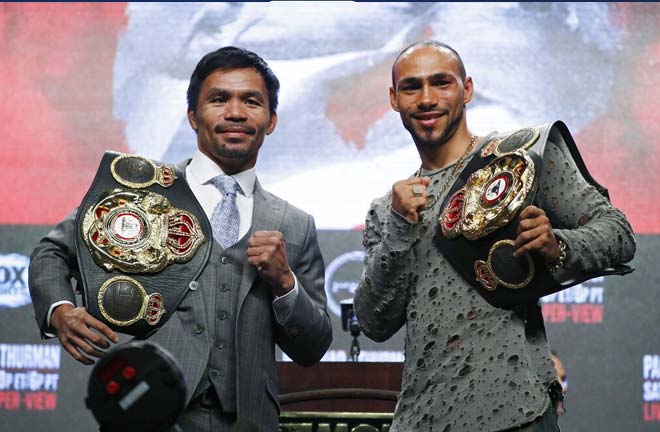 The mixed result proved that no amount of sparring can replace real rounds and that it could take time for Thurman to shake off the ring rust even against a carefully selected opponent. In addition to his champion pedigree, Thurman has a pair of quality wins over current WBC titlist Shawn Porter in 2016 and former world champion Danny Garcia in 2017.
High Stakes
For Pacquiao, a win over Thurman would be an upset but would prove that even at 40 years old, he can still compete at the highest level in a young man's sport. It would also keep his hopes alive no matter how improbable of luring Floyd Mayweather Jr out of retirement for a rematch to avenge his May 2015 loss.
Pacquiao blamed the loss on an injured shoulder but Mayweather's camp has vehemently disputed that claim. A more likely scenario is that Mayweather would remain retired forcing Pacquiao to either engage the other active champions – Errol Spence Jr. (IBF champion), Shawn Porter (WBC titlist), Terence Crawford (WBO titleholder) or call it a career.
Defeating Pacquiao would give Thurman the career-defining win he has always craved. It would also firmly place him back into the conversation among the best welterweights in the entire world, a position Thurman feels he never lost.
The shaky performance against Lopez left more questions than answers relative to Thurman's conditioning and once vaunted power. He failed to put an inferior opponent away, but was also coming off a long lay-off due to elbow and hand surgery. Thurman has repeatedly claimed 2019 to be his "comeback year" but people will stop listening if he loses to a past his prime Pacquaio.
Manny Pacquiao moved from a +110 underdog to roughly a -135 favorite on betting sites reviewed by MyTopSportsbooks.com. His legendary status in the sport is likely to result in a lot of fan support (even against an American in Las Vegas) and favorable judging. But Thurman was a rightful favorite in oddsmakers' initial assessment. He's taller, longer, a decade younger, and likely faster at this point in their careers. The undefeated Thurman is great value at plus money and should be able to outpoint the elder statesman of the welterweight division over 12 rounds.
Prediction
Both Pacquiao and Thurman have said that they can put the other away but recent results suggest otherwise. While Thurman has shown considerable power in both hands, it's tough to see him knocking out Pacquiao, who has a proven chin and has only been stopped once since 1999. Thurman hasn't stopped anyone since defeating Luis Collazo in July 2015. Prior to that, "One Time" defeated 11 of his last 14 opponents by knockout.
Once a whirlwind of fistic devastation, "Pac-Man" appears to have lost most of his killer instinct. He only has one stoppage win in his last 11 victories and that was a seventh-round TKO over a shopworn Lucas Matthysse last July. You would have to go back even further to November 2009 to pinpoint his last stoppage win over Miguel Cotto in what was perhaps his best performance. So this fight has a strong chance of going the full 12 rounds.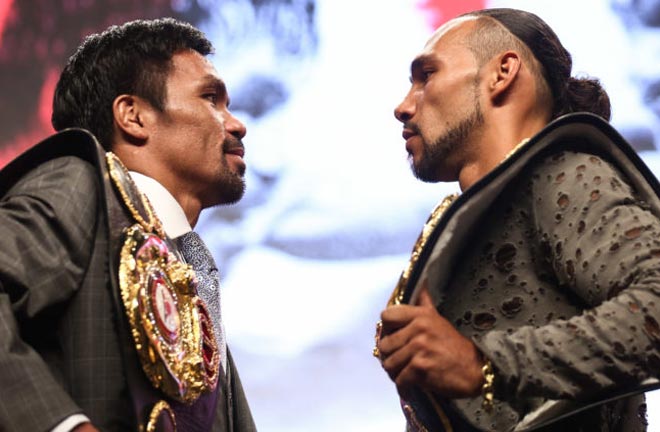 Thurman needs to turn back the clock and show the same fighting spirit he demonstrated against Danny Garcia before the layoff. He needs to keep the fight at a distance, use footwork and impose his size on the smaller Filipino to claim victory. This will be important because Pacquaio will bring all sorts of pressure with his unique use of angles and uncanny ability to dictate the pace.
Thurman is a worthy champion but he is also vulnerable with much less ring experience in handling marquee fights heading into Saturday night. You also have to take into account Thurman's infuriating remarks leading up to this fight and that Pacquaio will be sufficiently motivated to make him pay.
In sum, this is a tough fight to call given Pacquiao's advanced age and Thurman's inactivity. Manny has appeared revived as of late although fighters in his position can grow old overnight under the intense light of a venue like Vegas. It would seem logical to wager for the younger, bigger and stronger fighter in Thurman but he simply hasn't looked the part of a top welterweight.
Verdict: Pacquiao by decision
Comments
comments