Manny Pacquiao (60-7-2, 39 KOs) rebounded nicely from his upset title loss in 2017 to dominate and score a surprising seventh round TKO over Lucas Matthysse (39-5, 36 KOs) in Malaysia on Saturday night to claim his WBA secondary welterweight title.
It was Pac-Man's first knockout in nine years and it was a vintage performance by the legendary Filipino to pick up his 60th pro win.
Manny jumped out to an early lead and never took his foot off the gas pedal appearing much crispier than the version that turned up in Brisbane last time out. The difference in skill set was almost immediately apparent as Pacquiao expertly controlled distance and avoided standing straight in the path of Lucas' right hand.
Pacquiao cracked Matthysse at will with some beautiful left hands and that sweet combination of speed and power that made him a household name was on full display in front of a raucous but noticeably thin crowd.
Pacquiao floored Matthysse with a hard uppercut in the third round. He turned up the heat two rounds later in the fifth with some excellent bodywork. An accidental clash of heads caused a brief scare but both men were unscathed. Pacquiao scored the second knockdown of the fight moments later with a shot to the temple that forced Matthysse to take a knee.
The sixth stanza began much like the previous one with Pacquiao dictating the pace and Matthysse looking for answers. A low blow from Matthysse brought a temporary halt to the action and a warning from referee Kenny Bayless as Pacquiao took a breather. He then resumed beating up Matthysse.
By the fateful seventh round, it had become apparent that Matthysse was going to need a knockout to win but his fight-changing power shots were effectively neutralized by Pacquiao's aggression and precision.
Manny Pacquiao, at 39 years of age, wins once again the World Championship ! This is the stuff of legends. #PacMan #Boxing pic.twitter.com/KubVhKrrCl

— Cerebral Hunter (@Delisketo) July 15, 2018
It was just target practice for Pac-Man at this point, who continued to rain down stinging punches with alarming accuracy. Another uppercut found its mark and dropped Lucas for the third and final time. After rising to one knee, Matthysse spit out his mouthpiece and Kenny Bayless had seen enough waving off the fight at 2:43 of the round.
Matthysse was gracious in defeat when asked about the most difficult part of fighting Pacquiao, he replied, "To fight Manny Pacquiao. He's a great fighter and a great champion."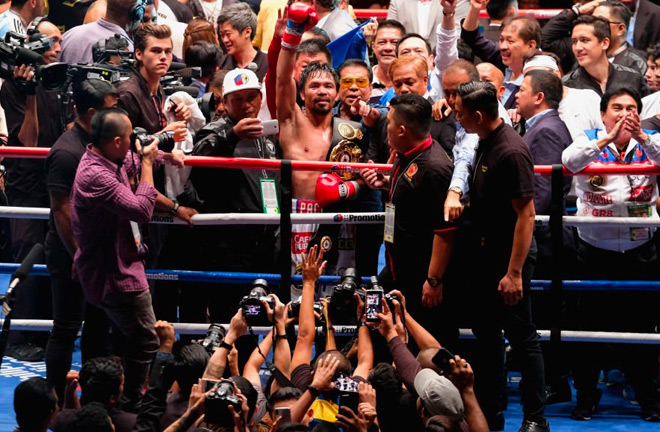 Refusing to take the bait when speculation arose about his future, Pacquiao dodged post-fight questioning about future opponents.
"That's another story and another discussion," Pacquiao said. "Right now, I'm happy to go back to my country in the Philippines and to celebrate the victory and, of course, doing my job as a public servant. We are planning [to fight again in 2018]. We have not decided yet. Right now my focus is to go back to my country and, of course, relax."
This fight poses more questions than answers. Matthysse is a solid veteran but appears to be finished as an elite fighter. What we do know is that Pacquiao's recent fights have been a mixed bag with the exception of this performance and he has become less of a draw within the U.S., forcing his team to find fights abroad.
The split with long-time trainer Freddie Roach in April after 33 fights and 17 years together is another reason for pause when assessing Pacquiao's career to date. Roach had previously wished for Pacquiao to retire and has not spoken to his former star since the Horn loss. New trainer Buboy Fernandez is capable but this tandem will come nowhere close to duplicating the unprecedented success orchestrated under Roach.
At almost 40 years of age and with 20+ years in the fight game, Father Time is nipping at Pacquiao's heels. Manny is at least a decade past his prime and his patented wasp attack; aggressive boxer-puncher style was never intended to sustain a long career. Personally, I am not willing to pay to watch him venture into dangerous waters against the likes of Vasyl Lomachenko, Terrence Crawford, Errol Spence, Keith Thurman or Danny Garcia.
The Philippines senator has not lived the life of a fighter for some time now and often splits his time between training and caring for his country. Pacquiao has been unofficially involved in politics since the mid-2000's before winning a senate seat by more than 16 million votes in 2016. It has been a mind-numbing balancing act ever since that appears to be taking a toll.
The decision for any athlete to retire is a deeply personal one but we are all too familiar with the long list of great past champions who hung around too long. Manny has already proven his greatness and continues to fight for reasons only known to himself.
I sincerely hope that he steps away on his own terms before another fighter or boxing commission weighs in.