The fourth and final instalment of the series sees Joe Calzaghe finally seal his legacy, and unify the titles that he craved way back at the start of his championship reign in 1997.
Before he could get there though, he needed to see off two opponents that would test his concentration as his mind was wandering to bigger and better things.
Defence Sixteen – Mario Veit II, 7th May 2005.
Yet again the big fights eluded Calzaghe, and after a messy defence against Kabary Salem in his last fight, Joe was forced to face his mandatory challenger in his next assignment.
Sadly for Joe and his fans, Mario Veit had invoked his mandatory challenger status to meet Calzaghe in a rematch of an April 2001 WBO title contest that lasted less than two minutes.
The German would also have home advantage for their second bout, with the fight taking place at the Volkswagenhalle in Braunschweig.
Veit had beaten Salem via spit decision for the interim WBO strap in May 2004, but stepped aside to allow the Egyptian to challenge Calzaghe in Edinburgh.
Veit had won 15 on the bounce since being humiliated by Calzaghe, and his last outing saw him stop old Calzaghe foe Charles Brewer in seven rounds.
A fired up Calzaghe was in no mood for politics and possible corrupt officiating, as he did the job again on Veit. This time in six rounds. A big left hook dropped the home fighter in the fifth, but he never fully recovered, and was decked twice in the next round as the referee waved the action off.
Defence Seventeen – Evans Ashira, 10th September 2005.
Plans were being made for Calzaghe to meet IBF Super-Middleweight champion Jeff Lacy. But, first the Welshman had to come through the teak tough Kenyan, Evans Ashira at the Cardiff International Arena.
Ashira had mainly campaigned in Denmark, and at Middleweight, and had challenged for the WBA belt in May 2004, but was stopped in two rounds by Maselino Masoe in Miami. His fight with Calzaghe was to be his first at the weight, and he would naturally start second favourite.
Disaster struck for Calzaghe during the fight, as a career long problem reared it's head again.
It looked like an early night for Joe as he tore into Ashira in the early rounds, but an injury to his left hand in the third forced him to box effectively with one hand for the remainder of the contest.
In the end, he had to settle for a landslide win on the cards.
"I had to jab my way to victory after four rounds. If my left hand was fine I think he would have pulled out or I'd have knocked him out in four or five rounds." said Calzaghe
Calzaghe's promoter Frank Warren said the mooted November 2005 fight against Jeff Lacy was now unlikely to happen.
"I very much doubt that it is going to go on. He is never going to be ready for that so we'll try to rearrange it for next year," said Warren.
"It is frustrating for Joe but these things happen in boxing."
It would prove only a minor set back for the champion, as he defined his legacy in his very next fight.
Defence Eighteen – Jeff Lacy, 4th March 2006.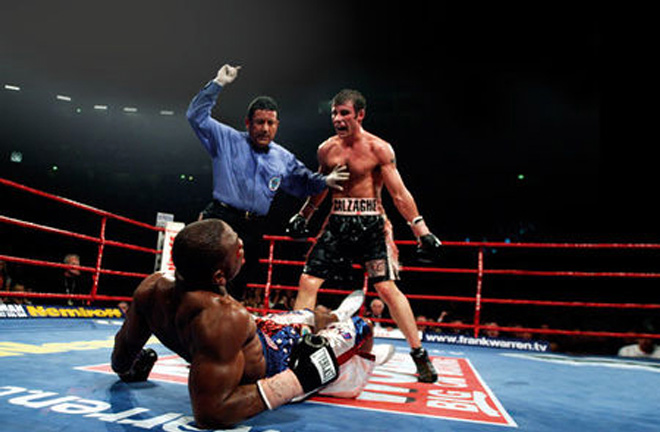 Calzaghe's career defining night came in Manchester in March 2006, as he finally came face to face with Jeff 'Left Hook' Lacy.
Lacy was being advertised as the second coming of Mike Tyson, with the credentials to back it up. The Floridian was something of a knockout artist, and had won the IBF Super-Middleweight title with an eighth round stoppage of Syd Vanderpool in Las Vegas in October 2004.
He had made four successful defences of the belt, three by the short route, and he arrived at the Manchester Evening News Arena as the favourite with the bookmakers.
In August 2005, Lacy had dropped former WBC champion, and Calzaghe opponent, Robin Reid four times on the way to an emphatic seventh round win.
In his prior outing, he knocked out Scott Pemberton in two rounds. Lacy oozed confidence, but Calzaghe wasn't going to give up his WBO title without a fight.
The contest began at 2am local time, to accommodate Showtime in the USA, but instead of seeing a great American hope being born, they witnessed a total masterclass from Calzaghe.
The Welshman quite simply put in one if the greatest performances from a British boxer in memory.
Calzaghe dominated from the first bell to the last, dazzling with blurring hand speed and combinations, making Lacy look like a club fighter rather than a World champion.
Calzaghe was docked a point for hitting around the back in the eleventh. It mattered not as a minute into the final round Joe put the icing on the cake with a knockdown, and although the visitor bravely rose to his feet, he had been utterly outclassed.
The thrashing on the cards proved just that as Calzaghe finally unified the belts.
Before the fight, Calzaghe had planned to move to Light-Heavyweight and retire within two years, but his greatest win forced a re-think.
"I've had the WBO belt for eight years now and it's hard to give up, especially when I've just got the IBF one as a beautiful partner," said Calzaghe.
"I'll think about my options, but if I could get the likes of Antonio Tarver or Roy Jones Jr in the States and the money is right I'd go for it. Tarver's the main man at the moment, but he's not exciting. Roy Jones is more of a legend and would probably be my choice."
Defence Nineteen – Sakio Bika, 14th October 2006.
There were a number of options on the table for Calzaghe, and the world was his oyster following the Lacy win.
Reportedly though, he had turned down "£1 million" to fight IBF Light-Heavyweight champion Clinton Woods.
Middleweight, Ronald 'Winky' Wright had also stated his desire to meet Calzaghe, but it would be the Australian based Cameroonian, Sakio Bika that would be the first defence opponent for Calzaghe's IBF and WBO crowns back at the Manchester Evening News Arena.
Bika was hard as nails, and a rough customer. He had only lost once to Sam Soliman on the cards in October 2002, and his previous contest was a challenge for the WBC title.
He travelled to Germany to face the champion, Markus Beyer, but the fight was curtailed after four rounds due to a nasty cut sustained by Beyer. Bika was ahead on one card, but level on the other two meaning the bout was a technical draw.
Calzaghe was forced to engage in a brutal and scrappy battle with Bika, with the African giving the champion a stern examination.
Bika took Calzaghe out of his comfort zone, and was raw and ragged in his approach which didn't allow Calzaghe to go through his usual repertoire.
Joe was cut over his left eye from a head butt in the fourth, and Bika would be deducted a point in the next round for the same offence. It was a bruising contest, and Joe was satisfied just to leave with his titles and he did just that with a clear points win.
"I went into the fight with no real sparring so it was a bit of a gamble," said a relieved Calzaghe afterwards.
"I'm disappointed with the performance but a win is a win. I wanted to put on a spectacle. I was too keen to impress and was looking for an early knockout."
Calzaghe's promoter, Frank Warren, said: "I am upset with him, especially when he was showboating and dropping his hands – I don't like that. Joe is a tremendous boxer but he was hampered by that cut. One thing you can't doubt with Joe Calzaghe is he has a fighter's heart."
The fight talked about next would be a blockbuster, and an opportunity for Calzaghe to further unify against Mikel Kessler, but that would have to wait for one more fight.
Defence Twenty – Peter Mandfredo Junior, 7th April 2007.
Calzaghe would mark time on a meeting with Kessler by appearing at his country's national stadium for his next outing.
The IBF belt was no more as Calzaghe would be forced to vacate the title rather than be forced to defend against the German, Robert Stieglitz.
Still the WBO champion, Joe felt the better option would be to face a better known opponent, and it would be a runner up on the popular reality show, The Contender, who would be the man selected.
Peter Manfredo Junior was a confident challenger, with his three losses coming as part of the show. One was to Alfonso Gomez and two were to the eventual show winner, Sergio Mora, all on the cards.
Third round stoppage wins against Scott Pemberton and Joe Spina set up a shot at Calzaghe at the Millennium Stadium in Cardiff in front of 35,000 spectators.
Manfredo couldn't cope with Calzaghe's speed on the night, as he constantly chased shadows.
By the third, a blizzard of punches forced referee Terry O'Connor to step in, albeit a bit prematurely, but the writing was on the wall in any case.
The win moved the 35-year-old champion to 43-0, and a 20th successful defence of his WBO crown, and he would remain at the stadium in front of a bigger audience in his next contest.
Defence Twenty-One – Mikkel Kessler, 3rd November 2007.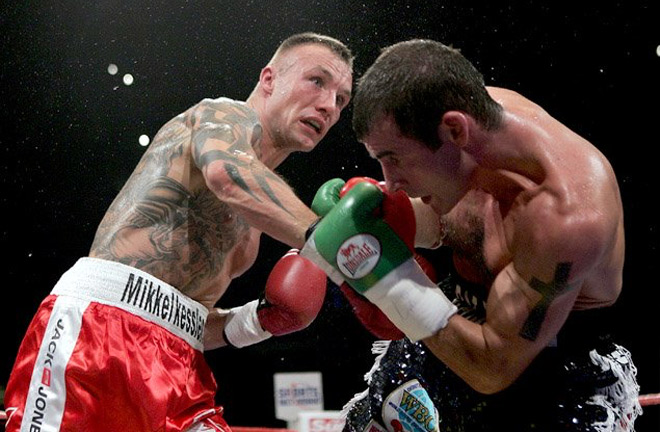 Following the Jeff Lacy win, Joe Calzaghe was in search of more career defining fights, and one finally came in the winter of 2007, when the Viking Warrior, Mikkel Kessler came calling at the Millennium Stadium.
The Dane was the WBC and WBA (Super) champion, the only two belts Calzaghe was yet to get around his waist. Over 50,000 fans packed in to the impressive arena for the fight.
Kessler was an emerging force at 12 stone, and became WBA champion in November 2004 by retiring Manny Siaca at the end of seven rounds for the crown.
Kessler defended twice and then added the WBC version of the title with an impressive third round knockout of Markus Beyer. He had defended the unified title once, winning every round against the unbeaten Librado Andrade in Copenhagen eight months prior to his clash with Calzaghe.
Joe was confident and focused for one of the biggest tests of his career.
"Kessler is the biggest and most difficult fight out there for me," said Calzaghe.
"He's at his peak. Just like Jeff Lacy he's young, hungry and wants to be the best in the world. I think he's a better fighter than Lacy – he's taller, bigger and stronger.
"But there's no way I'm going to lose the fight because I'll be in the best shape of my life and when I'm at my best no one can beat me.
"At this stage of my career it's all about my legacy. I want to be recognised as maybe the greatest Super-Middleweight there has been."
The fight itself was an absorbing one. Both men had their successes, rocked each other at stages of the contest, and it was a very close fight going into the championship rounds.
It was here though that Calzaghe showed his true grit and class, ending the contest like a true warrior to take a clear points win, and cement his Super-Middleweight legacy.
This would be Calzaghe's final fight at the weight, and he further stamped his mark on the sport by moving to Light-Heavyweight, and having two final fights in the USA, defeating all time greats, Bernard Hopkins and Roy Jones Junior to bring the curtain down on a glittering career.