Philadelphia's Bernard Hopkins would turn professional in 1988, but not after completing a prison sentence for what should have been 18 years for a series of misdemeanours. He eventually served almost five years, and found boxing while incarcerated.
Few could have imagined the glittering career that he would enjoy over the next 28 years as a prizefighter.
In the first of a four-part series, I look in detail at a remarkable run from one of the most remarkable boxers of modern times.
Hopkins would make his pro bow in October 1988 and, unbelievably, would suffer a majority decision loss to Clinton Mitchell over four rounds in Atlantic City.
Undeterred, 'B-Hop' went 22 fights undefeated to catapult him into a vacant IBF Middleweight title match against none other than Roy Jones Junior. Jones would take a 116-112 verdict across the board to take the belt.
Four straight wins would take Hopkins back into a vacant IBF title match in December 1994, but, this time he would be forced to travel to Quito, Ecuador, into the back yard of his opponent, Segundo Mercado.
With altitude at nearly 10,000 feet, Hopkins was knocked down twice, but impressively rallied to earn a split draw. Hopkins wouldn't be denied in a rematch four months later in Maryland, USA, as he stopped Mercado in seven rounds to become World Champion.
Few would still believe that Hopkins would go on to become a sure fire Hall of Fame bet.
Here, I take a look at what remains a Middleweight record of 20 title defences, in what would then progress into an undisputed championship run, with the first five defences of the prestigious crown.
Defence One – Steve Frank, 27th January 1996
It would be some near nine months later that Hopkins would be able to defend his newly won belt, and his opponent would be the Brooklyn-based, Guyanese, Steve Frank.
It wasn't quite clear what Frank had done to merit a shot at world honours, other than being placed in the IBF rankings, as his 15-2-1 record was littered with six and eight rounders.
He arrived at the Veteran's Memorial Coliseum in Phoenix, Arizona as a clear second favourite. The six-foot 30-year-old looked focused enough, but simply wasn't in Hopkins' league once the first bell sounded. The champion entered the ring in his familiar executioner garments, and it didn't take him long to live up to that moniker.
In one of the shortest fights in Middleweight title history, Hopkins rushed to centre ring from the off, uncorked a vicious right to Frank's temple that disorientated him and left him on the canvas. He bravely rose to his feet, but was clearly struggling, and referee Robert Ferrara had no choice but to wave the contest off after 24 short seconds including the count.
Even back then, Hopkins' goal was clear.
"I'm on a mission to become the Undisputed Middleweight champion of the world" said Hopkins post fight.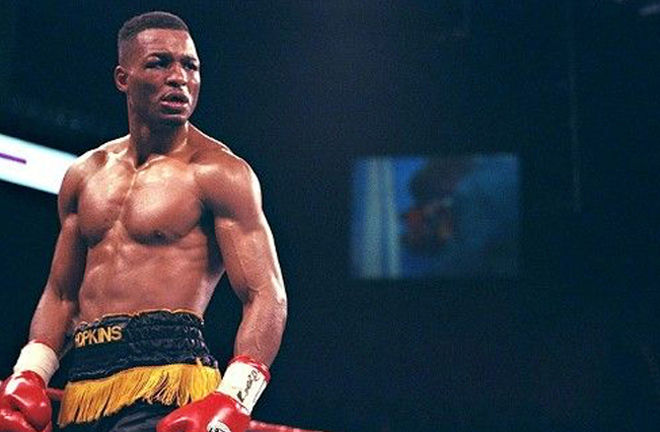 Defence Two – Joe Lipsey, 16th March 1996
Keen to keep his momentum going, Hopkins was out again less than two months after the Frank win with an assignment against the unbeaten in 25, Joe Lipsey.
The match would form part of the undercard for the massive Heavyweight showdown between Mike Tyson and Frank Bruno at the MGM Grand in Las Vegas.
The man from Mississippi hadn't yet tasted defeat and sounded confident ahead of the fight. "When it's time to fight, I'm gonna let everything come out, and just be me. I'm gonna fight in the style I'm best at and come out the winner" said the challenger.
Lipsey was the number one contender with the IBF, and although he made a decent start, causing swelling on Hopkin's eye in the second round, he couldn't build on his early success.
With just over ten seconds to go in the fourth, Hopkins landed with a savage right uppercut that knocked Lipsey out while standing. The follow up blows, including a massive right hand, forced an immediate end to the contest.
Hopkins' goals remained the same post fight, while Lipsey would never fight again.
Hopkins stated… "I want to unify and then become undisputed. I want to be the next Marvin Hagler, and I want Roy Jones Junior. He's the baddest man in the town, and I want to be the baddest man in town"
Defence Three – William Bo James, 16th July 1996
1996 was becoming a busy year for Hopkins, and just three months after the Lipsey victory, the uninspiring 20-6-1 William Bo James would be the third notch on Bernard's belt.
New Jersey's James already had six defeats on his slate, but had given Otis Grant a decent argument in December 1994. His meeting with Hopkins was set for Atlantic City in the summer of '96.
Even in his pre fight interview, James conceded he was a massive underdog and he wasn't expected to win, and Hopkins was training for the fight with a challenger's mentality.
35-year-old James had never been dropped in 28 fights as a pro, but was down at the start of the second with a hard right landing by the champion. James bravely rose and resisted the heavy fire from Hopkins to see out the round. 
The rest of the contest was largely one sided, and the end came in the eleventh round. With the brave James trapped on the ropes, a left to the body after a solid head assault forced the referee's intervention.
Hopkins continued to chase Jones Junior, as well as other champions, Keith Holmes and William Joppy.
Defence Four – John David Jackson, 19th April 1997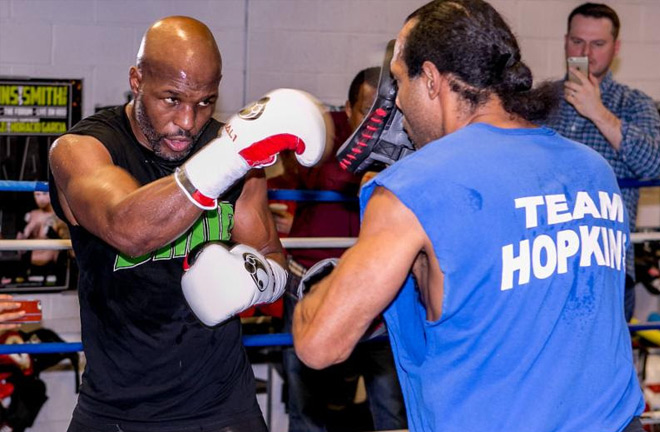 1996 saw a successful year for Hopkins. 1997 wouldn't begin until April for him, some nine months removed from the James win. 
This was through no fault of his own though, largely due to legal wrangles with his estranged promoter, Butch Lewis. Also, unhappiness with Don King, who won purse bids for his next fight, but continued to make him wait to fulfil his mandatory obligations. 
King staged Hopkins' latest defence against John David Jackson in a small venue in Louisiana, not known for being a boxing hotbed.
Jackson was the IBF number one contender, despite having lost his most recent outing against the 9-6 Abdullah Ramadan via ten round split decision.
Jackson had previously reigned as a WBO champion at Super-Welterweight, and a WBA champion at Middleweight. He was also a former sparring partner of Hopkins.
Hopkins predicted Jackson would avoid him in the early rounds and thats exactly what happened. The two fighters were pelted with boos from the impatient crowd after the first three rounds.
Hopkins then knocked Jackson through the ropes in the sixth and seventh rounds, prompting referee Johnny Femia Jr. to stop the fight after several blows knocked the challenger's head back.
Hopkins again called for unification fights, but paid tribute to his fallen former colleague. "He was the teacher, but there comes a time when the pupil must graduate," Hopkins said. "Today was that time."
Defence Five – Glen Johnson, 20th July 1997
It would be another four years before Hopkins would even get a chance to add to his title tally, and his next defence came in the form of road warrior, Glengoffe Johnson.
Johnson was on a 32 fight winning streak, and hadn't been defeated as a professional. He would later travel all over the world to fight, and eventually would gain respect as a solid champion with a reign at Light Heavyweight.
At 28, and in his first crack at a world title, the opportunity simply came too soon for him, as Hopkins was growing into a dominant champion.
Hopkins hurt Johnson midway through the second round and again in the fifth, when he picked apart the challenger with uppercuts.
In the second half of the fight, Hopkins outworked Johnson and dominated with shots to the head against a defensive Johnson, who was bleeding from the mouth and had eye damage.
In the eleventh, Hopkins connected early with body shots and closed with a flurry of punches to the head that caused the referee to step in and wave an end to the bout.
It remains Johnson's only knockout defeat, and the tough Jamaican said in 2009 that Hopkins was the hardest man he ever fought.