In another four part special, I take a look at the many World Super Middleweight title defences of Joe Calzaghe, who retired in 2009 with a stellar 46-0 professional career.
Calzaghe would finally be appreciated at the back end of his career, but he remains one of the best, if not the best, 168-pounders of all time.
Although considered Welsh, Calzaghe was actually born in Hammersmith, London, but the family moved to father Enzo's native Italy soon after, and then returned to settle in Wales.
Joe would gravitate to boxing after playing football and wouldn't look back, although he was subjected to constant bullying throughout his secondary education.
Boxing was a welcome distraction for him, and he finished his unpaid career with four schoolboy ABA titles and ABA senior crowns at Welterweight, Super-Welterweight and Middleweight.
He won his last ABA title in 1993, and turned professional in October of the same year, appearing on the huge Lennox Lewis v Frank Bruno bill at Cardiff Arms Park, halting Paul Hanlon inside a round.
It wouldn't be until his 13th fight that Calzaghe would face a fighter with a winning record, but when he did, the step up was no problem, as Nick Manners was stopped in four in September 1995.
That win would pave the way for a British title shot and he captured the Lonsdale Belt with an eighth round stoppage of Stephen Wilson at the Royal Albert Hall less than a month later.
In his subsequent eight straight wins, Calzaghe would only get to defend the British strap once, a fifth round halting of the previously undefeated Mark Delaney in April 1996.
In November of the same year, Calzaghe aligned with Frank Warren, and the legendary promoter set about building his man towards a World title shot.
The first half of 1997 saw three wins, all by knockout, and Warren spent the second half of the year chasing the big boys for Calzaghe, namely WBC champion Robin Reid, and WBO boss Steve Collins.
A fight between Calzaghe and Collins was arranged for October 1997, but the Irishman withdrew due to injury, was stripped of his belt, and promptly retired. In stepped the great showman, Chris Eubank, who would provide Joe with a first real acid test of his career.
Calzaghe must have thought he was in for an easy nights work in Sheffield, knocking Eubank to the canvas in the opening seconds of the contest.
Although Calzaghe was crowned in a clear points win, it would be described later on as the hardest fight of his career, and a champion was born.
His first opposition and defence wouldn't be that difficult a hurdle to negotiate, but Calzaghe was on his way to greatness.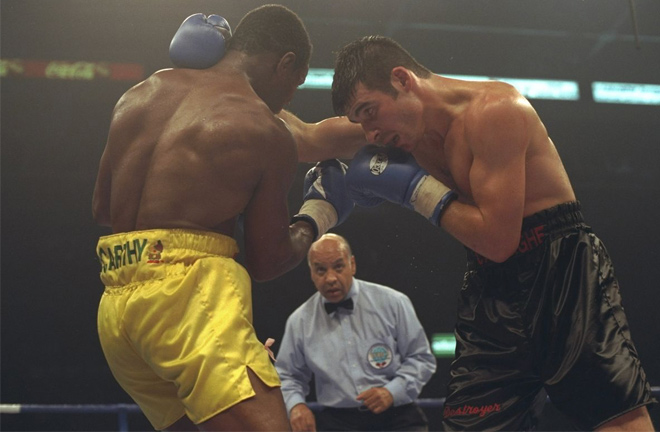 Defence One – Branko Sobot, 24th January 1998
The first notch on the new WBO Super-Middleweight champions belt would be a simple one.
Croatian, Branko Sobot, stepped in at short notice in place of unbeaten Syrian-American, Tarick Salmaci, who withdrew after a row with his management.
Sobot had only a sole loss in a 15-fight career at that point, a January 1997 points loss in a challenge for the European Middleweight belt.
On the night at the International Arena in Cardiff, Sobot was no match for the new champion. A stunning corkscrew left uppercut flooring the challenger in the third, and on the resumption, his blurring hand speed was simply too much for Sobot. The referee's intervention was a welcome one.
"I was quite pleased with my performance. I promised a win within three rounds and I delivered. I said I'm the best Super-Middleweight in the world and I want to go over to America and bash up the Americans."
Frank Warren stated that a deal was being worked upon to face IBF champion, Charles Brewer next, but a visit to America wouldn't materialise until the very back end of his career.
Defence Two – Juan Carlos Giminez, 25th April 1998
Defence number two for Joe saw him take on three time World title challenger Juan Carlos Giminez.
The Paraguayan was firmly in the twilight of his career at 37, and had failed in bids for the WBC title against Mauro Galvano in 1992 and Nigel Benn in 1994 both via unanimous decision. Chris Eubank had also outscored Giminez in a WBO title tilt in November 1992.
The visitor at the National Ice Rink in Cardiff was on a four-fight winning streak, but against limited opposition.
For nine rounds it was one way traffic with Calzaghe hardly hit in a dominant display. Giminez' corner had seen enough at the end of the session, and the challenger was stopped for the first time in his long career.
Defence Three – Robin Reid, 13th February 1999
Next up for Calzaghe would see a domestic dust up against a former World champion in Runcorn's Robin Reid.
The bout would take place at Newcastle's Telewest Arena, at the top of the bill on Sky Box Office. Calzaghe had been away from the ring for ten months due to an elbow injury.
Earlier in the bill saw a win for Richie Woodhall, who defended the WBC belt against Vincenzo Nardiello, and a meeting between Calzaghe and Woodhall, amateur friends, was a possibility.
Reid came to the North East as a former WBC champion himself, travelling to Italy to stop home favourite Nardiello in seven rounds in October 1996.
Three defences followed against Giovanni Pretorius (KO7), Henry Wharton (Majority Decision) and Hacine Cherifi (Split Decision) before the Merseysider shipped the belt in a unanimous loss to Sugar Boy Malinga in December 1997.
An April 1998 sixth-round stoppage of Graham Townsend was all the warm up Reid needed for Calzaghe.
The build up saw Calzaghe bitter that Reid failed to face him when he was World champion in a unification, while Reid vowed to upset the odds and become king once again.
Reid arguably came the closest to defeating Calzaghe. After four rounds, Calzaghe was in total control, but Reid came on strong to take the next couple, and the stretch became a case of what you liked, with this reflected on the cards.
Calzaghe took a split decision win, with one judge giving the fight to Reid by five points, and the challenger had a point taken off for low blows and rabbit punches in an absorbing contest.
"Robin Reid fought an intelligent fight, but I've been out with an elbow injury, and I wasn't happy with my performance" said Calzaghe.
Reid insisted he had gained Joe's respect, and that he respected him in kind following their twelve rounds of action.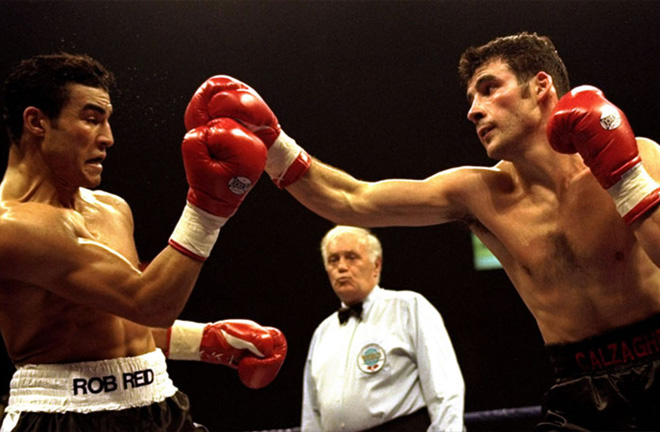 Defence Four – Rick Thornberry, 5th June 1999
Calzaghe would be back on home turf for defence number four, with Australian, Rick Thornberry the uninspiring opposition.
Thornberry had only ventured outside his homeland once before, and it resulted in a fifth round stoppage loss to Henry Wharton in Halifax in October 1996.
The Australian had built a lofty ranking with the WBO as a result of being their Asia Pacific champion, but he was leagues apart from the Welshman when the met at the International Arena.
Decked out in unfamiliar Welsh coloured trunks, rather than his usual black, Calzaghe did pretty much as he pleased against the out of depth visitor. But the gritty Aussie managed to hear the final bell, losing almost every session.
Calzaghe reverted to his boxing skills for much of the fight, as a familiar hand injury flared up around the third round.
"I boxed quite well, he fought an excellent fight, but took a lot of punishment. I showed what a champion I am to come through with the injury." Calzaghe said after the fight.
Again this scuppered an appearance in the USA, with a mooted August appearance falling by the wayside. Frank Warren said that WBC champion Richie Woodhall had "priced himself out" of a meeting with Calzaghe, and Warren's ultimate aim was for Joe to take on the great Roy Jones Junior.
Defence Five – David Starie, 29th January 2000
The new millennium saw an outing at the Manchester Evening News Arena for Calzaghe, as he took on Suffolk based former British and Commonwealth Super Middleweight champion, David Starie.
The defence formed a bill topped by the first UK appearance of Mike Tyson, who blasted Julius Francis to defeat in two one sided rounds.
Starie was solid enough, with a sole defeat a July 1997 sixth round stoppage at the hands of Dean Francis for the British belt.
Since then Starie rebuilt with eight straight wins, including a points win over future World champion, Clinton Woods for the Commonwealth crown. He had also regained the Lonsdale Belt and defended it twice.
It turned into a bit of a flat performance from the champion in what was a damp squib of a fight.
Starie didn't come with enough ambition to take the belt, and Calzaghe was allowed to box and rack up the points. The end of the fight was met with boos from the crowd.
"I've been out of the ring since June, and I was back against a fighter that just wanted to survive. I'm fed up with people being critical of me all the time. Next time you'll see a better Joe Calzaghe. Hopefully Frank [Warren] will put me in with someone that wants to fight."