The Motor City Cobra, from Detroit, Michigan, would later come to be known as The Hitman, and at the age of five he moved from Memphis, Tennessee to take up residence in the Motor City of Detroit.
In the third part of our look back at the 'Four Kings', we look at the remarkable long career of Thomas Hearns.
His professional career would end up spanning some 29 years, with World titles in no less than five weight classes, and an IBO belt in a sixth.
After a stellar 155-8 amateur record, Hearns turned professional in 1977 under the tutelage of the great Emanuel Steward. The Kronk Gym supremo would adapt Hearns' amateur point scoring style into one of a devastating puncher, and he would knock out his first 17 opponents before a wide points win over Alfonso Hayman in April 1979.
At 28-0, the time was right for a shot at the World title, and Hearns would stop future Hall of Famer, Pipino Cuevas in two rounds in August 1980 to win the WBA Welterweight crown.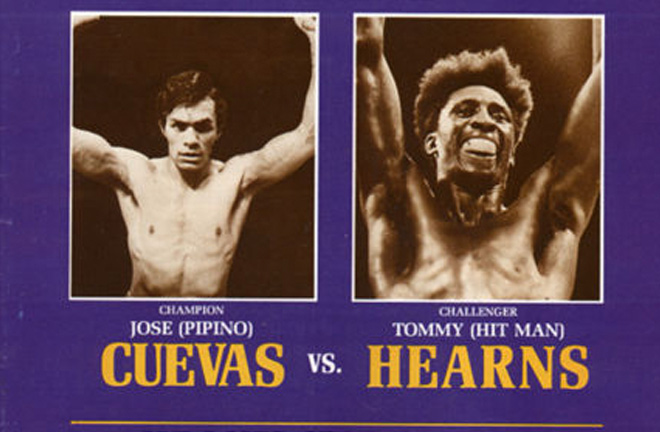 He would make three defences of the belt, all via the short route against Luis Primera (KO6) Randy Shields (TKO12) and Pablo Baez (TKO4) before suffering the first loss of his career in an attempt to unify the division against WBC champion, 'Sugar' Ray Leonard. Hearns had boxed beautifully, and was ahead on all cards when Leonard stopped him in the 14th round of the 1981 fight of the year.
A move in weight was needed, and Hearns won three straight to set up a shot at the WBC Super-Welterweight title against another future legend in Wilfred Benitez. 
The two were meant to meet in February 1981 for Hearns' Welterweight belt, but the show fell apart amid allegations that the promoter, Harold Smith, was involved in a $21.3 million fraud against Wells Fargo National Bank. Smith, whose real name was Ross Fields, was later sentenced to ten years in prison after he was convicted of 29 counts of fraud and embezzlement. 
Hearns' meeting with Benitez would finally take place in December 1982, and Hearns became two-weight World champion with a majority points verdict. 
He would go from strength to strength, defending the title three times including a stunning second round knockout of the great Roberto Duran, the Panamanian's first knockout loss. These defences stirred the pot nicely for a meeting up at Middleweight with the clear number one at the weight, Marvin Hagler. 
Their April 1985 contest remains one of the greatest of all time, but Hearns looked weak even at his higher new weight, and Hagler stopped him in three of the most brutal rounds you are ever likely to see.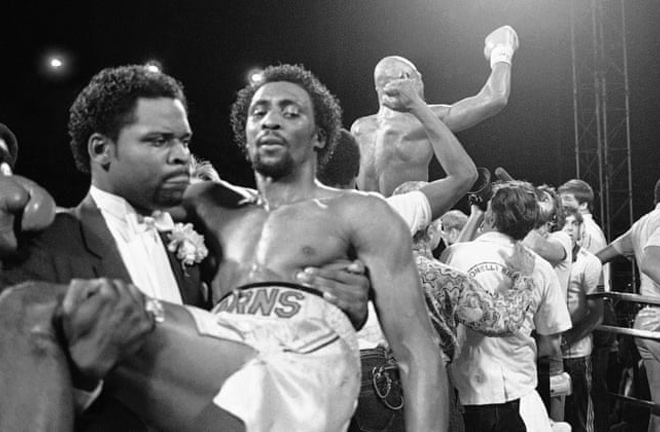 It would be an 11 month lay off before Hearns got back to business, and he bounced between Super-Welter and Light-Middleweight before moving up to Light-Heavyweight in pursuit of a World title at a third weight. 
Hearns bludgeoned Dennis Andries to defeat in ten rounds, knocking the man from Hackney down some six times to win the WBC crown. His stay at the higher weight was short lived, as he dropped down to Middleweight to pick up the vacant WBC title with a fourth-round knockout of Juan Domingo Roldan in Las Vegas, his fourth weight class as a World champion. 
His joy was short though, as Iran Barkley stunned Hearns in three rounds to relieve him of the belt in 1988.
Hearns went back to the scene of the crime in five months later at the Las Vegas Hilton, and made it weight class World title number five. He won the vacant WBO Super-Middleweight crown in a struggle with James Kinchen, overcoming a fourth round knockdown and a point deduction to win a majority verdict. 
June 1989 matched Hearns up with 'Sugar' Ray Leonard once more, with the Maryland man now holding the WBC title, but, despite many feeling Hearns had done enough to win, especially after scoring third and 11th round knockdowns, a draw was the official result. 
Tommy was far from finished, and he moved back up to Light-Heavyweight after three straight comeback wins to outscore the 30-0 WBA champion, Virgil Hill in June 1991. Again though, Iran Barkley would prove his nemesis, as "The Blade" again took Hearns' gold, this time via split decision.
Hearns would never fight at the elite level again, and would campaign wherever the money would take him. He moved up to Cruiserweight and won the lightly regarded WBU and NABF belts before a 1999 appearance in Manchester saw him add the IBO title to his collection with a wide points win over Nate Miller. 
His first defence was billed as 'Goodbye to a Legend' and Hearns was first slated to be taking on the Englishman, Crawford Ashley. The Leeds native suffered an injury, and in stepped Uriah Grant in Detroit. 
Sadly, Hearns sprained an ankle in the second round, and he was unable to continue to start the third session. "I don't want to go out this way," Hearns said. "But if I have to, I can live with it. You have to take the bitter with the sweet."
He would return twice more, firstly over five years since the Grant loss, and at age 46, he defeated John Long via eighth round retirement, but he got hit a lot more than he had become accustomed to. Hearns' son Ronald fought on the undercard. 
The final farewell finally came in February 2006 against the 40-year-old Shannon Landberg. Hearns took time to get going, but then stopped the limited Indiana resident in the final round of a ten-round bout to bring the curtain down on a glittering career. He thankfully never returned, and ended with a 61-5-1 record.