'The Executioner' repeatedly called for unification matches, but was forced to keep on defending the one belt he owned. Here we look at the next five defences in this record breaking run.
Defences six to ten of Bernard Hopkins' IBF Middleweight title saw much frustration for the Philadelphian.
Defence Six, Andrew Council, 18th November 1997
Defence number six for Hopkins would come in the shape of Maryland's IBF number 14 ranked Andrew Council, with the fight set for summer 1997 in Council's back yard.
The challenger was a decent operator, but had come up short when making the step up in class, with wide points defeats on his slate to the likes of quality operators in Ronald "Winky" Wright and Keith Holmes.
This meeting with Hopkins would see him challenge for the world title for the very first time, and was another fighter coming off a loss, another points reverse, this time to Robert Allen.
The fight itself was about levels, with Hopkins describing Council as "one dimensional" which is exactly how the contest played out.
It became a particularly dirty fight in the later rounds, with Hopkins cutting Council over the left eye and leaving him badly hurt in the sixth round. Council was holding on for dear life and deducted a point for holding later in the round.
The seventh saw Hopkins deducted a point for a low blow knockdown, and Council was docked again in the ninth for returning the favour. Council would be deducted a third and final point in the last round for again being unable to break satisfactorily for referee Kenny Chevalier.
The result in the end was inevitable, with Hopkins declared a wide winner on the scorecards.
Ringside commentator Sean O'Grady opined that Hopkins was "one of the best boxers in boxing today, pound for pound".
Hopkins himself took to the microphone after the fight to again issue an open challenge to his fellow Middleweights, but again the responses were muted.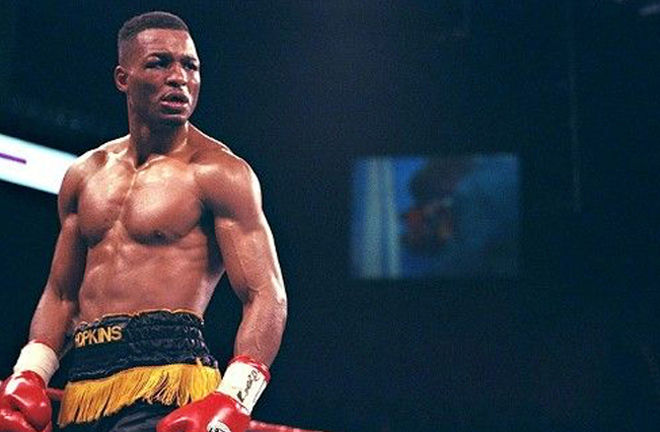 Defence Seven, Simon Brown, 31st January 1998
Next up for the champion would be the Jamaican born Simon Brown, who came with a wealth of experience as a former two-weight World champion, however his best days were firmly behind him.
Brown had previously been WBC and IBF Welterweight champion, and WBC Super-Welterweight champion, but was on a run of four defeats in his previous seven outings, and reportedly fighting for the money primarily after filing for bankruptcy.
It would turn into yet another routine Hopkins title defence, as he dominated for six rounds of action.
At the start of the sixth session, Hopkins followed a left jab with a jarring right uppercut that felled Brown heavily. He bravely resumed, but once Hopkins trapped him on the ropes the end was inevitable, and the champion duly closed the show with the referee waving the fight off.
Hopkins immediately called out to his old adversary Roy Jones Junior, who was commentating at ringside, but Jones had since grown out of the 160 pound division. Hopkins had hinted at moving up to, but this wouldn't come to fruition any time soon.
Defence Eight, Robert Allen, 28th August 1998
Hailing from Stone Mountain, Georgia's Robert Allen would be next up for Hopkins, and it would be an opponent who he would become more than familiar with in years to come.
Allen came into his meeting with Hopkins at the Las Vegas Hilton as the IBF number one contender, and was on a run of five straight wins.
The contest itself became a messy affair, with a lot of posturing and fencing, and the styles of both failing to gel.
Referee Mills Lane had to continually break the fighters up, which would prove pivotal in the fourth round.
At the near end of the session, Lane was visibly struggling to break the men up, and when he finally separated a clinch, Hopkins went flying through the ring ropes, unable to continue with an injured knee and ankle.
A rematch was inevitable, and it came less than six months later.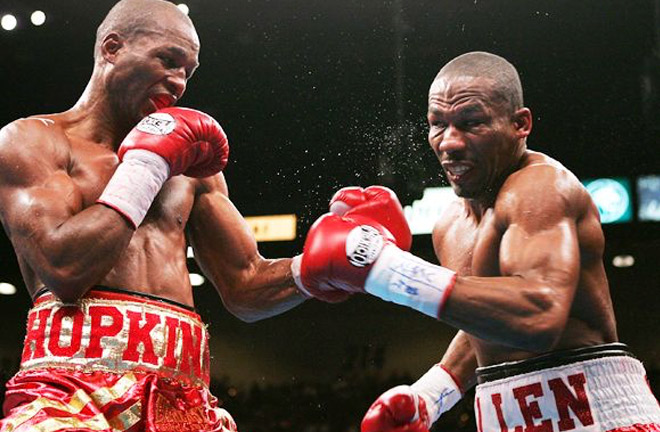 Defence Nine, Robert Allen II, 6th February 1999
Robert Allen had ticked over after his initial meeting with Hopkins with a first round stoppage win over Abdullah Ramadan in September 1998, picking up the interim IBF strap in the process, and the rematch was set for February 1999 in Washington.
Allen came into the fight with confidence, having frustrated Hopkins in their first fight, but 'B-Hop' was in no mood to relinquish the belt, and decisively dealt with the challenger, leaving no doubt as to who the superior fighter was.
Hopkins got inside much quicker this time round, and a counter right hook left Allen wheeling towards the canvas in the second round.
A flurry of chopping punches in round six clubbed Allen to the floor again, and, just a round later, Hopkins confirmed victory with a one sided beating, forcing the referee to show mercy.
Bernard dropped to his knees in celebration, and quickly exited the ring, in protest at the way he had been treated by his handlers. He was unhappy at how little he felt he had been paid, and he felt he was worth much much more, something he loudly protested with Showtime's Jim Gray post fight.
Defence Ten, Antwun Echols, 12th December 1999
It would be ten months before Hopkins' next defence, and it was another number one contender in the opposite corner in Miami, this time in the shape of Iowa resident, Antwun Echols.
Hopkins would be fortunate as Echols landed a right hand while the referee had called a break, knocking the champion down. This would be as good as it really got though for Echols, as Hopkins had much the better of the affair, and eased to a wide points win.
Hopkins again asked to be "treated right" post fight, in reference to how much he was picking up for each title defence. It wouldn't be too much longer until Hopkins finally realised his true worth.